Board of Trustees Approves Budget, Welcomes New President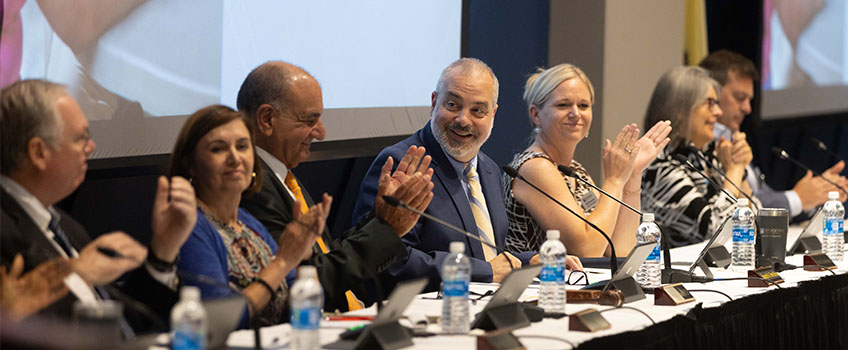 Atlantic City, N.J. — The Stockton University Board of Trustees approved the 2023-24 operating budget and welcomed President Joe Bertolino at a meeting July 19.
"It is very important to build strong relationships with members of this community and, most importantly, to listen to the many voices this university serves. I'm encouraged by what I've heard, and I look forward to continuing these conversations," said Bertolino, who became the university's sixth president on July 1.
"As we turn the page on Stockton's future, we are committed to our mission-driven value of putting students first and creating an environment of belonging for all. Let's not forget our priority is to ensure every student earns a degree."
One of the ways Bertolino proposed doing this is launching new academic programs and offerings, including graduate programs like a new Master of Science in Accounting approved at the meeting at Stockton Atlantic City's John F. Scarpa Academic Center.
"I'm excited to get to work and build on the great foundation that has been laid here at Stockton. I can assure you that the leadership team will work with all of you in a manner of dignity, respect, kindness, compassion and civility to help make Stockton the best that it can be," Bertolino said.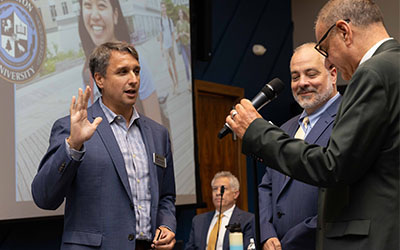 The board approved the capital budget and a $270.9 million 2023-24 operating budget. The budget includes $23.1 million in student aid, including $20.5 million in scholarships and need-based grants.
Additionally, Dr. Fotios Tjoumakaris was sworn in as a new board member. Tjoumakaris is a 1996 Stockton graduate and sports medicine and shoulder surgeon at the Rothman Orthopaedic Institute and serves as director of Orthopaedic Surgery for AtlantiCare Regional Medical Center. He is also a professor of Orthopaedic Surgery at the Sidney Kimmel College of Medicine at Thomas Jefferson University. He graduated from Rutgers – Robert Wood Johnson Medical School in 2000.
# # #

Media contacts:
Stacey Clapp
Director of Strategic Communications
Stacey.Clapp@stockton.edu
609-626-3645
609-412-8069
stockton.edu/media


Mark Melhorn
Associate Director of News and Media Relations
Mark.Melhorn@stockton.edu
609-652-4593
609-569-6026
stockton.edu/media