Veterans Honored at Annual Coining Ceremony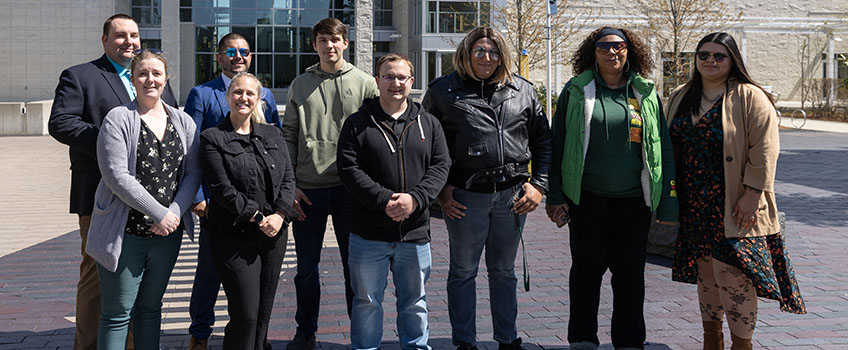 Galloway, N.J. - Graduating seniors with ties to the military were presented with special Stockton coins at a ceremony in Independence Plaza on April 28.
Fifty-two seniors are eligible for the coin this year. Michael Barany, director of the Military and Veterans Success Center, and Vice President for Student Affairs Christopher Catching made the presentations.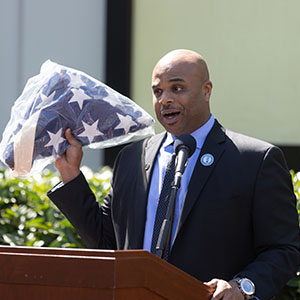 "Our military affiliated students bring a lot to our campus, including their knowledge and experience. They make their mark in and out of the classroom," said Catching, who brought the flag presented at the funeral of his grandfather, a World War II veteran.
"I never got to meet my grandfather, but I am glad I get to stand here as the grandson of a veteran and extend well wishes to our military and veteran students," Catching said.
"Congratulations, I know it was stressful," Barany said to the graduates who attended the ceremony. "I encourage you to keep continuing to do better as you move on from Stockton."
Members of the U.S. military have a long-standing tradition of carrying a special coin symbolizing unit identity and esprit de corps. With bonds forged in battle thousands of miles from home, these custom coins minted for military units – each bearing their own revered symbols and mottos – capture the essence of their affiliation and their fierce pride. Known to generations of American military personnel as challenge coins, they are a vital part of military life today and are revered by troops in every branch of service.
Today, challenge coins are carried by soldiers, sailors, airmen and Marines, as well as lawmen and firefighters. These coins identify the bearer as a member of a particular unit with a well-defined history and mission. And, wherever warriors gather, they challenge each other by "coining." The group's unique coin is slammed on a bar to challenge all in the group to display their own coins; he who is last must pay a penalty.
The tradition of challenge coins can be traced to World War II when American forces deployed to the far reaches of the globe securing the nation's freedom. Soldiers back to World War I and the Civil War left for battle with a coin from home in their pocket and kept it after the conflict as a lasting remembrance of their wartime experiences.
A challenge coin is not merely a token. Challenge coins today are a tangible source of pride for America's warriors at every level in the chain of command.
Graduates receiving the Stockton vetcoin include: Emily Bautista Martinez, Darren Borsani, Devin Bradley, Ashalee Breining, Sean Carr, Christian Chadwick, Lapell Chapman, Vincent DiNicolas, Stephanie Doyle, Sydney Foster, Edward Francoeur, Shannon Gallina, Ann Gbayee, Katherine Graham, Daniel Gumpper, Austin Hammond, Chelsea Harris-McQueen, Jennifer Heritage, John Hughes, Seungyoon Jeong, Ryan Kennedy, Destiny Laboy, Sean Lenahan, Alexis Lengyel, Andrew Loesch, Julianna Marchese, Brandon McAlister, Oliver Moreno, James Morris, David Padilla-Sanchez, Noe Paguada, Dev Patel, Parth Patel, Ashley Peoples, Isabella Pisano, Samantha Rao, Jamie Richardson, Kevin Riley, Mark Rizzo, Brian Rizzolo, Kelsea Rodriguez, Alexa Romano, Nina Rosado, Danielle Rubino, Gary San Angelo, Jairaj Shah, Hailey Sheets, Benjamin Sheik, Lily Sheret, Joseph Sippel, Sabriya Spellman and Thomas Wyatt.
COVID prevented in-person ceremonies in 2020 and 2021. Ashley Jones, assistant director of the Military and Veteran Success Center, also received her coin in this year's ceremony after completing her Master of Social Work degree in 2020.
View photos from the event.
Story by Stacey Clapp
Photos by Susan Allen