Annual Veterans Day Celebration: Thank a Vet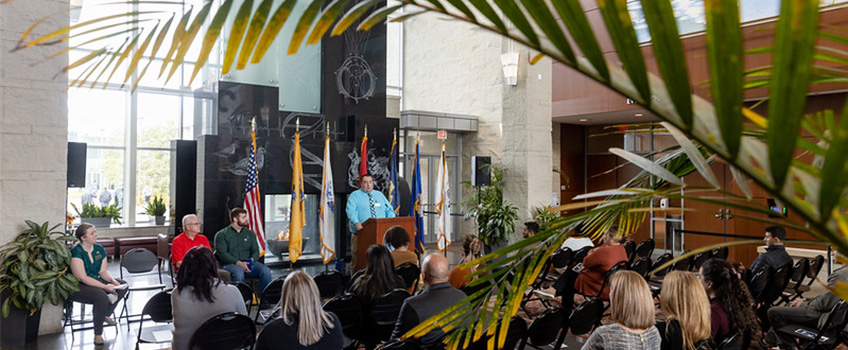 Galloway, N.J.- For this year's celebration of veterans and active-duty servicemembers, the Office of Military and Veteran Services (OMVS) hosted a week of events, including a ceremony Nov. 9 in the Campus Center Grand Hall.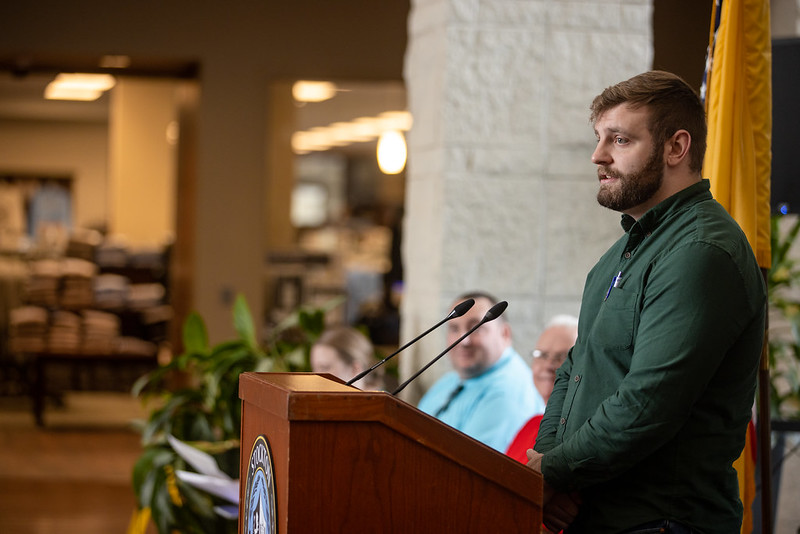 Following a rendition of the National Anthem by Lynda Larkin of Financial Aid, the ceremony included speeches from Health Sciences major Luke Lallo and Retired Brigadier General Douglas R. Satterfield.
Lallo, who served as a military police officer in the N.J. Army National Guard for five years, spoke about what it is like to be a soldier transitioning to civilian life and how Stockton has helped him through it.
"We stand tall and brave the worst and best parts of life; we are proud," Lallo said. "I thought that once I left behind my life of being a soldier, I couldn't find a reason to be proud anymore. But this school, and the veteran community, offered me another chance to feel that sensation again. We are a family and I feel at home here."
Michael Barany, director of the OMVS, underscored those points about transitioning. He shared how higher education has helped him along the journey of moving forward and encouraged everybody to remember those who serve in the Reserves, as well as the families of those deployed.
He explained that the unpredictability of deployment among those in the Reserves and National Guard can take a toll on both the soldier and their loved ones supporting them.
"When we think about Veterans Day, I want you to think about, not only the veterans but also those who are still serving and those families of who's still serving," Barany said. "Dependents help us stay strong."
Satterfield, author of "Our Longest Year in Iraq" and "55 Rules for a Good Life," discussed his life as a soldier and shared numerous stories, including when he first joined the U.S. Army as a private after being amazed (and a little scared) of the World War II veterans in his neighborhood and their stories of deployment.
"My goal, at the time, was to be like them," Satterfield said. "I walked into the recruiter's office and said, 'sign me up and ship me overseas,' which is exactly what they did."
Satterfield spent the following years rising up in the ranks and learning how to become a better soldier every day. The lessons he shared with the audience: tell the truth and be prepared.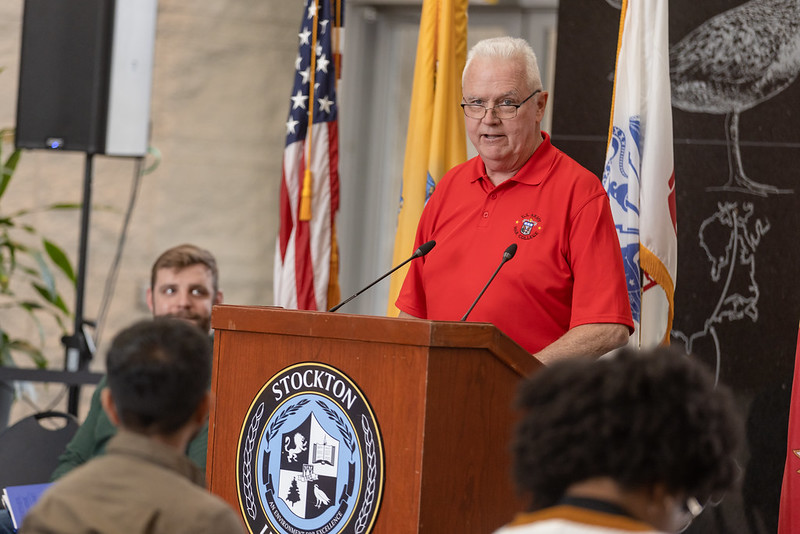 "One of the things about the military is that they teach you to be prepared, but they don't call it 'being prepared.' They say, 'Wear your helmet, keep your rifle clean and make sure you organize your rucksack.'"
"We are a diverse group of professionals, whose mission is to unburden the people of this great nation from the terrors lying beyond our borders," Lallo said. "On this Veterans Day, I ask you to take a moment to thank a veteran for all of their sacrifices and the restless days spent protecting this beautiful country and our way of life. Thank our soldiers for remaining triumphant in all our battles and the families of veterans who endure the hardships of their loved ones leaving."
Upcoming events include a Ruck March around Lake Fred, starting from Veteran Park, on Nov. 10 at 2:30 p.m. and a Veterans Day Concert by the Bay Atlantic Symphony in the Performing Arts Center on Nov. 12.
Over 400 military-affiliated students attend Stockton each semester.
-Story by Loukaia Taylor
-Photos by Susan Allen