Stockton Names New Deans for Two Schools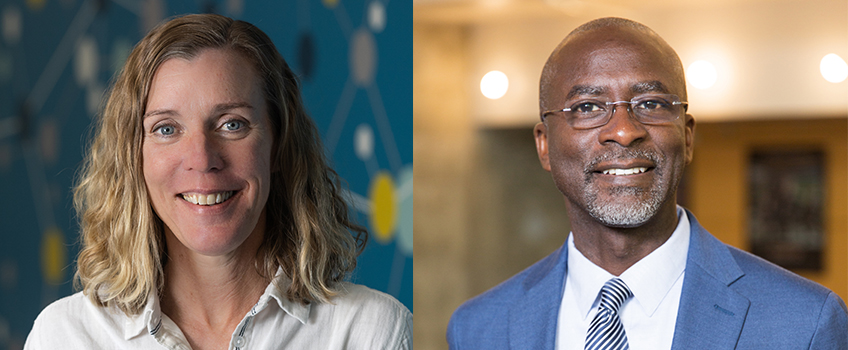 Galloway, N.J. – Stockton University will welcome two new deans to campus starting July 1.
Amanda Norvell will head the School of Natural Sciences and Mathematics, and Ian Marshall will lead the School of Arts and Humanities.
"I'm very excited to begin working with both Norvell and Marshall," said Leamor Kahanov, Stockton's provost and vice president for academic affairs. "Both of them have experience in diversifying the student population and in strengthening academic experiences for all students. I'm very much looking forward to helping them grow Stockton as the university enters its next 50 years."
Norvell comes to Stockton from The College of New Jersey in Ewing Township where she was the interim dean of the School of Science. She joined the TCNJ faculty in 2001 in the Department of Biology and has served as president of the Faculty Senate for five years. Before her time at TCNJ, Norvell received a Bachelor of Science degree in Microbiology at the University of Massachusetts at Amherst and her Ph.D. in Immunology from the University of Pennsylvania. Following a post-doctoral fellowship at Princeton University, Norvell spent a year as a visiting professor at Haverford College before moving to TCNJ.
"I am tremendously excited about this opportunity at Stockton University, and I look forward to working with my new colleagues in the School of Natural Sciences and Mathematics," Norvell said. "I am fortunate to be joining a school whose ethos, a commitment to public higher education grounded in an interdisciplinary approach, is in such close alignment with my beliefs."
Before coming to Stockton, Marshall was the associate dean and a professor of English in the College of Arts, Humanities and Social Sciences at William Paterson University in Wayne. He has 28 years of experience teaching at the university level, and was previously the school's Basic Writing Program Coordinator, Director of Writing and Rhetoric, English Department Chair and Assistant to the Dean.
"I am excited to be joining Stockton University, and I'm looking forward to working with the students, faculty, staff and administrators to continue the tradition of a strong School of Arts and Humanities," Marshall said.
The School of Arts and Humanities areas of study includes Performing Arts, Visual Arts, Africana Studies, Communications Studies, Literature and more.
Stockton's School of Natural Sciences and Mathematics offers a range of programs from Biology and Physics to Environmental Science, Marine Science and Sustainability.
Norvell was approved at the May Board of Trustees meeting, and Marshall will be approved at the July 20 meeting.
-- Story by Mark Melhorn