Stockton Named to PTK Transfer Honor Roll
Galloway, N.J. _ Stockton University is among 171 colleges and universities nationwide named to the 2022 Transfer Honor Roll by Phi Theta Kappa Honor Society, which recognizes the achievements of students at associate-degree and community colleges.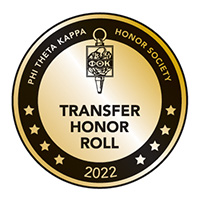 The Honor Roll recognizes four-year colleges and universities for the "dynamic pathways they have created to support transfer students." The list is "determined by 40 key metrics related to the support and success of transfer students, including college cost and financial aid, campus life for transfer, admission practices, and bachelor's degree completion." The Honor Roll is chosen from among the top 25 percent highest-rated colleges, based on their Transfer Friendliness Rating on Phi Theta Kappa's online search tool, PTK Connect.
"This award is so important because it is based on what students tell us they need from their transfer experience," says Dr. Lynn Tincher-Ladner, President and CEO of Phi Theta Kappa. "We are honored to recognize the colleges and universities working exceptionally hard to create stronger pathways to bachelor's degree completion for all students."
Almost 40% of Stockton students are transfers, with the majority coming in from community colleges. Stockton accepts on average 100% of credits transferred from another college, ranking it in the 91% percentile among the colleges reviewed.
"Stockton has always been transfer-friendly, and our inclusion on this honor roll is tangible evidence of the work of our transfer counselors, James Rodia and Enrico DeRooy, and admissions staff to help transfer students enroll in Stockton and succeed when they get here," said Stockton Chief Enrollment Management Officer, Dr. Robert Heinrich.
Heinrich said Transfer Pathways partnership agreements with a dozen community colleges in New Jersey also make the process of transferring to Stockton seamless and easy for students.
"The Transfer Pathways agreements allow students to have dual admission options with Stockton and their community college so they know that while they are taking courses at their community colleges, they are already welcome at Stockton and will be prepared when they arrive," Heinrich said.
More information about transfer admissions can be found at stockton.edu/transfer.
- Story by Diane D'Amico