'Equity in Action' Draws Business, Community Leaders to AC Campus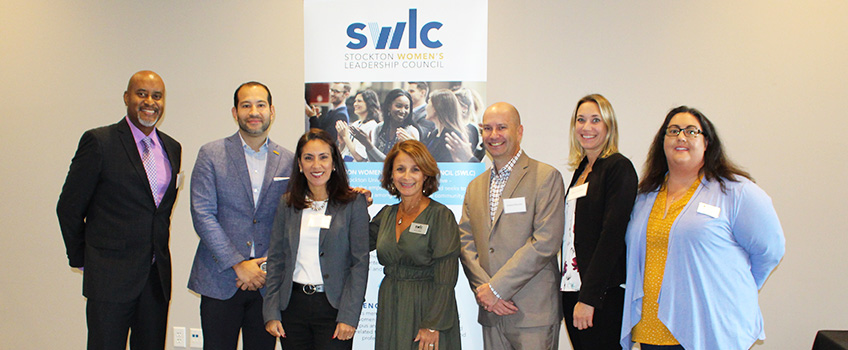 Atlantic City, N.J.- Leaders dedicated to supporting and promoting the Hispanic community participated in a day of learning with the Stockton's Women Leadership Council (SWLC), the Office of Continuing Studies, Meet AC and the National Hispanic Corporate Council (NHCC) on Oct. 21.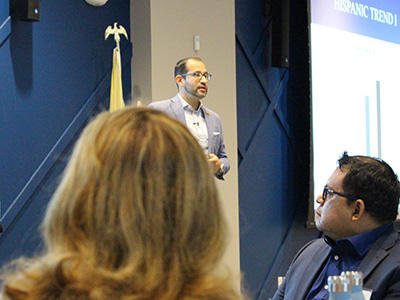 "Today, we celebrate Hispanic leaders of Atlantic City. They make up 30% of our local population and growing and we're proud to tell that story here," said Meet AC's Howard Munves.
Eduardo Arabu, executive director of the NHCC, shared valuable insights and statistics about the Hispanic population and how businesses can support the population during his keynote speech.
"I think it's important for non-Latinos to learn about our community, not only from an awareness and education perspective but from an inclusion perspective," Arabu said. "Involve us as part of your workforce and talent, as customers and consumers of your product and services and as entrepreneurs. Putting that together allows for organizations, employers and entities to move forward in diversity, equity and inclusion strategies."
Diana Strelczyk, associate director of Continuing Studies, thought that Arabu's keynote was "phenomenal" and tied everything that the attendees will learn together.
"He was incredibly enlightening, educational and so relevant to the larger conversation for the greater good and what we're talking about today," Strelczyk said, "He talked on all of the workshops that we're going to be talking about and that was the point: to connect all 4 "Cs" and to incorporate that into our conversations about women in leadership."
The 4 "Cs:" Culture, Careers, Commerce and Community Relations
Following Arabu's speech, attendees heard from influential Hispanic and Latino leaders.
Bert Lopez, public affairs manager for Atlantic City Electric, discussed the significance of cultural competency, which he believes helps "the workforce, the customer and the bottom line.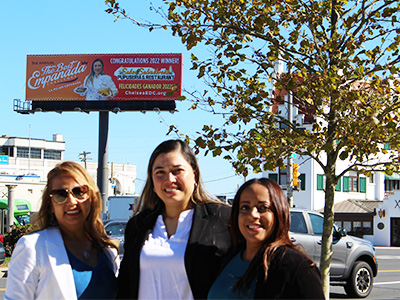 "I hope people leave here with a better understanding of what it means to be culturally competent and how they could apply that to their organizations and businesses, as well as their everyday life," Lopez said.
Jenny Hernandez, the business process management consultant for AtlantiCare, hosted "Investing in our Communities: A Conversation with Hispanic Community Leaders." She, along with presenters Christine Guzman, Bob Ortiz and Christian Ragland, demonstrated how AtlantiCare creates different opportunities to engage with the local community, including back-to-school clothing and backpack drives.
"All organizations are facing changes and challenges, we are not alone in this," Hernandez said. "As we evolve and grow, we have to extend our resources and rely on one another to better serve our communities."
Netesha Peterson, assistant director of the Career and Education Development office at Stockton, emphasized in her workshop that the word "diversity" is more than a buzzword, but an action that employers and recruiters have to take. When asked how to begin these conversations, Peterson said to look toward the numbers.
Hispanic Trends 2022
Provided by: Eduardo Arabu, NHCC
Hispanics are a fast-growing demographic: Hispanics currently make up

20%

of the total population (

62 million

people) and are projected to grow to

30%

(

111 million

people) by 2060.
Hispanics in New Jersey are an economic force: their gross domestic product (GDP) is

$97B

out of a total of

$561B

.
Hispanics are becoming more entrepreneurial: There are

5 million

small businesses owned by Latinos in the U.S., of which

2 million

are owned by Latinas.
Hispanics are a growing workforce: Even though they make up

20%

of the total population, Hispanics are responsible for

73%

of the growth of the U.S. labor force since 2010.
Hispanics are a growing educated cohort: U.S. Hispanic educational attainment grew at a rate

3.3

times faster than the attainment of non-Hispanic students.
"Find out or identify some of the competitors of your industry and see what they are doing to incorporate some DEI initiatives," Peterson said. "Take that information and data back to your company; most companies understand the language of money. So, when you show that other companies are making more profit and have better retention rates, productivity or morale, they might be more eager to hear what you have to say about these DEI initiatives."
Yoely Quezada, the outreach coordinator for the Chelsea Economic Development Corporation, discussed local Latino-owned businesses and invited Ana Salazar, the winner of the third annual "Best Empanada" contest, to share her thoughts on how to support these businesses in Atlantic City.
Quezada said Salazar, owner of Sabor Salvadoreno: Pupuseria & Restaurant, is a perfect example of perseverance and underscored her point of the workshop: "Anything is possible."
Salazar immigrated to the United States at 19 years old and worked 2 jobs to save up and start her own restaurant. Salazar is set to open her fourth restaurant soon.
"I'm not finished yet," Salazar said, beaming at her billboard just across the street from the campus. "It makes me happy to know that people recognize my hard work. I want to inspire the new generation to do the same."
Susan Davenport, executive vice president and chief of staff at Stockton, commended the SWLC for its growth over the last five years and its commitment to diversity, equity and inclusion aligning with Stockton's.
"I'm so happy to see all of you in the leadership council embracing that idea," Davenport said. "You all are identifying our issues, not afraid to have the difficult conversations and working harder to make sure that our community is one that lends a sense of belonging to everyone."
Strelczyk said the collaboration between the SWLC and the Office of Continuing Studies helped the event "go swimmingly. It's all about having the right people in the room and I think we're doing that today."
Alicia Trombley, associate director of Development and member of the SWLC, has only positive things to say about the event and is looking forward to more opportunities like this one, "The SWLC was excited to organize another event which provided a platform for professionals to build relationships, address and discuss current issues and promote the shared common goal of inclusion at all levels."
Donna Albano, professor of Hospitality and Tourism Management and event chair of the SWLC, mirrored Trombley's sentiments, "I'm so proud to be part of something that serves our passion and mission while educating, informing, collaborating, networking and advancing our students, our community and our industry partners."
-Story and photos by Loukaia Taylor