Stockton Women's Leadership Council
Over the past ten years, Women's Leadership Councils have formed across the country. These leadership councils, made up of dedicated female philanthropists, are making a significant impact in their communities. Stockton Women's Leadership Council (SWLC) will provide mentoring opportunities for Stockton students and alumnae, create a culture of philanthropy and provide personal and professional enrichment opportunities for women in our region.
"We know that a group of empowered women empower others. Together, we can make an impact on the next generation and in our community," Johanna Johnson, founding member and Stockton University Foundation Board
Recent News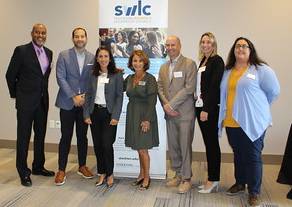 Leaders dedicated to supporting and promoting the Hispanic community participated in a day of learning on Oct. 21.
---
For information on the Stockton Women's Leadership Council, contact Alicia Trombley '03 at 609-652-4861.