Stockton Offers Discount on Summer Tuition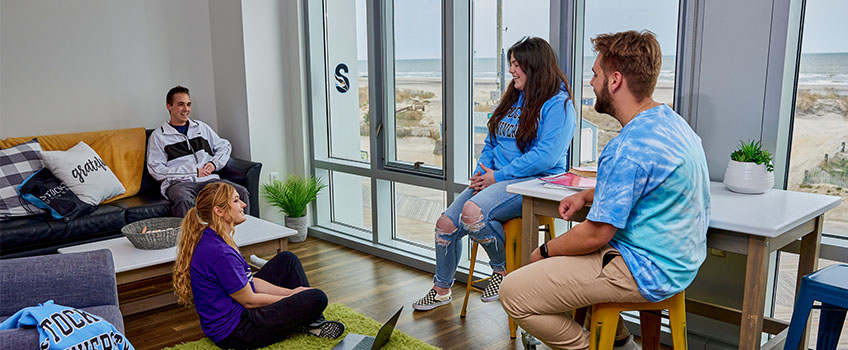 Galloway, N.J. – Stockton University will offer a discounted summer tuition and housing package for students who want to live, work and learn at the shore this summer.
Stockton will offer a 20% discount on undergraduate tuition and fees during the 2023 summer sessions for students who live in the Stockton Atlantic City Residential Complex for the summer.
The Board of Trustees approved the discount at the Dec. 7 meeting.
The goal is to give college students the opportunity to live and work in the Atlantic City area during the summer while also continuing their education.
"Summer housing provides students a 12-month housing experience for those that want to work, study or need stable housing," said Stockton Executive Director for Residential Life Steven Radwanski. "Stockton provides them with a year-round home while they are preparing for their futures."
The Stockton Atlantic City Residential Complex, located at Albany Avenue and the Boardwalk, opened in fall 2018 and can house more than 530 students. Later this summer, Stockton will open a second residence hall nearby at Atlantic and South Providence avenues, across from O'Donnell Memorial Park. The building will feature apartment-style living for more than 400 students.
Summer housing begins May 15 and runs through Aug. 13. Stockton academic-year residential students may opt-in to a 12-month contract for summer for an additional fee.
More than 400 courses are being offered over the summer, with over 250 offered online. With the 20% discount, undergraduate in-state students would pay $370 per credit, or $1,480 per four-credit course, a savings of $372. The rate for undergraduate out-of-state students is $546 per credit or $2,184 per course.
Registration for summer courses opens on Jan. 5. There are three summer sessions starting in May and June and lasting either six or 10 weeks, plus 12-week internship and independent study programs.
More information is online at stockton.edu/summer.
Board Recognizes Professor Beverly Vaughn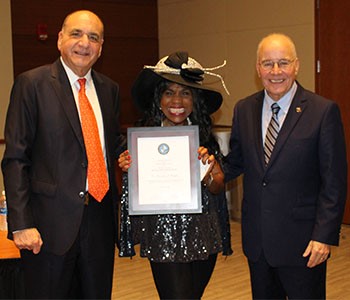 In other business, President Harvey Kesselman presented the Board of Trustees Distinguished Service Award to Music Professor Beverly Vaughn for her contributions to Stockton and higher education during her 40-year career at the university.
"Dr. Vaughn is an outstanding educator, scholar and academic mentor," Kesselman said. In addition to her teaching position, she has served as chair of the Performing Arts Program, a member of the Faculty Review Committee, Conductor and Coordinator of the bi-annual production of Handel's "Messiah", Faculty Advisor to multiple student organizations including: Highest Praise Gospel Choir, Stockapella, Student Music Union, NAACP Stockton Chapter, F.E.M.A.L.E.S., Stockton Oratorio Society Club and the Performing Arts Society Club.
"Dr. Vaughn is pure energy. There are so many reasons to honor Beverly," said Trustee Nancy Davis. "I am impressed at how she works to bring the Stockton community together, especially around the issue of race. She has worked at Stockton and throughout the state to improve racial and cultural understanding and embodies the goals and aspirations of Stockton."
Trustees also approved Bachelor of Science degrees in Accounting, Business Analytics and Finance. These programs previously were concentrations under the Business Studies Bachelor of Science.
-Photos by Domenic Episcopo and Mark Melhorn
# # #
Media contacts:
Stacey Clapp
Director of Strategic Communications
Stacey.Clapp@stockton.edu
609-626-3645
609-412-8069
Mark Melhorn
Associate Director of News and Media Relations
Mark.Melhorn@stockton.edu
609-652-4593
609-569-6026