Second Annual Winter Tree-dition Branches Out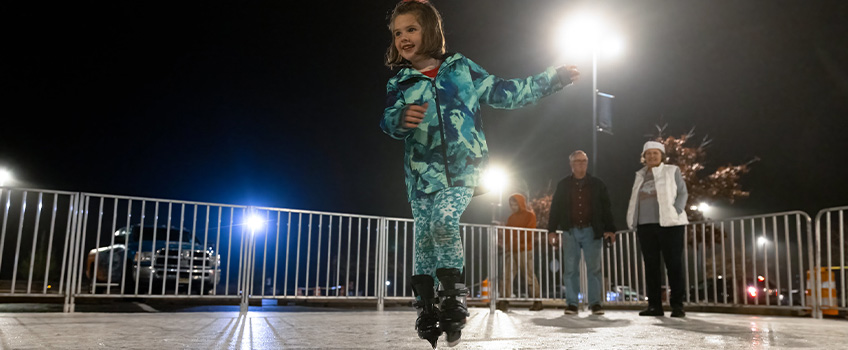 Galloway, N.J. – Gathered around the cedar tree, Ospreys past and present let their Stockton spirit shine Dec. 7 at the second annual Winter Tree-dition. The community came together to share their gratitude and celebrate the university's groundbreaking ceremony 52 years ago.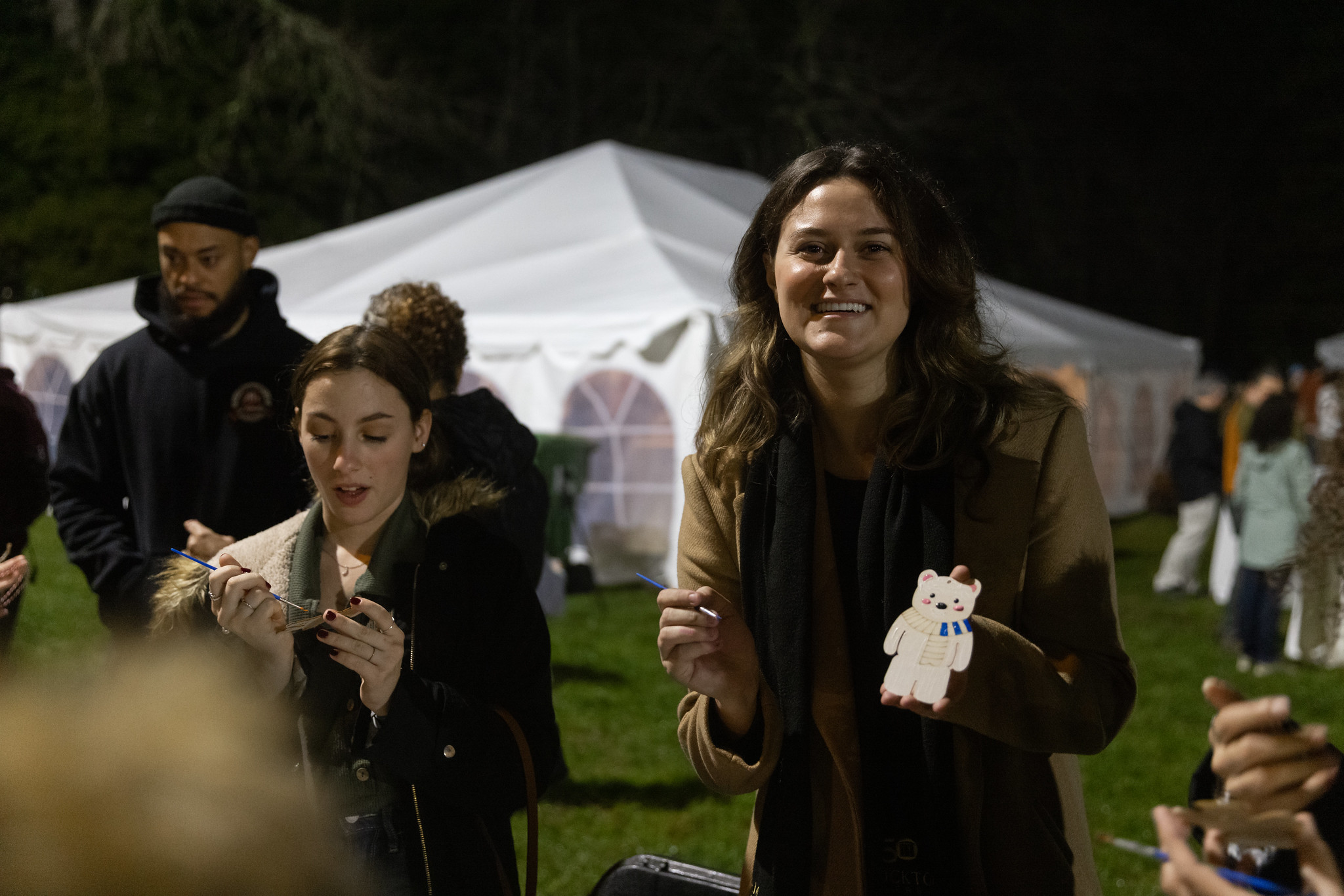 "I've never been before and I'm a grad student, so I thought it would be something new to do," said Miranda Paine, a member of the Stockton Entertainment Team that sponsored an ornament decorating craft at the event. "My favorite part has been seeing all the little kids and how excited they are to be here. It's been a lot of fun."
Over 150 attendees snacked on holiday treats and enjoyed the hot chocolate bar over laughs and crafts. Students cheered on their peers as the Stockton Dance Team performed and children danced as music from the Student Music Union rang throughout campus. Families and friends with big smiles held hands as they made figure eights on the synthetic ice skating rink.
"They loved ice skating so much, they want to go back," Ada Soto '02 said about her two grandchildren. She attended the event because she thought it would be a fun experience for them. "They are having a great time. I have my whole family here actually. I'm having a great time."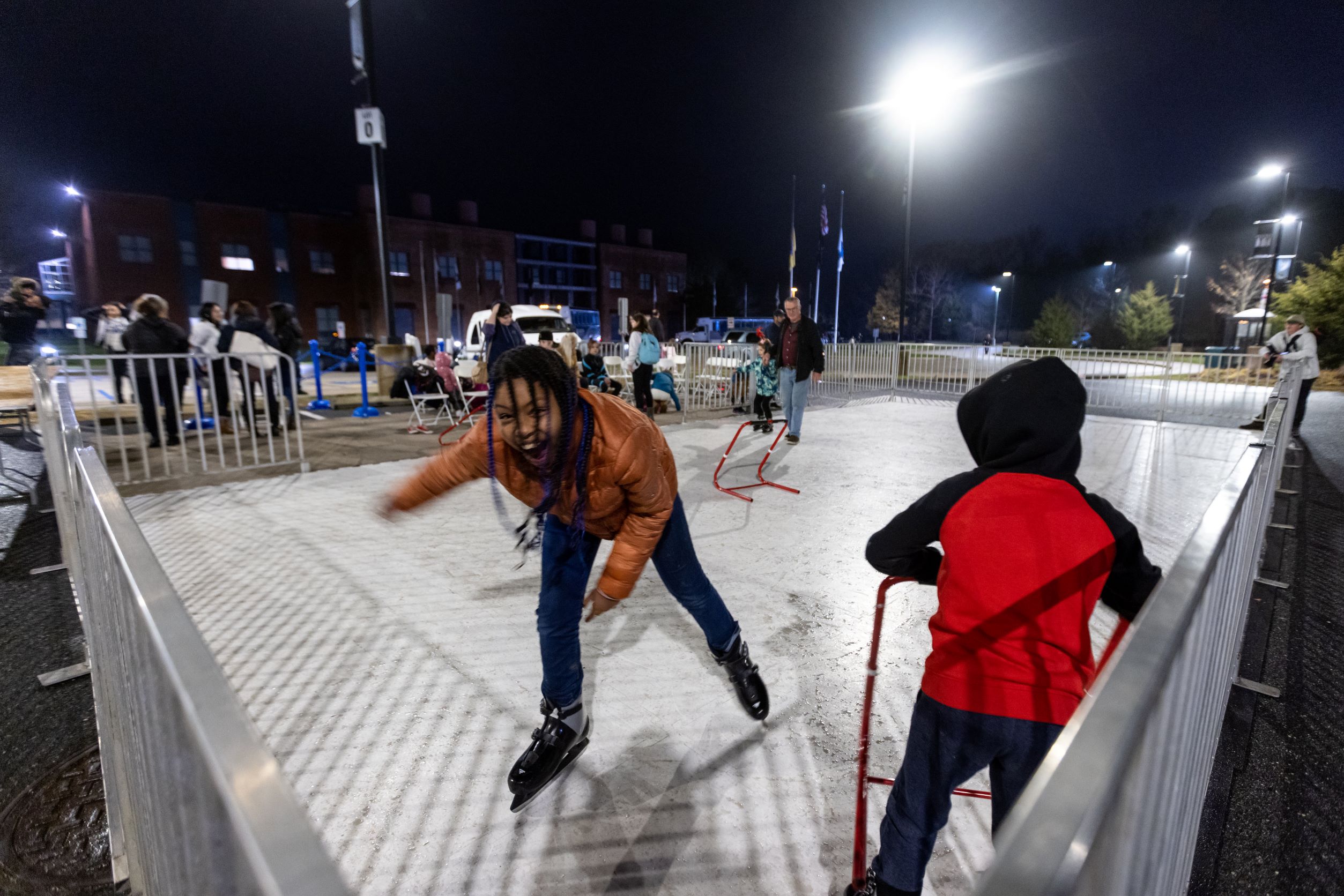 Ornament painting was a hit for Kamitra Winborne '11 and her young children, in addition to the music by alumnus DJ Ahmed Khan. "I always like to bring my children to the events to give them the on-campus experience for their future endeavors," Winborne added.
The night also included brief remarks from Andrea Sandoval, a student senator, and Tom Kinsella, professor of Literature.
Sandoval spoke directly to her peers and reminded them that as the semester concludes, they should treat themselves like the small cedar sapling 52 years ago. "Truly take care of yourselves so you can successfully grow, not just at Stockton but when you extend beyond Stockton."
Sandoval also said how Board of Trustees Chair Raymond Ciccone's speech at the first Tree-dition stood out to her. Ciccone spoke about how the cedar tree represented the physical embodiment of Stockton's first motto, "Plant yourself where you can grow."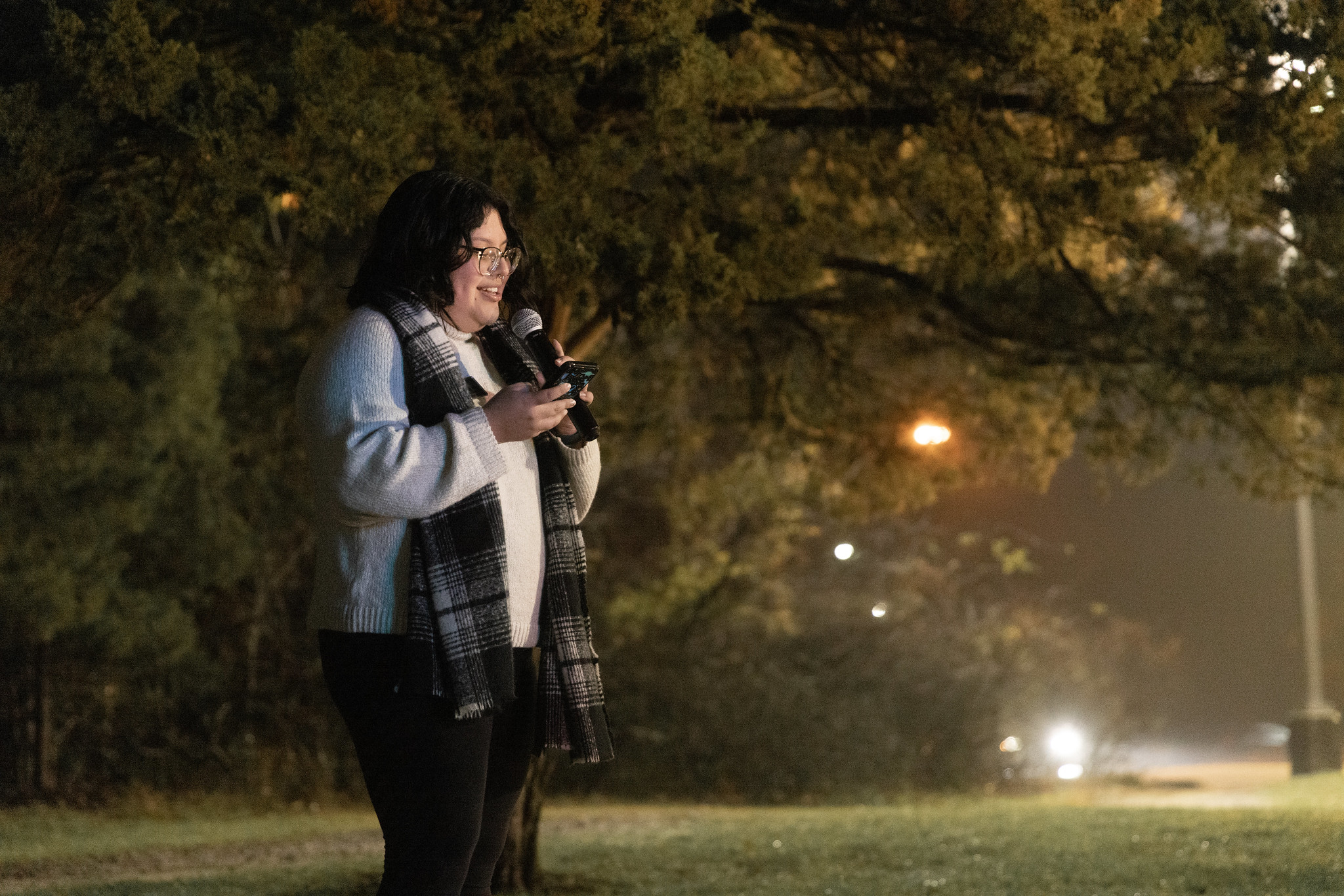 "Because as you all chose Stockton to be your path in one way or another, that is exactly what all of you did. You all planted yourself at Stockton. You all have the desire to make a difference in your community and grow as an individual," Sandoval said.
Kinsella regaled the audience with a couple of stories about a "love of place." He painted a picture of the groundbreaking ceremony on Dec. 9, 1970. It was cold by Lake Fred that day as a small cedar sapling that had been "rescued from the jaws of death" was planted to commemorate the new Stockton State College.
"And they planted this tree, like people have said, that has grown like Stockton," Kinsella went on. "It has deep roots. It's got this beautiful foliage. It has expanded and grown just like Stockton has expanded and grown. That first day, I can't say they loved this place, but they trusted they would love this place."
Kinsella ended his speech by adding, "And you out here, you're the third story. I think we do all love this place. Stockton is pretty special."
The second annual Winter Tree-dition was sponsored by the Student Alumni Association, Student Senate and Office of Student Development.
Reported by Eliza Hunt
Photos by Susan Allen