A New "Tree-dition" Takes Root by Lake Fred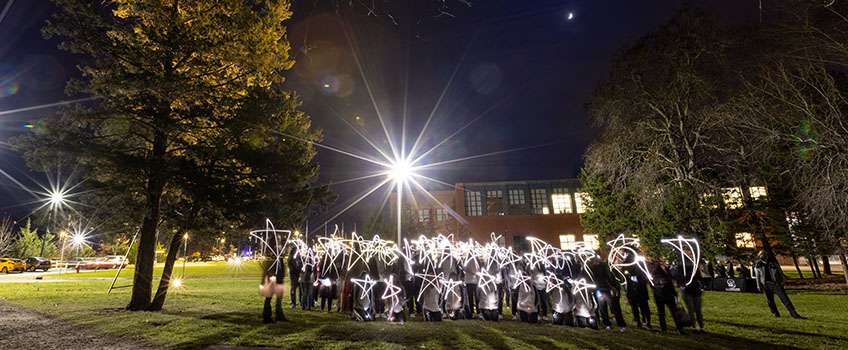 Galloway, N.J. _ Stockton has a new winter "tree-dition."
On Dec. 9, 1970, a small cedar sapling was planted on the Galloway campus as part of the groundbreaking ceremony for the new Stockton State College (see photo below).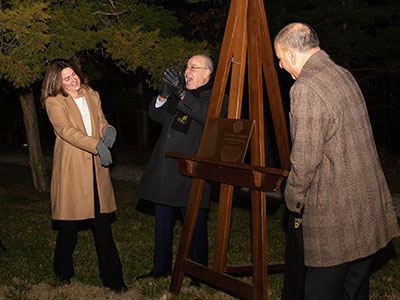 On Dec. 8, 2021, students, faculty and staff gathered at the site as a plaque was unveiled commemorating the event at the first "Winter Tree-dition."
Guests sipped hot chocolate and cider, and bundled up in black and gold Stockton 50th anniversary scarves, as Student Senate President Brianna Bracey, President Harvey Kesselman and Board of Trustees Chair Raymond Ciccone unveiled a plaque, which will be installed by the tree located near Lake Fred behind the Arts and Sciences building.
The plaque notes that the original tree had been saved and transplanted from another part of the campus building site and says: "this mature cedar denotes Stockton's enduring concern for the environment; its growth alongside that of the campus is a reminder of Stockton's vibrancy."
The inaugural event was coordinated by Lauren Wilson, associate director of Student Development as a 50th anniversary event, but also a fun break for students at the end of the semester.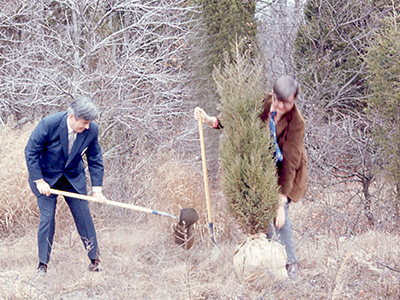 "It means a lot to see you all here," Bracey said. "Take care of yourselves mentally and physically. You are all part of the Stockton family."
Ciccone, a 1979 alumnus, said the tree represented "the physical embodiment of Stockton's first motto, 'plant yourself where you can grow.' "
Kesselman, who was also a student in the first class at Stockton, recalled the groundbreaking when the campus site was just trees.
"But that beginning became this phenomenal university," Kesselman said. "It is not coincidental that on a campus with thousands of trees we would plant another one. But we were designed to be part of the environment. I am very proud of you for establishing this tradition."
The event also featured performances by Stockapella, the Stockton Dance Team, the Stockton Music Union and Stockton Sahana, a Bollywood Fusion Dance Team.
Photos from the event are on Flickr and a video about the groundbreaking can be viewed on Stockton's Facebook page.
- Story by Diane D'Amico
- Photos by Susan Allen