Physical Therapy Students Receive Their White Coats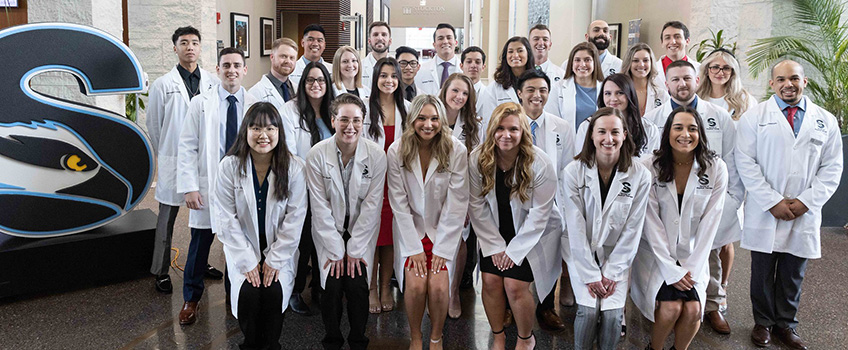 Galloway, N.J. – The Stockton University School of Health Sciences held a Commitment to the Profession Ceremony April 6 for 30 students in the Doctor of Physical Therapy program.
Speakers at the event were Thomas P. Nolan Jr., Associate Professor of Physical Therapy, Leamor Kahanov, Provost & Vice President of Academic Affairs, and Brent Arnold, Dean of the School of Health Sciences.
The keynote speaker was Lee Ann Guenther, associate professor of Physical Therapy in Stockton's School of Health Sciences.
Members of the Class of 2023 who received their white coats are:
Keith Dominic G. Baltazar, Carlo J. Blaquera, Richard J. Bohnert, Elena M. Carrasquillo, Natasha Chiriboga, Tobias F. Chislom, Dana Colorio, Thomas Corbisiero, Jenna L. Dizinno, Alyssa M. Edwards, Madeline F. Ellis, Enrique J. Fiallos, Paul M. Harris, Paolo A. Hinahon, Kennedy Ilagan, Alina Jackson, Amanda M. Janiszewski, Christopher M. Kerr, Daniela Mesa, Marcus K. Molyneux, Connor Matthew R. Pagkalinawan, Hector S. Pagoada, Megan L. Palmer, Lucas P. Piekarek, Frank M. Poveromo, Arianna Srinivasan, Ching Y. Wai, Amy C. Walczak, Brooke L. Wasco and Harlee York.
- Photo by Susan Allen/Stockton University