PAC's 2022-23 Season Packed with Diverse Talent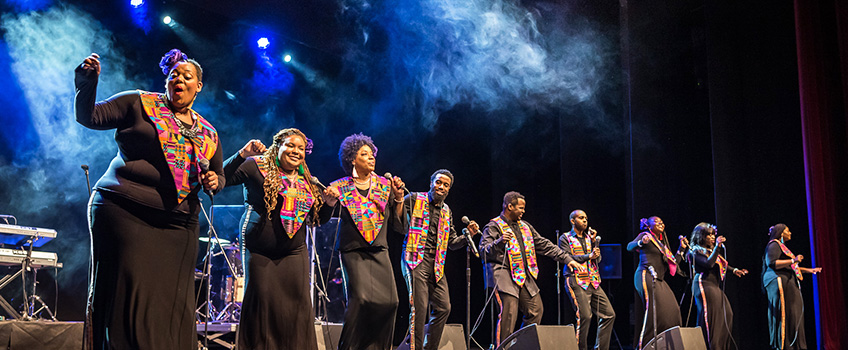 Galloway, N.J. — Stockton University's Performing Arts Center (PAC) has officially announced its 2022-2023 season. The main stage season will run from early-October to the end of April and includes acts ranging from captivating dance and dramatic plays to family entertainment and musicals. The goal in creating the season was to find diverse performances that everyone can enjoy.
"First and foremost, the arts need to be a vehicle for all. The arts are a vital part of our community that help us engage with each other, foster growth and offer a reprieve during difficult times," said Anjanette Christy, the interim director of the PAC. "We felt there were groups in our community that were underrepresented on our stage and in the audience. If we consistently diversify our performances, we will build new audiences and become a place for everyone."
Some of the acts taking the main stage this season include:
"Kathleen Turner: Finding My Voice"(Sunday, Nov. 6, 2022): A once-in-a-lifetime chance to see a true Hollywood legend on stage, "Kathleen Turner: Finding My Voice" is a deeply personal show packed with humor, great music and one-of-a-kind insights spanning her extensive and exciting career. Peppered with songs from the great American songbook, Kathleen Turner croons hits showcasing her trademark husky voice, including "Let's Fall in Love," "I'd Rather Be Sailing," "On the Street Where You Live" and "Every Time We Say Goodbye" while sharing behind-the-scenes stories of her career in Hollywood.
The World-Famous Harlem Gospel Choir (Friday, Feb. 17, 2023): Performing contemporary gospel with a touch of jazz and blues, the World-Famous Harlem Gospel Choir is synonymous with power vocals, glorious sound and infectious energy. For more than two decades the choir has been America's premier gospel group and it has toured the globe thrilling audiences with the inspirational power of Black gospel music.
Frankie Negrón (Friday, March 24, 2023): Renowned Latin music superstar, Frankie Negrón, born and raised in Newark, New Jersey and of Puerto Rican descent performs for fans all over the world. Since 1997, his distinct blend of traditional salsa with progressive influences such as pop, rock, gospel, R&B, hip-hop, and reggaetón has garnered numerous plaudits, including two Premio Lo Nuestro Awards for "Song of the Year" and multiple Grammy and Billboard award nominations. Negrón has had several number one singles, four gold and platinum albums and nine Billboard Top 40 Hot Latin Tracks.
Other performances include: "The Hit Men: Classic Rock Supergroup" (Friday, Oct. 14, 2022); "Mummenschanz: 50 Years" (Friday, Oct. 21, 2022); the National Players' production of "Fences" by August Wilson (Saturday, Nov. 19, 2022); "My Yiddishe Chanukah" (Sunday, Dec. 4, 2022); Atlantic City Ballet's "The Nutcracker" (Friday, Dec. 9 and Saturday, Dec. 10, 2022); "ODC/Dance" (Friday, Feb. 3, 2023); "The Great Dubois: Masters of Variety" (Saturday, Feb. 11, 2023); "Tartan Terrors" (Saturday, March 18, 2023); "Who Hijacked My Fairytale?" with Kelly Swanson (Saturday, March 25, 2023); "Dan Tyminski Band" (Friday, April. 1, 2023); "The Brubeck Brothers Quartet" (Friday, April 23, 2023); and "NEWSical the Musical" (Friday, April 28, 2023).
For more information on the season and how to purchase tickets, visit www.stockton.edu/pac/.
-Story by Loukaia Taylor