Nearly 400 'Take A Day On' for 18th Annual MLK Day of Service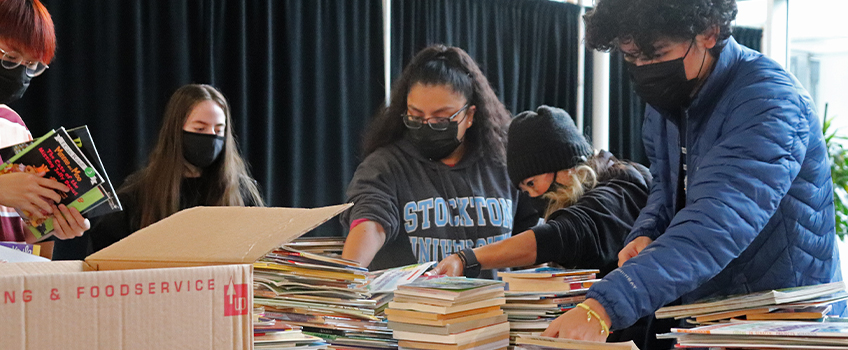 Galloway, N.J. - A little rain didn't dampen the spirits of almost 400 students, staff, faculty and community members as they volunteered for Stockton University's 18th annual Martin Luther King, Jr. Day of Service on Jan. 17.
Approximately 171 Stockton students, staff and faculty participated in six projects on the Galloway campus, while another 68 participated in two projects in Atlantic City, including painting about 200 tiles with MudGirls Studios of Atlantic City for Our Lady Star of the Sea Regional School and putting together around 200 hospitality kits for the Atlantic City Rescue Mission.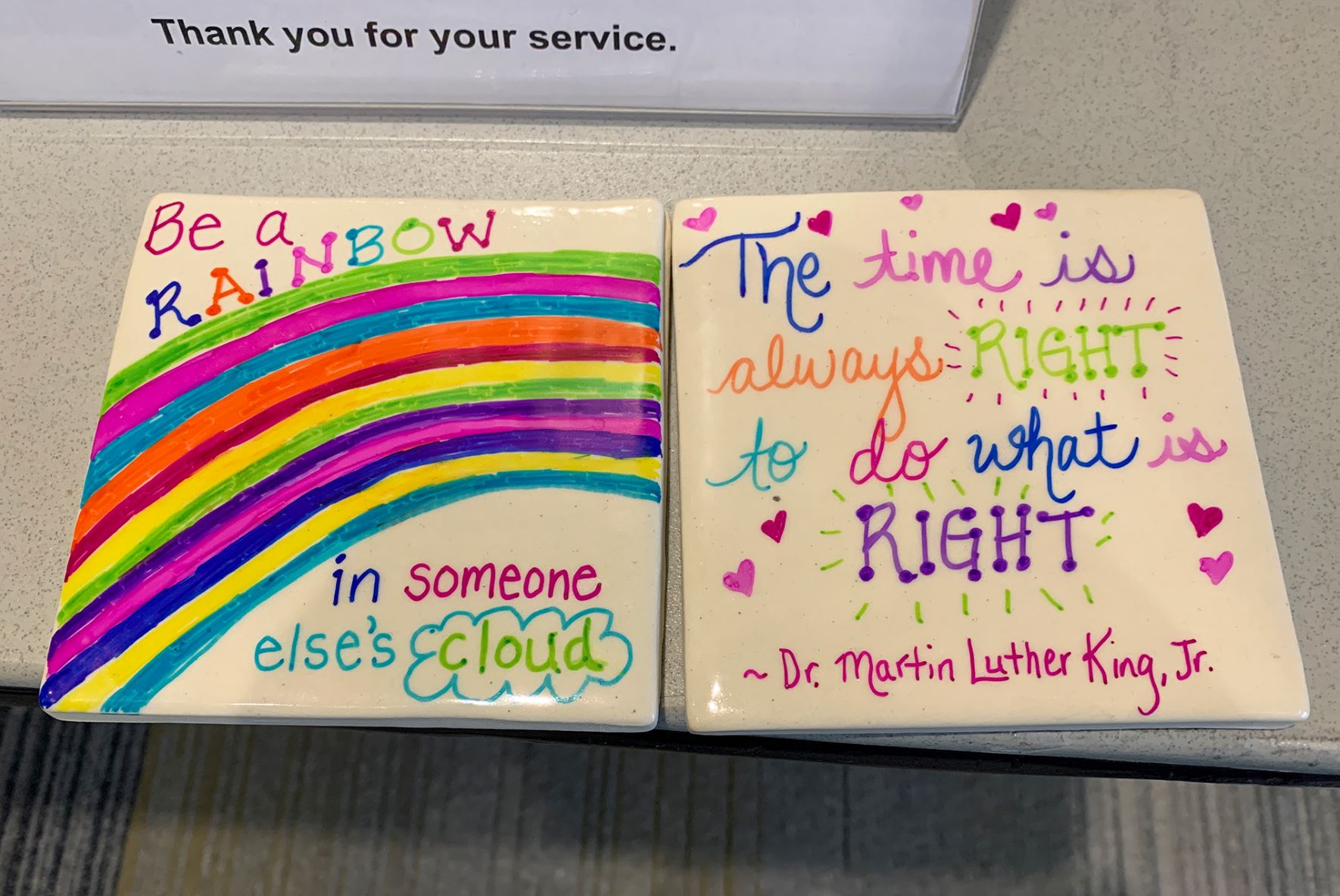 "The annual MLK Day of Service continues to be a great opportunity for Stockton students, staff and faculty, along with the community members we support, to take a day on rather than a day off," said Nicole Bilotti, the AmeriCorps Changebuilder Coordinator at Stockton who coordinated this year's event.
"This felt like a great opportunity to help out," said Olivia Harris, a junior at Stockton from Sammamish, Washington, who participated in the Graduate Student Council's letter writing project. "We're writing letters to soldiers, which felt like a really special thing to do to make a difference in someone's day." Harris is a member of Stockton's Honors program, which requires students to complete 10 hours of community service.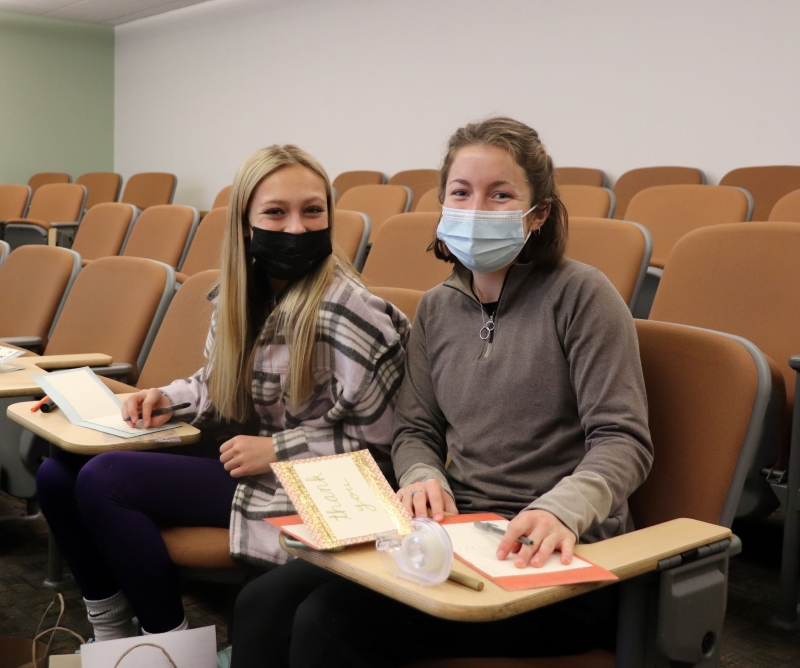 "I heard about [MLK Day of Service] from my Biology teacher and I thought it was a good opportunity to become more involved in the school because I'm a first-year student," said Marlee Tharp of Tuckerton, who also wrote letters to active service members.
First-year Jared Handleman from Hillsboro participated in the Stockton Honors Program's ASL awareness project. "I never actually got to learn sign language in high school," said Handleman. "I have some deaf friends that I can possibly communicate with now that I'm taking the opportunity to learn about the language and make posters to hopefully get other students and community members engaged with learning ASL, too." Over 25 posters were completed and placed around the Galloway campus to raise awareness and teach basic terms.
For junior Bryan La from Galloway, participating in Stockton's MLK Day of Service has become a tradition of sorts. "I've been participating in this event since my freshman year of high school, so I've been doing service for almost 8 years now. It's my favorite thing to do every single year and I look forward to it."
La, a board member of the Circle K club, was one of 46 volunteers who created various crafts, cards and lunches to be donated to local organizations in Atlantic City and throughout New Jersey. "Helping and learning about what people need and how we can help them is something that's been amazing. It's a great feeling to have."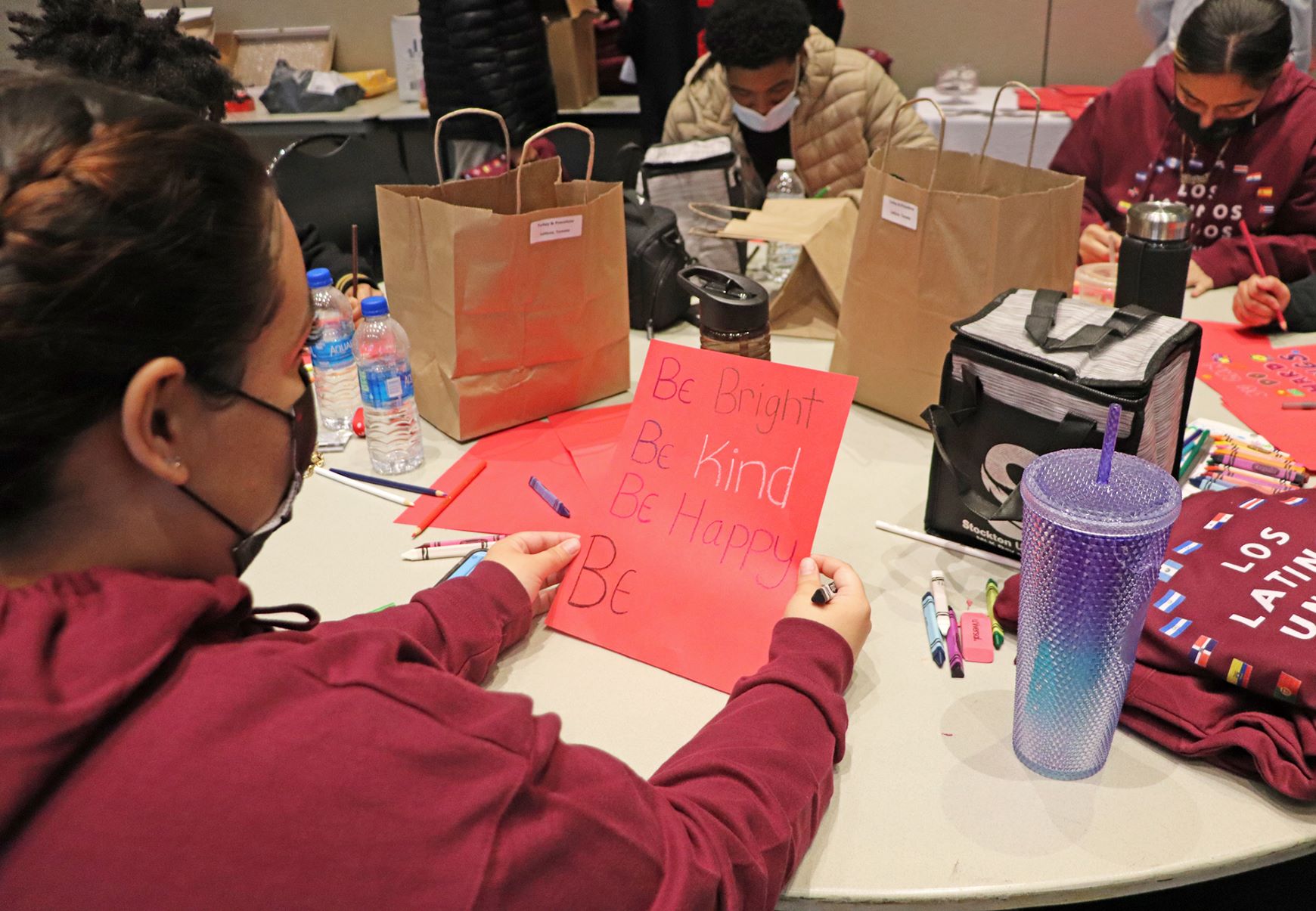 For other students, like senior Jazzlyne Muniz from Elizabeth who participated for the first time in MLK Day, volunteering has helped her college experience come full circle. "It's actually really amazing," said Muniz. "I did volunteer work like a week ago for the City of Atlantic City and I also mentor for the kids of Atlantic City, so this project really meant a lot where we're writing letters to those kids." Muniz is a member of Los Latinos Unidos at Stockton. Along with help from volunteers, the organization made over 100 pencil cases and cards to be donated to a local school.
Seniors Michael Killigrew from Sicklerville and Adam Pickens from Pleasantville were proud to continue the legacy of their famous fraternity brother. "As a brother of Alpha Phi Alpha Fraternity, Inc., our fraternity brother Dr. Martin Luther King, Jr. always pushed for community service, whether it was in his church or outside of it, he made sure the people in his community were always good. I feel like we are doing our part by participating in community service," said Killigrew.
"Being able to serve my community, that's something that I enjoy," added Pickens. "I feel like once you serve your community, you become a role model for people in the community. You set a standard for giving back to your community. And maybe it will start a trend for other people to serve the community as well. That's how we're going to grow as a community."
Both Killigrew and Pickens crafted welcome cards for local school children, paying it forward to the next generation. "It can inspire a generation that is younger than me. Inspire them to become better, inspire them to be better and inspire others to be better as well," said Killigrew.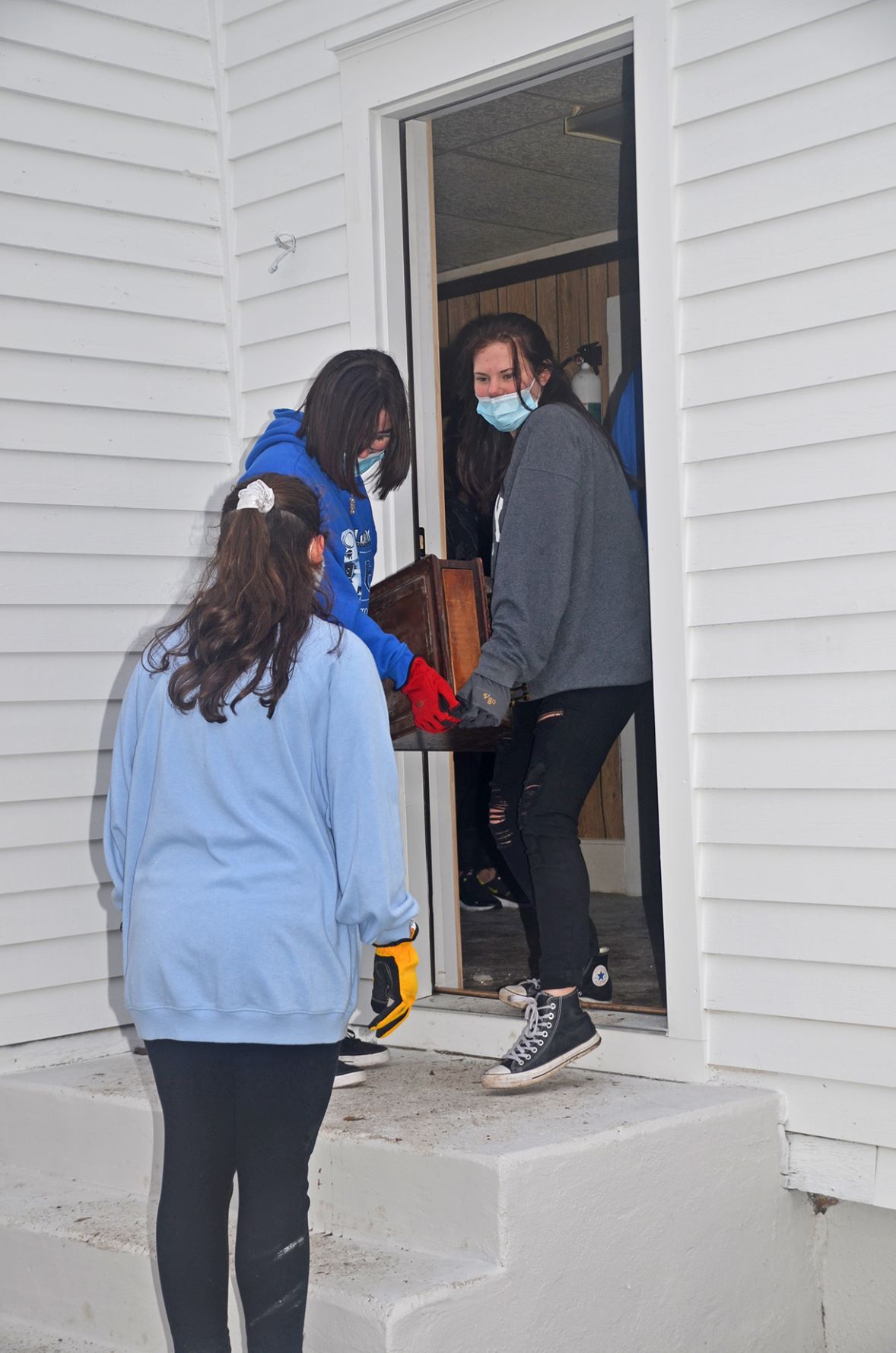 For the second year in a row, COVID-19 protocols presented challenges in organizing the annual Day of Service, which has boasted close to 1,000 volunteers in the past. This year's event was again limited to Stockton faculty, staff and students participating in on-site projects, with virtual and off-site projects open to the public and alumni.
Members of the Stockton community, along with high school students from Hammonton High School's Leo Club, spent the morning at the Eagle Theatre in Hammonton, helping with office and theatre renovations, in addition to outdoor beautification projects.
Additionally, nearly 126 students and community members participated in 12 virtual and off-site projects, including making cards for breast cancer patients with Stockton's Zeta Tau Alpha sorority, feeding and watering animals at Funny Farm Rescue in Mays Landing and cleaning up the Edwin B. Forsythe National Wildlife Refuge in Oceanville.
"During this time of the pandemic, it is as important as ever to support your local communities and build unity," said Bilotti. "I am extremely pleased with the hard work everyone put in to create an event with a broad outreach, while also keeping everyone safe and healthy."
18th Annual Community Engagement Awards
Throughout 2021, many individuals in the Stockton community dedicated themselves to service. This year, Stockton recognized five students, alumni, faculty and staff members nominated by their peers to be commended for their commitment to service in a virtual ceremony prior to the Day of Service. Click here to watch the ceremony.
Undergraduate recipient: Cecilia Munoz, Social Work major
Alumni recipient: Brooke Nolan, Physical Therapy graduate student
Stockton Organization recipient: Los Latinos Unidos
Staff Member recipient: Roxana Perez-Nieves, GEAR UP Lead Academic/Career Counselor
Faculty Member recipient: Adam Aguiar, Assistant Professor of Biology
"In commemoration of Martin Luther King, Jr., it is always delightful to see the community come together and pull off projects at a large scale," said Bilotti.
To learn more about Stockton University's Center for Community Engagement and Service-Learning, visit stockton.edu/engagement.
Click here to view more photos on Flickr.
Reported by Eliza Hunt
Photos by Eliza Hunt and submitted by Stockton community members