MLK Day of Service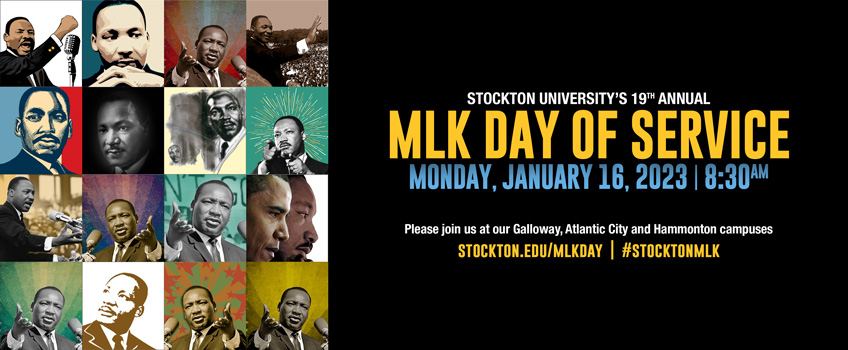 The Dr. Martin Luther King, Jr. Day of Service is Stockton University's signature Annual Day of Service.
It brings together over 500 students, community members, and community partners, and often encompasses over 15 projects both on- and off-campus. The goal of Days of Service are to provide an intensive, community-wide experience for students and to introduce them to partners where they can serve long-term and develop an ongoing relationship.
Masks are optional but not required for this event.
Stockton University's 19th Annual
MLK Day of Service
Monday January 16th, 2023
8:30 a.m.
Please join us at our Galloway, Atlantic City, and Hammonton campuses for students, alumni, and community members!
MLK Day of Service Community Engagement Award Nominations
Do you know someone in the Stockton community who is committed to building and supporting their community? Nominate them for a 2023 Community Engagement Award!
Available Projects for January 2023
This year's special give-away are Stockton beanie hats!
Lunch bags will be distributed after the breakfast and during the morning registration.
2022 Community Engagement Awards Recipients
Undergraduate Recipient: Cecilia Munoz, Social Work Major
Alumni Recipient: Brooke Nolan, Physical Therapy graduate student
Stockton Organization Recipient: Los Latinos Unidos
Staff Member Recipient: Roxana Perez-Nieves, GEAR UP Lead Academic/Career Counselor
Faculty Member Recipient: Adam Aguiar, Assistant Professor of Biology