MLK Day of Service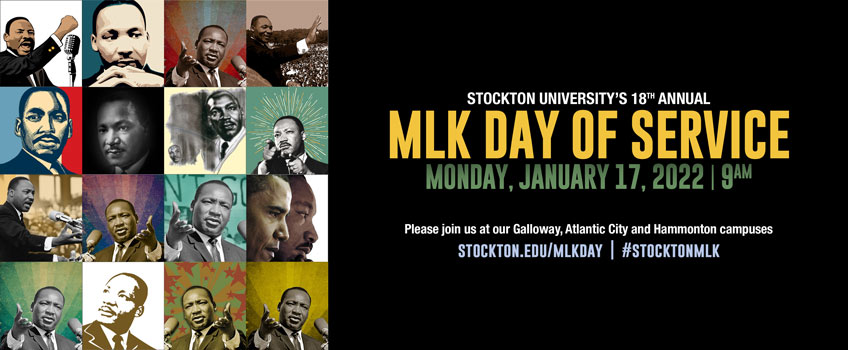 The Dr. Martin Luther King, Jr. Day of Service is Stockton University's signature Annual Day of Service.
It brings together over 900 students, community members, and community partners, and often encompasses over 25 projects both on- and off-campus, with several virtual projects available. The goal of Days of Service are to provide an intensive, community-wide experience for students and to introduce them to partners where they can serve long-term and develop an ongoing relationship.
COVID-19 Guideline Update for the Day of Service 2022:
Due to the rising cases of COVID-19 in our community, all in person, on campus and select off campus projects will be restricted to students and staff only. Masks are required at all times.
Community members, partners, and alumni are welcome and encouraged to participate in one of our remote project opportunities for the day of service.
Stockton University's 18th Annual
MLK Day of Service
Monday January 17th, 2022
9:00 a.m.
Please join us at our Galloway, Atlantic City and Hammonton campuses for students and our virtual projects for community members!
Are you a student interested in volunteering? Take advantage of this leadership opportunity and register to become a project leader!
Project Leaders serve as a "Point Person" for a designated project between our community partners and event organizers on the day of service. Job duties in the past have included organizing students, leading reflection sessions, collecting surveys, volunteering during the service project, and/or ensuring participant safety.
This year's ~special~ give-away is reusable Stockton lunch bags! Lunch bags will be distributed during morning registration.
Come down to F101, the Stockton Center for Community Engagement and Service-Learning, and show us your completed survey to receive a FREE MLK Day of Service t-shirt!
Volunteers serving remotely are also welcome to stop by the office to pick up a t-shirt within the week after showing the completed assessment. Hammonton volunteers will receive their t-shirts at their volunteer site.
Registration for on and off-campus projects will begin promptly at 9 a.m. on the Galloway and Atlantic City campuses. Volunteers will be directed to their pre-selected project. Hammonton projects will meet at their volunteer site.
A breakfast bar and bagged lunch will be provided to all in-person volunteers.
2021 Spotlight on Service
Throughout 2021, many individuals within the Stockton Community dedicated themselves to service. We have compiled the students, alumni, faculty, and staff who were nominated by their peers to be commended for their commitment to service.
2022 Community Engagement Awards Recipients
Undergraduate Recipient: Cecilia Munoz, Social Work Major
Alumni Recipient: Brooke Nolan, Physical Therapy graduate student
Stockton Organization Recipient: Los Latinos Unidos
Staff Member Recipient: Roxana Perez-Nieves, GEAR UP Lead Academic/Career Counselor
Faculty Member Recipient: Adam Aguiar, Assistant Professor of Biology
Past Events