Retiring Faculty Get the Last Word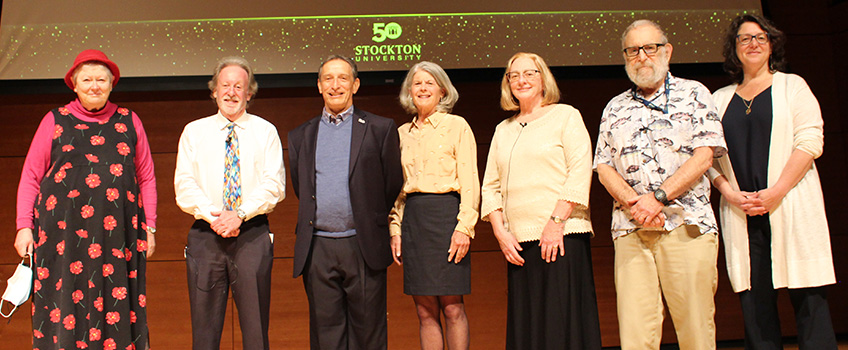 Galloway, NJ – Andy Warhol predicted that we would each have 15 minutes of fame.
On April 1, his prediction came true as retiring Stockton University professors got 15 minutes in the spotlight at the Last Lecture in the Campus Center.
"This is to honor your retirement," said Provost Leamor Kahanov in her opening remarks. "We are glad we had the opportunity to hear what you have to say and honor the time you have been here at Stockton."
Last Lecture, an inaugural event at Stockton, was presented to give retiring faculty a chance to talk about anything they wanted.
Six longtime faculty members – each with decades of teaching experience – stepped up to the microphone.
Some talked about the courses they taught at Stockton or provided a narrated historical tour of a city. There was an accounting lesson, too.
One faculty member presented a slideshow of pictures from a Stockton travel course to Key West, while another read from a manuscript she had written about her childhood.
Below are excerpts from the Last Lecture.
Professor of Marine Biology Matthew Landau: Tropical Marine Biology
"I enjoyed my time at Stockton, and my favorite was the travel course where we went snorkeling in Florida," said Landau, whose wife Brenda, also is an adjunct professor at Stockton in the same field.
Matthew Landau has taught at Stockton University for more than 30 years with a focus on aquaculture, crustacean biology, comparative physiology and biochemistry.
"If anyone ever has a chance to do a travel course, do it," Landau said.
After looking at a slide presentation of Landau's travel course to the Florida Keys and Key West, it was easy to see why Landau embraced his time to help Marine Biology students learn first-hand about ocean life.
The travel to Florida meant Landau would pack the Stockton van with scuba equipment and snorkeling gear, then board the auto train bound for Florida. He arrived before the students and met them in the van at the airport.
And then studying began with stops in Islamorada, Marathon and The Lower Keys and Key West. The first four days took students to Everglades National Park, on a boat to reef dive, a visit to Jules Lagoon in Key Largo to dive into warm salt water for the first time.
They saw alligators at the Everglades National Park, then visited a coral restoration center in Key Largo, a turtle hospital in Marathon and drove through the Florida Keys into Key West, where they studied the tropical hardwood. Students toured the historic Perky Bat Tower in Lower Sugarloaf Key, now destroyed by a hurricane, and walked the bridges and dune trails of Key West.
"The travel trips gave me a chance to know students better. If I get to know you better, then I can write a better letter of recommendation for you," he said.
On the last day they packed and visited the Florida Metro Zoo before leaving.
And Landau had a slide for every moment.
John Boyle: Philadelphia Experiment – A 300-Year History
The Assistant Professor of Business Studies presented a slideshow called "Philadelphia in a Day" rather than a lecture about his role as an accountant.
"I've been teaching in the School of Business, I guess, for 20,000 years," Boyle said. "In 2007, I created a 300-year history of Philadelphia. If I gave a lecture on accounting, I'd have to give out espresso to keep everyone awake."
Boyle chose the slideshow for his lecture because he was born in the Philadelphia area and is interested in the city's history.
"Why study history?" asked Boyle. "History provides information about our beginnings. It helps us understand people and provides understanding of how individuals have weathered adversity. And it helps us learn from the past."
His lecture began with an overview of Philadelphia in 1682 when Founder William Penn spread his Quaker philosophy of peace, simplicity, community, quality and integrity.
"Philadelphia is the 9th largest metropolitan area in the United States and the fifth most populous city in the country. It is considered the birthplace of democracy where the Declaration of Independence was signed, and it also served as the first capitol of the United States and the first financial capital of the United States," Boyle said. "
He said 74% of the population in Philadelphia is between the ages of 20 – 55, and that Philadelphia saw a population decline in the 1960s and 1970s with residents moving to the suburbs.
"In the last 30 years, Philadelphia has seen a renaissance," he said.
Boyle's lecture ended – in overtime – but not before a nearly 100-slideshow tour of Philadelphia stopped at Pat's Steaks at 9th and Wharton, the Philadelphia Museum of Art and Elfreth's Alley, a historic South Philadelphia street made up of homes built between 1720 and 1830.
He highlighted famous artists John Coltrane, Teddy Pendergrass, Frankie Avalon, Patti Labelle, Hall & Oats and rock and roll Hall of Fame songwriters Ken Gamble and Leon Huff, who developed the Philadelphia soul music genre, also known as the Philly sound.
"Where Philadelphia is going from here, we can only guess," Boyle said at the end of the lecture.
Jean Abbott: The Expectation Gap – What Auditors and Accountants Really Do
Abbott, associate professor of Business Studies, gave guests what she called "a tutorial about the world of accounting."
"I teach accounting. I was a Stockton student who graduated in 1978 with a degree in accounting. I had no idea what I wanted to be. I figured I liked algebra, so I will be an accountant. And then I learned that one had nothing to do with the other," Abbott said.
"I simply love accounting. The beauty of the logic. I enjoyed being an accountant. And I want to talk about the beauty and versatility of accounting as we know it today," she said.
Abbott said accounting was developed through the need to keep records.
"People always needed records, whether they were armies or the wars they fought. People came up with different record-keeping," she said.
Incas and other ancient Andean cultures kept records and communicated information using string and knots, a system called quipu or khipu, she said.
"What they came up with is a system of knots and strings, and the locations of the knots and strings is a record keeping system. We still don't know how to interpret it," Abbott said.
Across the Atlantic in 1490 in Italy, she said, a different type of record-keeping was taking place.
Abbott told how mathematician Fra Luca Bartolomeo de Pacioli was an early contributor to the field now known as accounting. Pacioli, known as "The Father of Accounting and Bookkeeping" in Europe, published five books and was the first person to publish work on a double-entry system of bookkeeping, Meyers said.
"The versatility of accounting is amazing," Abbott said. "And it was able to evolve as culture and businesses have evolved."
She ended by reminding the audience that people in the United States still use the same accounting system "which was written over 500 years ago."
Judith Copeland: Literary Reading
Copeland used her time as a civil rights platform, first reading excerpts from "Where Sea Meets Sky," which is her autobiography about growing up with her missionary parents in Fukuoka, Japan, after World War II.
"I wrote this to try to make sense of some of my earliest memories," Copeland said. Dressed in a red hat and a dress with red flowers, Copeland stood in the spotlight at the podium without using any slides or the projector.
Copeland, from age 3, grew up in the aftermath of the bombing of Fukuoka, which was attacked by United States Army Air Forces heavy bombers June 19, 1945. The allied air raids on Japan destroyed 21.5 percent of the city, which at the time had a population of 323,200 and was the largest city targeted.
"Houses were made of paper. They burned easily," Copeland read from her autobiography.
She recalled walking with the homeless families and their children in search of food.
"In my earliest memories, families desperate for food were eating grasshoppers," Copeland read.
"When I was a child, we lived in Japan, in a house near the ocean," she read. "My parents were among the first American missionaries to Japan, and we had to buy all of the food and supplies that we needed. Every September, the typhoon would blow off pieces of our flimsy house, made of sheet metal, which thrilled me. I was three years old. After the first time the roof blew off, I thought maybe it was a trick. My father retrieved the roof. Our house looks like a house, but is it real?" Copeland read.
She recalled walking the island with her father looking at lava rocks. He told his daughter the rocks had once been a house.
She read in verse from her autobiography how "every November the typhoons stopped blowing, and the sunsets became hazy and muted. At dusk, she and other children watched the boats on the horizon head to a purple point."
Her friends in Fukuoka were poor.
She remembered playing a game with a handkerchief and pebbles. She and another girl would pretend the pebbles were precious jewels and jewelry, and they would have to find someone to buy them. The memories brought back fodder for her Last Lecture.
"I speak from my heart," Copeland said to the audience at the end. "What drew me to revisit this essay was watching news of Russia's aerial bombardment of the Ukraine. The pictures look the same as the devastation of what was Fukowoka."
Copeland said in conclusion of her lecture, "Rebel is rebel. Rubble is rubble. When everything is destroyed, it all looks the same. America, too, has indiscriminately bombed civilians in World War I, Hiroshima. And dropping bombs on cities also is an atrocity. Five years after World War II we did it again in North Korea, Vietnam, Laos, Cambodia, and Afghanistan. "Until all of this is acknowledged and that it was wrong, we will keep repeating the same atrocities. It is never OK to drop bombs on children. Never OK. Whether on purpose or collateral damage. Dropping bombs on children is unacceptable, period. This has gone on for the more than 65 years I have lived on this earth, and it is time to stop it."
Arnaldo Cordero-Roman: Don't Hold Your Tongue
Cordero-Roman, associate professor of Spanish at Stockton University since 1999 and president of UNIDOS, spoke in English and Spanish to narrate a multimedia presentation about life in Havana and in his own family, too.
"Anyone who has had me in class, whether a language or general studies classes, says, 'He's high octane' or 'Do we have to learn Spanish to be in this class?" Cordero-Roman said.
If you talk about Latinos, Cordero-Roman said you must include Puerto Rico, New York, Washington, D.C. as well as New Jersey. "It is a journey of language," he said.
The journey includes sports, history, the arts, travel, family and respect for one another. And Cordero-Roman's presentation had a little bit of each mixed in.
He said the last time he stood on the stage in the Campus Center was to raise funds for Puerto Rico in the aftermath of Hurricane Maria in 2017. At the 2020 Tokyo Olympics, Jasmine Camacho-Quinn became the second Puerto Rican ever to win a gold medal while representing Puerto Rico and in 2022, she became the first Afro-Latina athlete representing Puerto Rico to win a gold medal at the Olympics, Cordero-Roman said.
"Puerto Rico was proud, but Jasmine was born in South Carolina. So, the whole issue was if she was from Puerto Rico. No, she represented Puerto Rico and she did it to honor her mom who is from Puerto Rico," he said.
Throughout the 15-minute slide presentation were images of Cuba with now-antique Chevrolets and Fords from the 1940s and 1950s being used for taxi transportation and one undated photo of Cordero-Roman and his young daughter in the stands at the Phillies game in Philadelphia. "I go to the Phillies game with my daughter, and I like to go see the Latin players."
He showed a slideshow of photos of places, students, family, including aunts, uncles and cousins, and of his mother, whom he recalled walking through the fields of Puerto Rico with a machete and walking stick.
When he visited her bedside after she broke her hip, he held her hand and talked. "She gave me a stern look and said, 'Your father gave me this machete after our wedding, and it is my last gift to you," Cordero-Roman said. "I told her I'm not giving my wife a machete."
He fondly remembered his mother, who died at age 94, as "a strong person."
His eclectic photos included trips to a conference in Lima, Peru, a student summer session in Valencia, Espana (the third largest city in Spain after Madrid and Barcelona), the sidewalks of Chile, as well as family – two of his two uncles, looking stern for the camera as if someone was near death. "You would never guess it, but they were discussing the fate of the Chicago White Sox," he said.
Cordero-Roman plans to do more bicycling in his retirement.
Shelly Meyers, Special Education from Institutions to Inclusion
Meyers, associate professor & assistant chair of Special Education, said she had to think about her lecture after being told she could talk about anything she wanted.
"I could talk about my grandchild – who I could talk about forever – or I could talk about special education. Of course, I figured I can't talk more about one than the other, so I picked special education," Meyers joked.
Meyers is credited with creating the partnership between Stockton and the ARC of Atlantic County that allowed students to work with adults with disabilities. Stockton students enrolled in Meyers' classes worked one-on-one with disabled students to teach them life skills, meal management, money budgeting and wardrobe each Monday during the semester.
Her lecture focused on the early years of her professional journey in special education. In the 1950s, little was known about disabilities, and special education didn't exist.
"These early years are a journey through my professional life which is fitting because this is the final lecture, and I will take you through from where I started and where we are today," Meyers said.
Starting in 1954 with the Vineland State School in Cumberland County, she said that Dr. Henry Herbert Goddard believed people with intellectual impairment should not be able to reproduce. "He sterilized 13-year-old girls," she said.
In the 1960s and 1970s, there was a desegregation which meant bringing children with disabilities into traditional schools.
However, Meyers said she had little experience with children with disabilities during the 1960s and 1970s when she attended Atlantic City High School. "We knew they were in classrooms, but we never saw them because they were in the basement," Meyers said.
Television journalist Geraldo Rivera produced an investigative report in 1972 on Willowbrook, a state-funded institution for children with intellectual disabilities on Staten Island. He exposed the conditions in which institutionalized people were forced to live and provided a shocking report that ended with Willowbrook being closed.
Sen. Robert Kennedy had toured Willowbrook in 1965 and then addressed a joint session of the New York legislature on the dehumanizing conditions. It was followed by a book, "Christmas in Purgatory," that contained an essay of photographs by Burton Blatt and Fred Kaplan capturing life inside public institutions.
"The book, through its pictures, told us of man's inhumanity to man. It was instrumental in closing institutions. I was heading to law school," Meyers said.
Meyers said it was the Rehabilitation Act of 1973 that prohibited discrimination based on disability in federal programs which began protecting patients.
"This is where it happened. This is where they realized that these people are not handicapped; they just have a disability," Meyers said. "Veterans were coming home from Vietnam with special needs. This law took disability to a civil rights model."
By 1975, then-President Gerald Ford signed into law the Education for All Handicapped Children Act, which guaranteed a free, appropriate public education to each child with a disability in every state in the country. By 1987, Meyers was in her final teaching position and happened to hear about full-time special education coming into classrooms.
"They also came up with a tiered approach. If a child's not reading, we wouldn't classify them. They were trying what works in a classroom before they were going to special education," she said.
In 1990, George Bush signed the Americans with Disabilities Act. "By 1990, I was a principal and had to deal with these issues," Meyers said.
By 2004, schools had added disciplines to deal with autism and attention deficit hyperactivity disorder or ADHD.
She said the bottom line of all the rules governing special education was to "find the continuum of the least restrictive environment and give every child with a disability a chance to be fully included in general education because where else were they going to learn to grow?"
Meyers said she hasn't decided what she's going to do in retirement but spending more time with her grandchild is one of the most important.
- Story by Stephanie Loder
- Photo by Diane D'Amico