Local High Schoolers Learn the Classics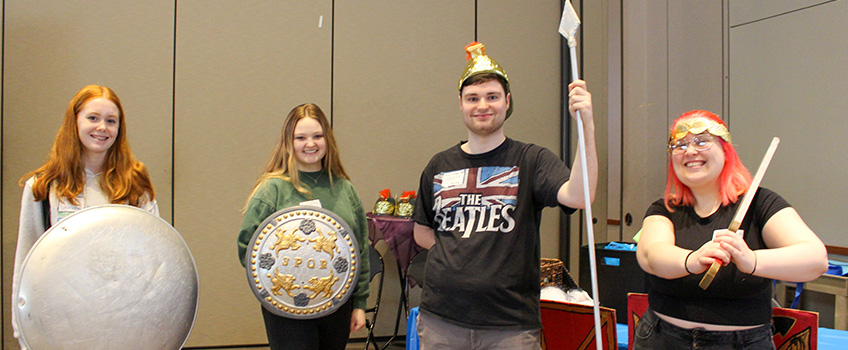 Galloway, N.J. – About 200 high school students came to Stockton University for a day full of ancient Latin and Greek on Dec. 12.
Latin Day was developed by Katherine Panagakos, assistant professor of Classics, to introduce Stockton's Classics program to area high school students studying Latin. Students in both her Latin and Ancient Greek classes run the stations that the high school students visited.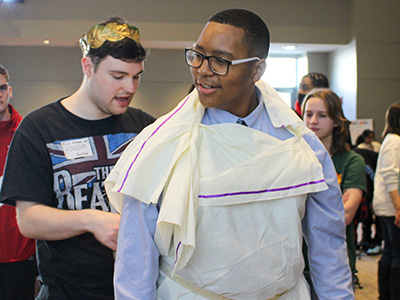 Stations included the return of the classics, like learning ancient and modern Greek, traditional toga tying and ancient Roman board games, and new additions, such as ancient divination, learning mythology and trivia through Kahoot.
Sarah Boddy (Latin major and in Intermediate Latin I) and Ken Kornbluth (Order of Greco-Roman Enthusiasts or OGRE) ran the new divination station, which let students predict their futures through contact with a divine figure, such as Hermes, the Greek messenger god.
According to Boddy and Kornbluth, contact can happen in four different ways: haruspex (reading your fortune in the organs of a sacrificial animal); ornithomancy (reading omens from the actions of birds); bibliomancy (interpreting a book passage or sentence); and cleromancy (divination with dice or pebbles).
"For the bibliomancy, we brought in three different mythology books since the book is usually a religious text," Kornbluth said. "Books like the Bible, Torah, Quran, etc. are good examples of that. In practice, you think of a question and, with your eyes closed, point to a random sentence and interpret that as your 'message.'"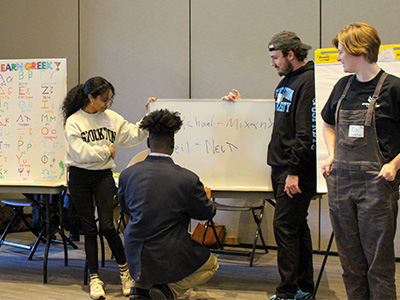 "And you can't forget about Flavius," Boddy said, pointing to a small, stuffed sheep. "He's our 'sacrifice,' and if his organs are 'bad,' it's a bad omen. Good organs mean a great day for you!"
Satya Allen (Advanced Latin and co-president of OGRE) ran the mass Kahoot, replacing the program's usual Quiz bowl. Students were eager to pull their phones out and join the game, which had at least 50 players in one game.
"I thought that it might be interesting to mix Latin and Greek mythology together since the Quiz bowl was more Latin-oriented," Allen said. "I made sure that there were different levels of questions for different students. A lot of people are getting the questions right and really enjoying themselves."
The COVID-19 pandemic forced the annual program to go on hiatus, making this event their sixth year running. They could have run the program virtually, but it was important for Panagakos that the high schoolers got to explore the workshops in person.
"Everything is hands-on and that's what we wanted," Panagakos shared. "They're not even moving around with their own school; they're with students from other schools during the workshops. We wanted them to meet other Latin students and for them to know that they're not the only ones out there."
Participating high schools included:

Atlantic City High School; Boys Latin of Philadelphia Charter School; Wall High School; Egg Harbor Township High School; Ocean City High School; Raritan High School; Nutley High School; Clearview Regional High School; and Lenape High School.
-Story and photos by Loukaia Taylor