Latin Day a Classic for Area High School Students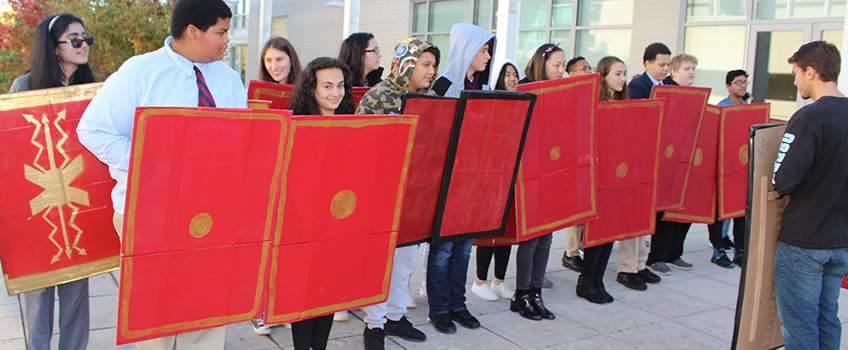 Galloway, N.J. – Stockton student David Bicknell takes his classics very seriously. The senior from Egg Harbor Township not only double majors in Classics (Greek and Latin) and Philosophy, he owns a set of steel armor with brass decorations.
He wore his armor for Latin Day at Stockton, where Latin students from four area high schools got to learn about Ancient Greek and Latin culture, games, and their military techniques.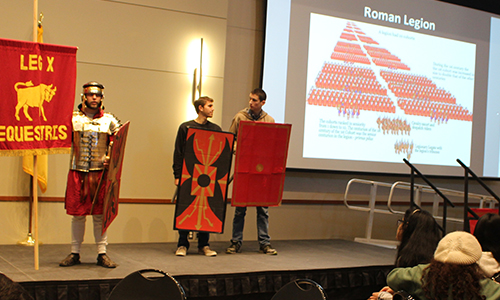 "It gives a little more wow factor," Bicknell said of the armor as he walked some high school students from Southern Regional High School and Boys Latin of Philadelphia Charter School through basic military strategy using huge cardboard shields.
"I'd like them to understand the discipline and teamwork it took to fight," he said. "War then was much more close contact, face to face, usually with swords. You had to trust those you were with."
Latin Day was developed by Katherine Panagakos, assistant professor of Classics, as a way to introduce Stockton's Classics program to area high school students who are studying Latin. Her students help run the program, which this year also included high school classes from Egg Harbor Township and Clearview Regional High School.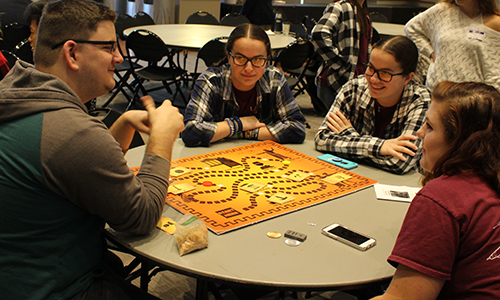 "We have the games, and a quiz bowl and prizes," Panagakos said. "I've already had a student ask me for more information about Stockton."
This is the fifth year for the event, which is supported by the Dean C. and Zoe S. Pappas Interdisciplinary Center for Hellenic Studies at Stockton, the School of Arts and Humanities and Language and Culture Studies program.
Bicknell said he first became interested in classic languages and history in high school when he studied Latin.
"I taught myself Greek on the side, and started reading about ancient military history, and it just snowballed," he said.
As for the armor, when it's not part of class, Bicknell said it makes a very authentic Halloween costume.
A gallery of photos is on flickr.
# # #
Contact:
Diane D'Amico
Director of News and Media Relations
Stockton University
Galloway, N.J. 08205
Diane.DAmico@stockton.edu
609-652-4593
609-412-8069
stockton.edu/media