Sciencepallooza Lets Students Soak Up Science, Visit Campus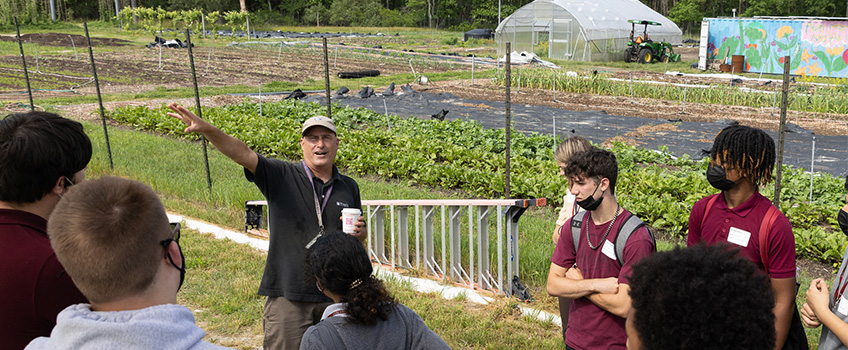 Galloway, N.J. – Fun is part of the name, and Stockton University's Sciencepallooza didn't disappoint when about 80 students from Camden County Technical School gathered on campus on June 2 to learn about making slime, how volcanoes work, and growing healthier food.
The event was created by the Stockton School of Natural Sciences and Mathematics (NAMS) to introduce high school students to Stockton and promote STEM or Science, Technology, Engineering and Math careers.
"There are so many options for students in the sciences, and we want to show them how they can turn an interest into a career, starting here at Stockton," said NAMS Dean Peter Straub.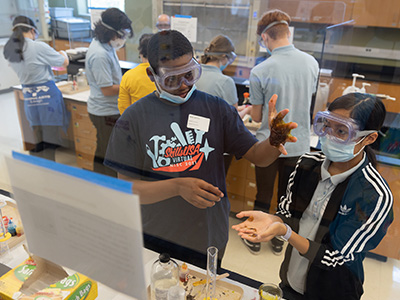 In addition to hands-on workshops, students got the chance to walk around some of Stockton's 1,600-acre campus in the middle of New Jersey's Pine Barrens and get a little taste of the college experience.
"Most of these students have never stepped on a college campus before, and especially with the pandemic happening they weren't even really allowed to leave their house," said Camden Tech chemistry teacher William Heimbold, who attended Sciencepallooza for the first time.
"They can see the freedom that you get in college," Heimbold said. "It's not as structured like it is in high school. They can see how open the campus is, and they might think, 'Hey, I can do this.'"
Each student attended two sessions featuring a specific science. Topics included experiential chemistry, ecological forestry, science and sustainability, volcanic geology and black holes and neutron stars in space.
One of the sessions took place at Stockton's Sustainability Farm, where Ron Hutchison, associate professor of Sustainability, showed how the farm works with nature by creating an inviting habitat for pollinators. The honeybees pollinating crops live on the farm in hives set up by students.
"About two-thirds to three-quarters of the world is fed by small farmers. We are training our students to be small-scale farmers on an acre or two looking to grow about $100,000 to $150,000 per year as a production goal and minimize overhead costs," Hutchison said.
Eliana Gibson, 16, of Atco, took the Experiential Chemistry workshop with Marc Richard, an associate professor of Chemistry. Richard showed students a few experiments, including how to create slime.
"The teachers are really interactive and it's good having the (Stockton) students who go here so we can ask questions and find out how much they like their majors," said Gibson, whose father is a Stockton graduate. "(The Stockton students) interact with us very well because they are our age."
Stockton biochemistry major Brittany Berchtold of Mays Landing volunteered for the chemistry workshop. She said she wants to work in a lab after college but may have some other career plans as well.
"I actually really like teaching," the senior said. "I like interacting with people who are interested in the same things I'm interested in."
In addition to making science more intriguing and accessible to the students, Sciencepallooza also gave the teenagers a chance to experience Stockton.
This is my first time on campus. The atmosphere is very welcoming. I could definitely see myself going here because it's closer to where I live, and the whole science branch is good.
"This is my first time on campus. The atmosphere is very welcoming," said Renee Manuel, 16, of Sicklerville. She plans on majoring in biomedical science when she goes to college. "I could definitely see myself going here because it's closer to where I live, and the whole science branch is good."
Kalex Garcia Rivera may not attend college right away. The 17-year-old plans on taking an apprenticeship as a carpenter after graduating from high school. But he was impressed with the look of Stockton's campus and hasn't ruled out studying for a bachelor's degree in the future.
"It feels really peaceful here," the Sicklerville resident said. "It seems like the people here really have fun. There's a real community here. I could see myself being here."
And as for Sciencepallooza, Rivers said, "It's great. It's a lot of fun. I'd rather be here than school, right?"
Stockton welcomes other high schools to schedule a Sciencepallooza visit. For information, contact Adriane Sicknick at Adriane.Sicknick@stockton.edu
View a gallery of photos from the event on flickr.
--Story by Mark Melhorn and Susan Allen. Photos by Susan Allen/Stockton University