Physically Distant, Globally Connected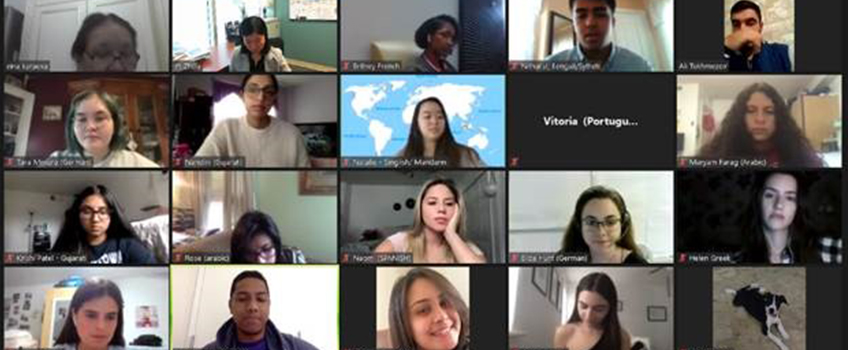 Galloway, N.J. - In a time of physical distancing, Stockton's world language tables have become a bridge for Ospreys to virtually meet and chat with peers around the world. However, had it not been for the COVID-19 pandemic, this unique opportunity for students to connect on a global scale may have never happened.
The world language tables started in Fall 2016 by Jiangyuan Zhou, director and senior international officer of the Office of Global Engagement. Traditionally, tables are set up each week for an hour in the C/D Atrium on the Galloway campus. Students, called language coordinators, sit at a table and chat with anyone who stops by. Faculty, staff, students and community members are welcome to brush up on their foreign language skills, receive help translating papers and projects or connect with someone else who speaks the same language. About 25 different languages are typically offered - varying each year by student availability - with some like Serbian hard to find anywhere else.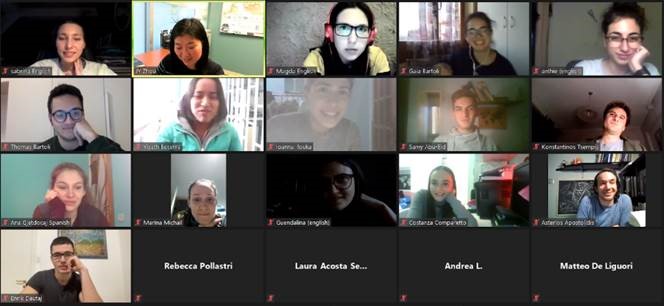 "Many of our language coordinators come from a different cultural background," said Zhou. "The tables provide these students a way to relax. Since they are constantly speaking a different language at school, this is one hour they can talk in their first language outside of home."
In a 2013 survey Zhou sent to all students, around 800 Ospreys responded they spoke a language other than English at home.
With the onset of the COVID-19 pandemic in March 2020, many Stockton students, including international and exchange students, were sent home. Quickly, departments and organizations across the university pivoted to find ways to offer online events and keep students feeling connected to each other. Although not quite prepared to move online, Zhou was determined to keep the tables going. That next week, the world languages tables went virtual for the first time.
"We use language as a tool, but the goal is communication, to develop this sense of belonging to Stockton, to a group," Zhou explained. "I think that's important for our students to have."
As Alexander Graham Bell said, when one door shuts, another opens. By fall 2020, the world language tables were thriving on Zoom. Zhou realized students around the world were also adapting to online learning like Stockton students, so she crafted an email to Stockton's global partner institutions to invite their students to the tables. After this, students from countries all over the world began popping in to the tables to hone their English language skills while connecting with Stockton students.
"Moving online has opened a window for us," Zhou said. "More Stockton students can communicate with others from different places. It's so easy and casual. They can talk about anything they want with each other. At the same time, it can be a really fun thing if students have a project and want to interview someone from another country - they can just pop in to the tables and do that."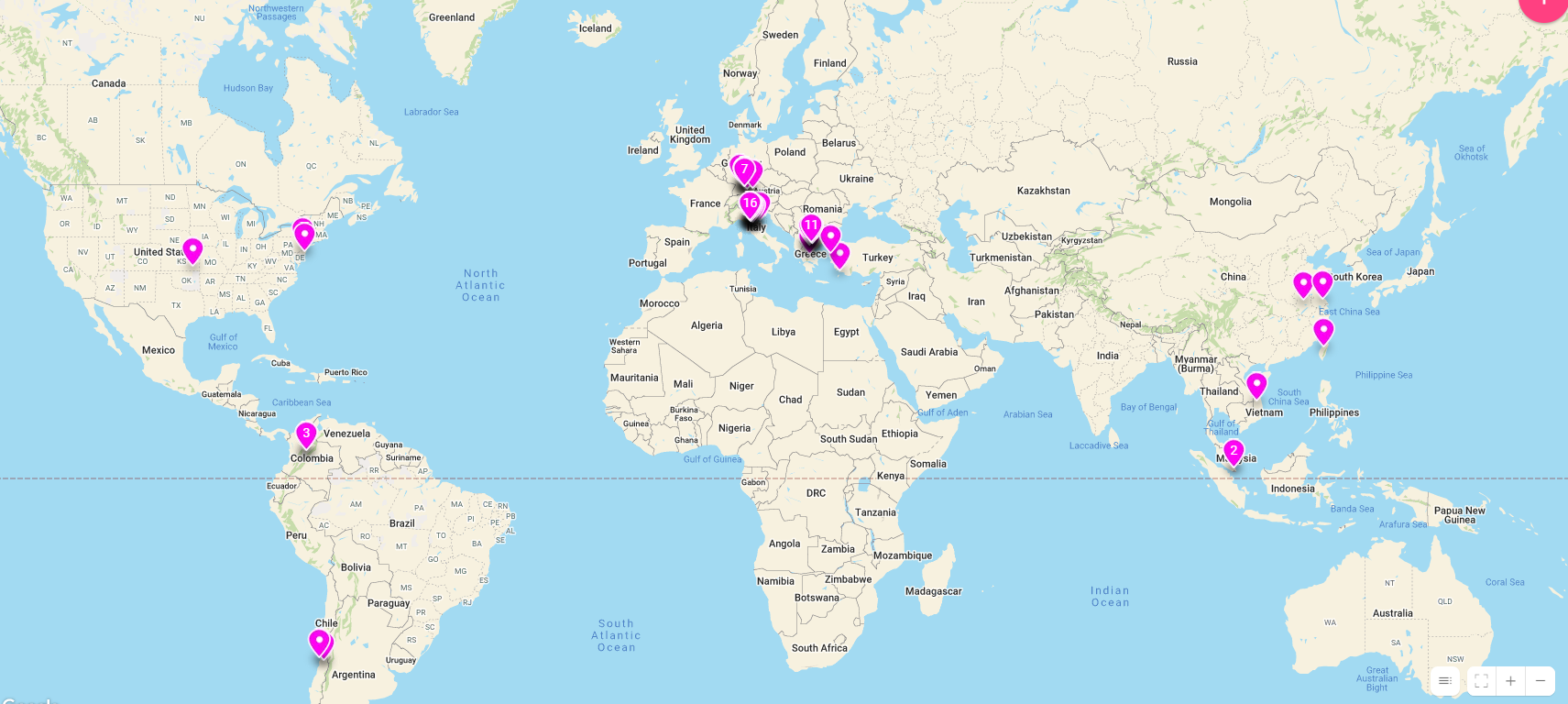 At the beginning of each session, Zhou asks students to mark their hometown on a digital world map to show where they are from. Red pins denoting hometowns are scattered across countries like Italy, Germany, Greece, Turkey, Colombia, Chile, Singapore, Taiwan and China.
Participants are sorted into breakout rooms with a handful of others to practice their language skills. Most international students who join brush up on their English. Along with weekly themes to guide the conversation, Zhou pops into the rooms to ask questions. For example, she asked international students what they thought about American foods, and then asked what foods they would recommend from their countries for Americans to try.
"I think that it's really good we can share Stockton with the world," said Zhou. "I get Stockton students that are excited to share things with me like, 'Oh, I just talked to these students and they want to study at Stockton.' It would be really cool to have some of these students study at Stockton in the future."
Experiencing great success online, the world language tables are flourishing in a time when many events foundered, providing more students a direct way to socialize with others on a global level and learn about different cultures. The virtual format has worked so well, Zhou does not see the tables returning to a fully in-person format.
"We've planned all different kinds of projects for the future," she said. "I think we'll swap roles in the future from Stockton students leading our tables, to international students leading some."
Stockton's world language tables are open to all students, staff, faculty and community members. They take place from 12:30 to 1:30 p.m. Thursdays through April 22 on Zoom. For more information on Stockton's world language tables, visit the Office of Global Engagement's website.
- Reported by Eliza Hunt