Students Connect, Reach Out, During TLC Week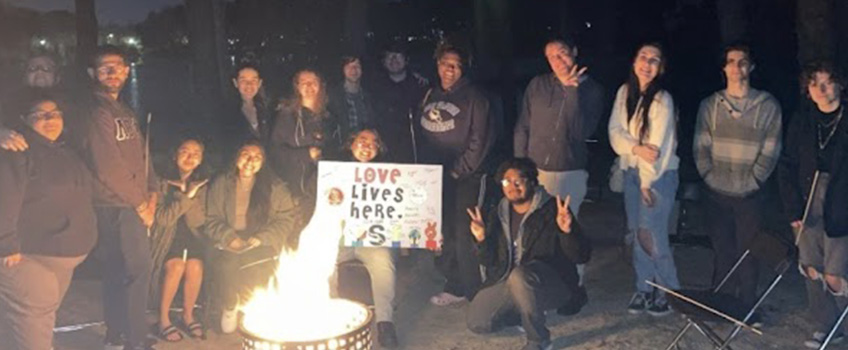 Galloway Township, N.J. _ Stockton students in the Themed Living Communities (TLC) program hosted a series of special events the week of Nov. 14 to connect with each other and the local community.
The TLCs connect Stockton students with similar interests to create a network of support, a sense of belonging and a welcoming space to thrive together. Created by the Office of Residential Life, the TLC's are open to both residential students and commuters.
Each day of TLC Week, one of the seven "houses" hosted an event related to the theme of its community, said Darius Edwards, coordinator for Inclusive Communities and Social Justice Education.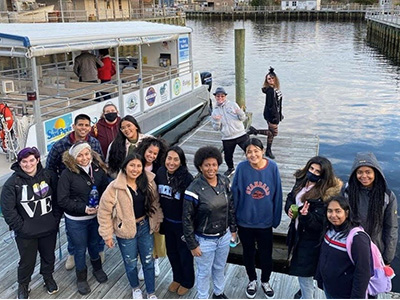 Events ranged from a murder mystery dinner by the House of S.T.E.M. to a Pride flag Palozza by the House of Lavender to a bonfire meant to "Light a Fire on Hate Speech" by the House of Mosaic.
Each TLC has a community fellow that aligns with their theme. Houses that held events at off campus sites were the Houses of Expressions, First Ospreys and T.R.U.S.T.
Expressions hosted "Mindfulness at Sea" at the Tuckerton Seaport and Baymen's Museum where 15 attendees took a tour of the museum and meditated during a cruise around the Tuckerton Bay.
"Students were able to take in a fresh breath of air and enjoy the sights and sounds of the creek, while receiving useful information to help destress after a busy semester," House of Expressions RA Dayana Leon said.
Students said the trip was a welcome getaway.
"It was a good way to relax and get rid of any stress that had built up," said Leilani Morena. "Not only were we able to meditate on the water but we were able to explore the museum, then we ended the day off with a beautiful sunset. All around, the vibes couldn't have been any better."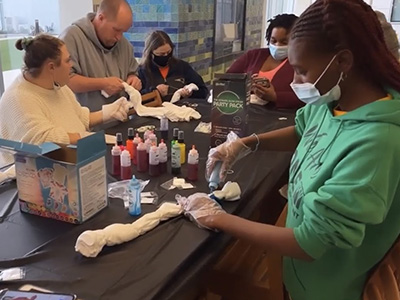 First Ospreys hosted "First Ospreys Friday at BGCAC" at the Teen Center of the Boys and Girls Club of AC where they toured the facility, met the BGCAC crew, played games with students there and gave away prizes.
"By working with the Boys and Girls Club, First Ospreys Friday was really able to interact with our community in A.C. at its most fundamental level- children and young adults," said Samir Abdulkader, RA for the House of First Ospreys, which welcomes students who are the first in their family to attend college. "By reaching out to them, we're able to foster connections with future colleagues and peers and show them what higher education has to offer if they're interested."
Victoria Johnson, director of Behavioral Health Services at the Boys & Girls Club of Atlantic City, praised the partnership with Stockton and the TLC program.
"First Osprey Friday" is a great way to create exposure, build confidence, and allow space for our teens to learn more about the college experience from first generation students," Johnson said.T.R.U.S.T., an acronym for teaching, respecting, understanding, and supporting transfers, hosted "Transferring Positive Vibes" at the Stockton Atlantic City campus where students were joined by senior citizens who were a part of The Arc of Atlantic County.
Attendees tie dyed shirts, played games, Tik Tok dances, ate pizza and bridged the gap between traditional college-aged students and seniors in our communities.
"Transferring positive vibrations was an exciting/stress relieving event," said Sasha Higgs, RA of the House of T.R.U.S.T. "I had the wonderful opportunity of meeting my house fellows (The ARC of Atlantic county) and I have to say they were some of the most generous and humorous people I've ever met."
Attendee Aiyanna Texidor said she enjoyed working on projects. "I loved the interaction with the community members and creating our tie dye apparel."
Each event throughout the week was led by a Resident Assistant and Graduate Coordinator (GC) as part of "The InclusiviTEAM", a new team of RAs and GCs solely dedicated to building inclusive communities and centering social justice education in their programming efforts for the entire campus community.
- Story compiled by Stephanie Loder
- Photos provided by Darius Edwards