Stockton Hosts 48th NBEA Conference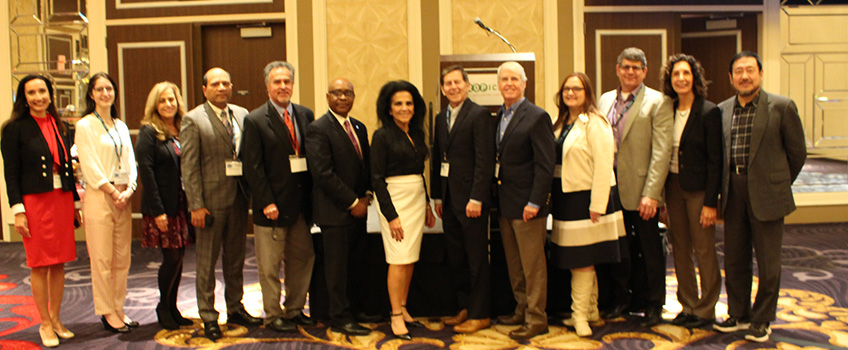 Atlantic City, N.J. – The future of business and economics policy and education was discussed, questioned and analyzed at the 48th annual Northeast Business and Economics Association (NBEA) conference at the Tropicana in Atlantic City Nov. 4-6.
Almost 150 business and economics faculty members attended the 30 sessions, four panel discussions and two workshops. There were 104 papers presented. This year's conference was hosted by Stockton University, with Associate Professor of Business Studies Naz Onel as conference chair.
A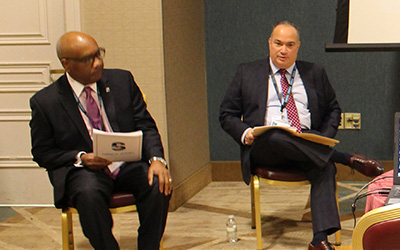 mit Mukherjee, associate professor of Business Studies, at Stockton University currently serves as president of the NBEA.
"The NBEA Conference is designed to enable attending scholars to spread their research results and gain the knowledge that they seek in an environment that is collegial, warm and meaningful," Onel said. "It provides our members the opportunity to learn from the collective wisdom of the whole, which I am privileged and honored to be a part of."
Highlights of the conference included keynote speaker Gregg Klein, senior vice president and general manager of Harrah's Resort in Atlantic City, who talked about the upgrades and changes made at Harrah's to adapt to the COVID-19 pandemic and changing visitor demographics.
"We learned people really like to be outdoors," Klein said, as they turned more outdoor space into COVID-safe gathering places.
Alphonso Ogbuehi, dean of the School of Business at Stockton, led a panel of local business executives in a discussion of the future of employment and business education.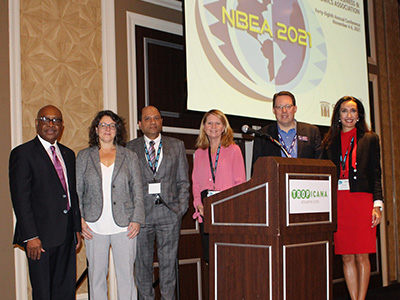 All three said employees and business owners going forward need to have the critical thinking skills to be flexible and adaptable in the rapidly changing world of business.
Mark Giannantonio, president and CEO of Resorts Casino Hotel, talked about having to close suddenly during COVID, then having the ramp up safety measures when they were allowed to re-open.
"We had to do team training for employees and stay in touch with customers," Giannantonio said. "We worked long hours developing sanitary protocols."
Steve Silverstein, CEO of Spencer Spirit Holdings, said their online business increased when stores closed, but it was hard to plan when they did not know how long stores would be closed.
"There was no playbook for this," Silverstein said. "We tried to maintain benefits but did have to furlough people. When we re-opened, we did see a surge in business, but overall, we just did what we could when we could."
Kenneth J. Calemmo, chief operating officer for Cooper Levenson law firm, said people were able to work online from home, but the social aspect of the firm is lost when people only see each other on Zoom. He said he does worry that a hybrid work model would change the culture of the business, where some were in the office, and others have little contact.
All said cybersecurity will also be a huge career field going forward.
"There will be massive opportunities in that field for IT professionals," Calemmo said. "Every business has data that needs to be kept confidential."
Other sessions, panels, and workshops included topics on health care, accounting and taxation, business education, finance and investment, CSR and sustainability, management, economics, marketing, hospitality and tourism, entrepreneurship and civic engagement and diversity and business ethics.
The 49th conference will be held Nov. 10-12, 2022, at the Sheraton Portsmouth Harborside Hotel in Portsmouth, New Hampshire, chaired by Dr. Stephen Ciccone and Dr. Ahmad Etebari from the University of New Hampshire. Abstracts and papers for the event are now being accepted through the NBEA website (nbea.us).
The 2021 Best Paper Award was presented to Bob Wen from Clemson University for his research titled "The Causal Effects of Growing Up in a Two-Parent Household: Evidence from PSID on Child's Schooling, Earnings, and Labor Force Participation."
Onel said she was grateful for the support of the faculty and staff from the School of Business.
"Stockton's mission of excellence in teaching, support of scholarship, and dedication to service aligns closely with the mission of NBEA," she said. As the chairperson of the 48th Annual Conference, I am grateful for my Stockton colleagues who participated and shared their scholarly work, knowledge, and friendship."
A gallery of photos from the event can be viewed on flickr.
Photos and story by Diane D'Amico