Spotlight On: Wendel White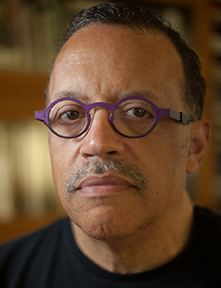 Galloway, N.J. - Wendel White, distinguished professor of Art at Stockton, has been selected as the 2021 Robert Gardner Fellow in Photography by The Peabody Museum of Archaeology & Ethnology, Harvard University.
When reflecting on the significance of this opportunity, White said, "The Gardner fellowship does not accept applications, the fellows are nominated by an international network of scholars, curators and artists. In some way, the fellowship represents a general awareness of my work and an acknowledgement of the ideas and concerns that have been central in my photography for several decades."
White, who has taught at Stockton 35 years, will work on "Manifest: Thirteen Colonies," a proposal created specifically for the Gardner Fellowship. It will use some of the existing images from his multi-part project, "Manifest," which began in 2008. With the fellowship's support, he will travel to new locations and create new work from collections in the states of the original American colonies.
Since beginning the "Manifest" project, White created several specialized "sub-projects" such as portfolios for the Zora Neale Hurston Museum in Eatonville, FL; Smithsonian Magazine (the portfolio was created for a special issue of the magazine dedicated to the opening of the NMAAHC); and as an artist-in-residence at the Arts Council of Princeton creating images of artifacts in the Paul Robeson House.
White's projects also benefit his students. "Red Summer," which documents the landscape of racial violence in the U.S. between 1917 and 1923, became a course in the American Studies program in Spring 2019 for the centennial of the year that earned the name "Red Summer."
"All of the students created virtual exhibitions of one of the Red Summer sites with all of the historical and visual materials that might constitute a history museum exhibition. This past year I worked with a student assistant to conduct additional Red Summer research."
As I think about the world around me, taking a photograph is a means to pursue my curiosity about the forces that shape our lives.
Over the years, White worked on various projects as a collaborative work with students such as portraits of the Holocaust survivors (all student led photography with the Holocaust Resource Center) and mounting exhibitions for the Atlantic City Historical Museum. The latter led to an ongoing student scholarship award supported by one of the museum's founders, Vicki Gold Levi.
"All of my creative work continues to be a basis for connecting with and providing examples for my students to think about their work and the problem-solving that is central to making art," White said.
The world through White's lens is one that's ever-evolving. "There are so many ways that photography (art making in general) can be the basis for creative expression. In my case, I rarely go out into the world 'looking' for something to photograph, rather the photograph has become the physical creative expression of my ideas and concerns. As I think about the world around me, taking a photograph is a means to pursue my curiosity about the forces that shape our lives. For the past few decades, I have been concerned with the history of African American lives within the United States."
When asked how he felt when learning of his selection for this recent fellowship, White said, "Every recognition of my work creates a deep sense of gratitude and appreciation. In this case there is also an awesome sense of responsibility because the award will also lead to an exhibition and the publication of a new book. This will have a far-reaching impact for the project and result in lasting connections with many individuals and institutions."
Reported by Mandee McCullough