Six Inducted into National Black Studies Honor Society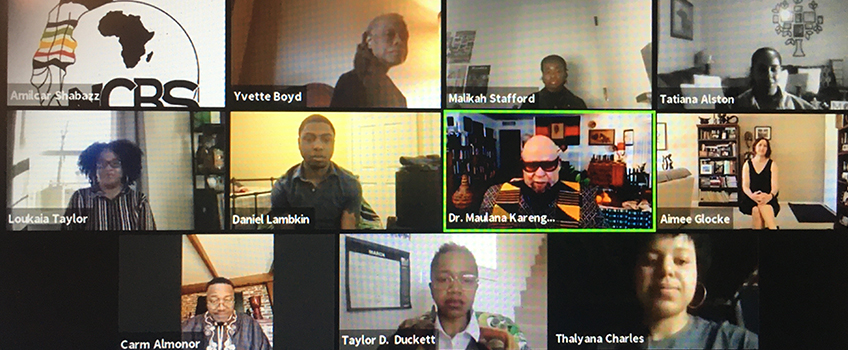 Galloway, N.J - Six Stockton students were inducted into the National Council for Black Studies (NCBS) Ankh Naat Wedjau Honor Society in an online ceremony held via Zoom on March 20. They were recognized a second time at a live event in May 2022.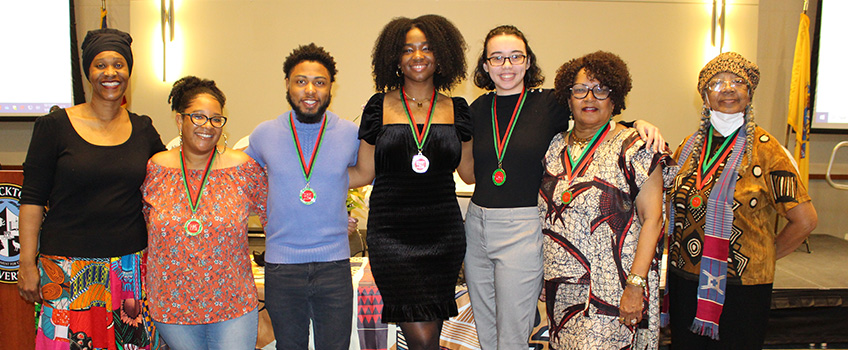 Professor of Africana Studies and Communication Studies Donnetrice Allison, coordinator of the Africana Studies program, noted that Stockton had more students inducted than any other college or university involved. All six students inducted are minoring in Africana Studies at Stockton.
The students were inducted by Maulana Karenga, creator of Kwanzaa and chair of the Africana Studies Department at California State University, Long Beach. He said the society's goal is to promote Africana Studies, cultural grounding in academics, and social responsibility.
"This represents their worthiness to become leaders" he said of those inducted.
"I am so proud of the students who were able to login and participate," Allison said. "You are history in the making."
The six inductees are: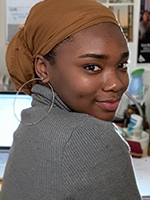 Malikah Stafford, Egg Harbor Township, junior, Communication Studies major
Malikah is active in the Unified Black Students Society and the Stockton Theatre Club. She also works with WLFR radio. Her original show "Mixed Up" was produced in February 2020 at the Performing Arts Center and she performed her piece "On Your Knees" as part of the Community Conversation and Collective Action series in November.
"As a Black storyteller, it is of utmost important to educate myself on the history of my culture. In addition, I wanted to become more aware of myself. The knowledge that I've gained from my Africana Studies courses has been empowering; the information that I learned from those courses, I will carry with me. I genuinely enjoyed learning from the distinguished professors of Africana Studies and I'm so glad that I made the choice to minor in the field."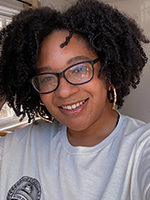 Loukaia Taylor, Atlantic City, junior Communication Studies major
Loukaia is an Engelberg Scholar at Stockton who will intern this summer with the office of the New Jersey Superintendent of Elections.
"Dr. Donnetrice Allison was a huge source of inspiration for me. I was in her class, African-Americans on TV, which was a Communication Studies course with an Africana Studies attribute. I thoroughly enjoyed the course and saw myself in the minor program!"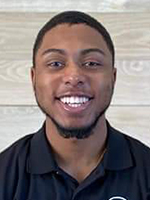 Daniel Lambkin, Bayonne, junior, Exercise Science major
Daniel is a Resident Assistant and a participant in the Honors Program. He is also involved with Kappa Alpha Psi Fraternity, Inc., the Kwanza Celebration, Stockton Ambassadors, Highest Praise Choir, and Sankofa.
"I decided to minor in Africana Studies because I was impressed with the variety of Africana courses offered and really enjoyed taking them. It afforded me the opportunity to learn more about the history and culture of my own people in my life."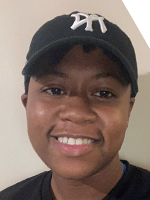 Alana Williams, Trenton, senior, Criminal Justice major
Alana is a Resident Assistant and secretary of the United Black Student Society. She is currently applying to Master of Social Work programs.
"I chose the Africana Studies minor because I wanted to learn more about African American history and culture that I did not learn in high school."
Tatiana Alston, Wildwood, senior, Criminal Justice major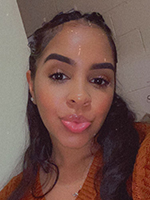 Tatiana plays on Stockton's intramural and All-Star basketball teams
"I decided to declare a minor in Africana Studies after I took my first course with Patricia Reid-Merritt. It was then I realized how deprived I was of my history growing up in my school system. African-American history, literature, culture, and more are incredibly crucial to America's narrative, and to me, this was the most important stride that I could have taken; to educate myself, because only then could I truly appreciate and understand who I am, my people, and where I come from. In addition, this becomes my weapon to join the battle on injustices towards our community, to further educate others so they too can honor, respect, and appreciate all aspects of the African-American culture that was created after the African Diaspora."
Byonce Tyus, junior, Communication Studies major
Byonce is double minoring in Africana Studies and Political Science. She also writes for The Argo.
Stockton offers both a major and minor in Africana Studies. More information is on the Africana Studies webpage.
# # #
Contact:
Diane D'Amico
Director of News and Media Relations
Galloway, N.J. 08205
Diane.D'Amico@stockton.edu
609-652-4593
609-412-8069
stockton.edu/media