Summer Business Academy Offering Scholarships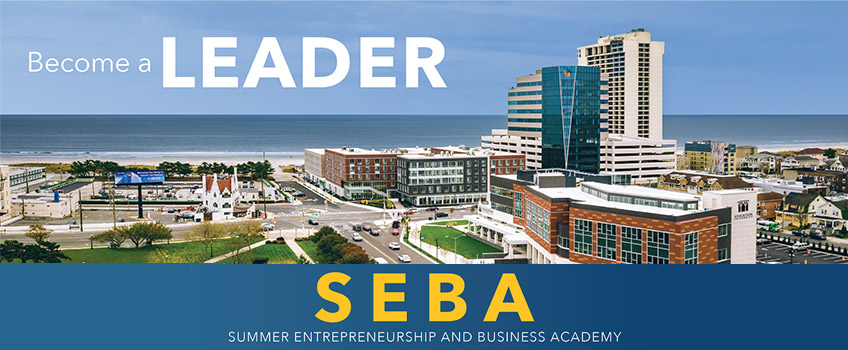 Galloway, N.J. – The Stockton University School of Business is partnering with area school districts to offer scholarships to its new summer business academy for rising high school juniors.
Stockton recently reached an agreement with the Asbury Park School District to provide five spots in the 2021 Summer Entrepreneurship and Business Academy (SEBA) to students from Asbury Park High School. The university is also working with other area school districts, including Atlantic City and Pleasantville, to attract students with an interest in business and entrepreneurship.
"We are very excited to partner with Asbury Park in providing this opportunity to students," said Stockton School of Business Dean Alphonso Ogbuehi. "The scholarships will provide a valuable experience for promising students to gain first-hand experience in the business world. It will be especially gratifying to recruit students who might not otherwise have the financial means to attend."
"Asbury Park School District and Stockton University share a common mission as we are committed to providing access to an array of unique, educational opportunities for our students," Asbury Park School Superintendent Sancha K. Gray said. "We are so grateful for these scholarships as this real-life experience will serve as an invaluable foundation for our students who seek careers in business."
Funds for the scholarships are being provided by donors, including the Vin Gopal Civic Association in Monmouth County, which has agreed to sponsor one of the Asbury Park students.
"The Vin Gopal Civic Association is proud to sponsor a student for the Stockton University's Summer Entrepreneurship and Business Academy. We are thankful that Stockton University will be providing the opportunity for students to be empowered to explore areas of business and entrepreneurship," said Vin Gopal, chair, Vin Gopal Civic Association.
The residential camp will run from July 18-24 at the Stockton University Atlantic City campus. The 24 participants will live in the Residential Complex on the Boardwalk and learn about accounting, business analytics, computer information systems, finance management, marketing and hospitality. The program includes panned field trips to Philadelphia and the Federal Reserve Bank, meetings with area business leaders, and a business plan competition.
The cost of the camp is $1,300, but Ogbuehi said they hope to have enough sponsors to provide scholarships for all 24 participants this year.
More information on SEBA is online at stockton.edu/business/seba or contact Tara Marsh at tara.marsh@stockton.edu or 609-626-3646.
Schools interested in participating in the program should also contact Marsh.
Donors interested in sponsoring a student, can contact Jennifer Kosakowski at the Stockton Foundation at 609 652-4789, or Jennifer.Kosakowski@stockton.edu.
# # #
Contact:
Diane D'Amico
Director of News and Media Relations
Galloway, N.J. 08205
Diane.D'Amico@stockton.edu
609-652-4593
609-412-8069
stockton.edu/media