Model UN Team Named Distinguished Delegation
Galloway, N.J. _ The Stockton University Model UN team won a Distinguished Delegation award for their performance at the virtual National Model UN (NMUN) conference March 26-31.
Working with Model UN Advisor and Associate Professor of Political Science Tina Zappile, the team of eight students represented the Islamic Republic of Iran. They worked eight hours a day for four days, collaborating in the Gatherly platform with over 1,400 students from around the world and using Google to negotiate and write resolutions for global issues in eight different UN committees.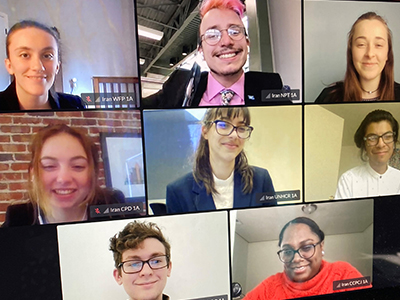 Zappile said Stockton represents a wide variety of countries at Model UN conferences, as this provides the best learning opportunities for students to understand how policies and practices of other countries can affect and even weaken international cooperation on key issues like human rights, economic development, and environmental sustainability.
"Representing countries with leaders that are not democratic and/or do not respect internally recognized human rights is a valuable learning experience," Zappile said. "It is my hope, that by representing a variety of countries, our students learn firsthand about the realities of the world system so that they can work towards a better future. That is ultimately the goal of Stockton's Model UN program."
The eight participating students on the delegation were Lake Forte (MUN president), Ivan Rosales, Tori Robbins, Emily Kramer, Erin Kee, Justin Spusta, Sydney Bazilian and Roshni Tyler.
This year, Stockton also had the highest number of Stockton alumni serve on the NMUN Secretariat as volunteer staff running the conference: Angelo Bechara '17, Maryam Sarhan, '17, Allison Uhrick, '19 and Theresa McMackin, '16.
Below are the students' reflections on the experience and what they learned at the conference:
Lake Forte: I learned that even in times of great adversity and conflict, it's possible to come together with people of all different backgrounds and work to build a better world. Even amidst a global pandemic, all these people were so dedicated to working to solve these universal issues, enough to hold a virtual conference and, in many cases, switch their whole sleeping schedule just to be there.
Interacting online was strange, but fun! It was still just as easy to make connections with people, which is great, and I have even kept in touch with some of the people I got to work with.
My most memorable moment was getting my resolution passed and getting to celebrate all the hard work I had done with my fellow delegates.
Erin Kee: My most memorable moment from the conference was when my committee had finally passed our resolution and we were all talking afterwards waiting for it to be processed and it was nice to get to know everyone and make those connections even though we were not together in person.
Tori Robbins: This yearI engaged in some of the hardest negotiations in my three years' experience regarding the impact of sanctions, which are of serious concern to Iran. However, sanctions are a very sensitive subject to many other Member States.
After many attempts and rewording, I was finally successful in including a clause in a resolution about the negative impacts of sanctions on Member States and their ability to achieve environmental goals set forth in the Paris Climate Agreement, which was later passed. Even though it was one sentence created over a four-day conference in a six-page resolution, to me this was a serious achievement as I believe it is something Iran's real leaders would have negotiated to include.
I have always been terrified of public speaking and MUN has provided an opportunity to develop my skills and confidence. Between my previous two conferences I only gave one speech and both times I had a partner. This time I gave two speeches to over 100 people, along with making multiple motions before the same group. This growth is in part because of an encouraging team and an amazing faculty advisor who always offers words of wisdom.
MUN is something I joined my first semester unaware or unprepared for what I was becoming involved in, however, it has provided some of my best memories at Stockton thus far, incredible friendships and connections, and invaluable real-life learning experiences.
Justin Spusta: I learned from the Model UN experience the importance of diplomacy and cooperation in achieving resolutions. I enjoyed listening to different delegates trying to push their goals and offering their experiences while we collaborated.
I think it is important to keep in mind the experiences of others, especially other nations and viewpoints, especially in these divided times. I appreciated learning who the people were behind the delegations and learning what countries they were from and their real life experiences in their respective countries. I value the international community present in the Model UN and the diversity within the community.
Ivan Rosales: I learned that it is hard to negotiate with other delegations that also have strong views; finding a compromise is a fun challenge. Interacting online was a bit off at first, but as we got more used to it the vibe definitely changed. We were all able to bond despite not being in person.
I think the most memorable moment is when you finish writing your working paper and are waiting for the final okay from the dais. We all have time to sort of break character and congratulate ourselves on the work we put in.
Emily Kramer: This was my first conference for Model United Nations I surprisingly felt like communication was a bit easier than it might have been in person. Talking over other delegates was almost impossible because of the virtual nature of the conference.
I felt really bad because everyone was working in different time zones. The students in the delegation of Sweden were from Japan and they were up until the wee hours of the morning. I knew there were going to be people from all over the world attending the conference, but watching the sun set in other delegates' backgrounds while I was just waking up at 9:30 a.m. made that quite apparent.
I still made a lot of friends at Model UN. The delegate from Iceland, who is from Venezuela, made a spreadsheet for everyone in my committee to include their social media contact information. I am following delegates from California, Switzerland, Japan, Germany, and Norway! There were some people who I am now close to from the conference who I did not even work with during the conference. I think this made the virtual conference unique and memorable. I now have contact with everyone who was in my committee, not just the few delegations I worked with.
Sydney Bazilian: This was my first conference, and I learned a lot about diplomacy and the intricate process that goes into making sustainable change at an international level. Everyone has varying interests and goals, so it was amazing working together with so many dedicated individuals to draft policy solutions for all of the nations we were representing.
Even if we disagreed, everyone was willing to listen and consider all perspectives. This experience didn't only teach me about the more formal aspects of the United Nations system, but also allowed me to practice my communication with others and connect with students around the world as we all discussed our positions.
Learn more on the Stockton Model UN website.
- Reported by Diane D'Amico