Campus Farm Fuels Food Security at Stockton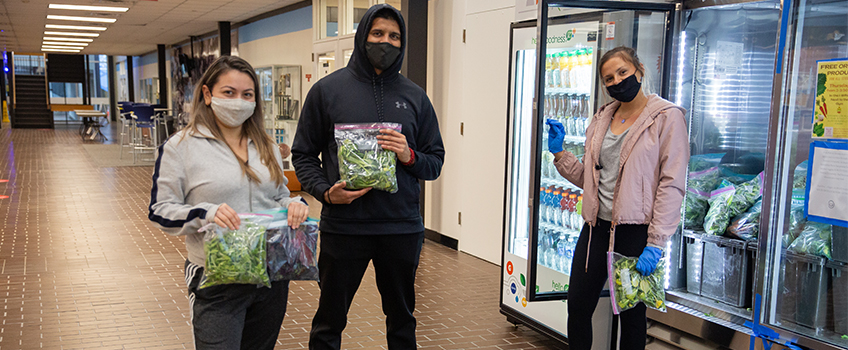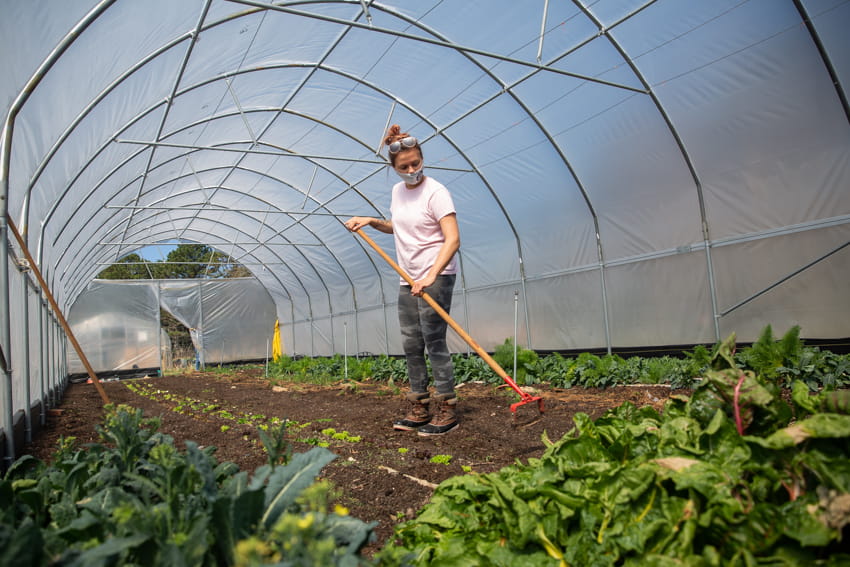 Alison Taylor '2
2, a junior Sustainability major from Bridgewater, N.J., is surrounded by harvest-size salad greens on an early spring morning that feels closer to summer inside the greenhouse. With a weeding rake, she works her way down the rows of kale, chard and lettuces.
In a few hours, she will be in I-Wing handing out those leafy greens along with rainbow-colored carrots to students.
In Ron Hutchison's "Food and Agriculture" class, she listened to lectures on food availability and sustainable agriculture from a picnic table overlooking the campus farm, where the class helped to plant produce in hoop houses.
Taylor became increasingly aware of food insecurity and its connections to environmental, social and economic problems during Jeanine Cava's "Agriculture and Food Systems" class.
The general studies course challenges students to identify issues within local food systems and design collaborative solutions.
When the class ended, Taylor was more inspired than ever to help. She found a solution to food security for Stockton students in her former classroom, the campus farm.
Taylor started the Food Secure Ospreys initiative with Cava through an independent study with the NJ Food Democracy Collaborative. Cava is the co-founder and lead facilitator of the NJ Food Democracy Collaborative, a statewide network focused on food justice and food system resilience for New Jersey.
"Alison connected the dots between three passions: regenerative agriculture and the Stockton Farm; food justice; and social media messaging. Early on we discussed Instagram accounts at other universities around the country that we are both inspired by. We connected via Zoom with the team from one of those universities, the University of California at Merced. Alison has blown away my expectations for this project. Food Secure Ospreys is an amazing project, with great potential for the years ahead," said Cava.
In her quest to provide healthy, fresh food to students and improve food security for her classmates, she's also learning the ins and outs of farming. She never knew she'd learn to drive a tractor during college.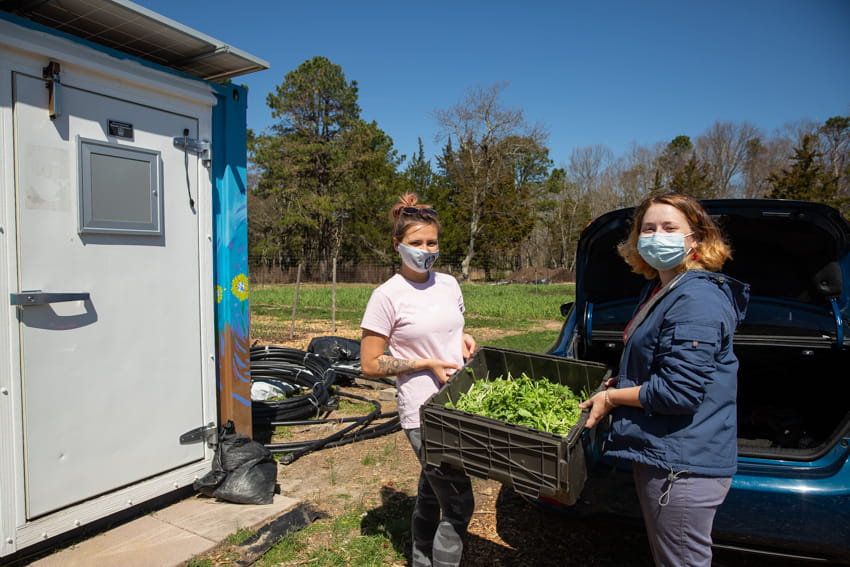 During the spring semester, students can visit Taylor weekly on Thursdays between 2-3:30 p.m. outside the I-Wing Gym next to the refrigerator in the hallway. She'll make sure you leave with Stockton fresh produce to get you through the semester.
"We are grateful to the folks in the Dean of Students Office for their support and of course to Professors Ron Hutchison and Patrick Hossay for theirs," said Cava.
On the social side of the initiative, Taylor is promoting campus and national resources available such as Stockton's food pantries in Galloway and Atlantic City and the USDA's Supplemental Nutrition Assistance Program (SNAP). The Instagram account is @foodsecureospreys.
Taylor spends a lot of time on the campus farm as an intern. "This is my second semester working there and I love it so much. It is such a pleasure learning and working with everyone at the farm. It is both a relaxing and rewarding experience; watching the crops we planted one season grow, be harvested and then given out to people. It's always a great stress reliever to get your hands in the dirt whilst surrounded by great people and nature," she said.
No Student Should Have to Skip Meals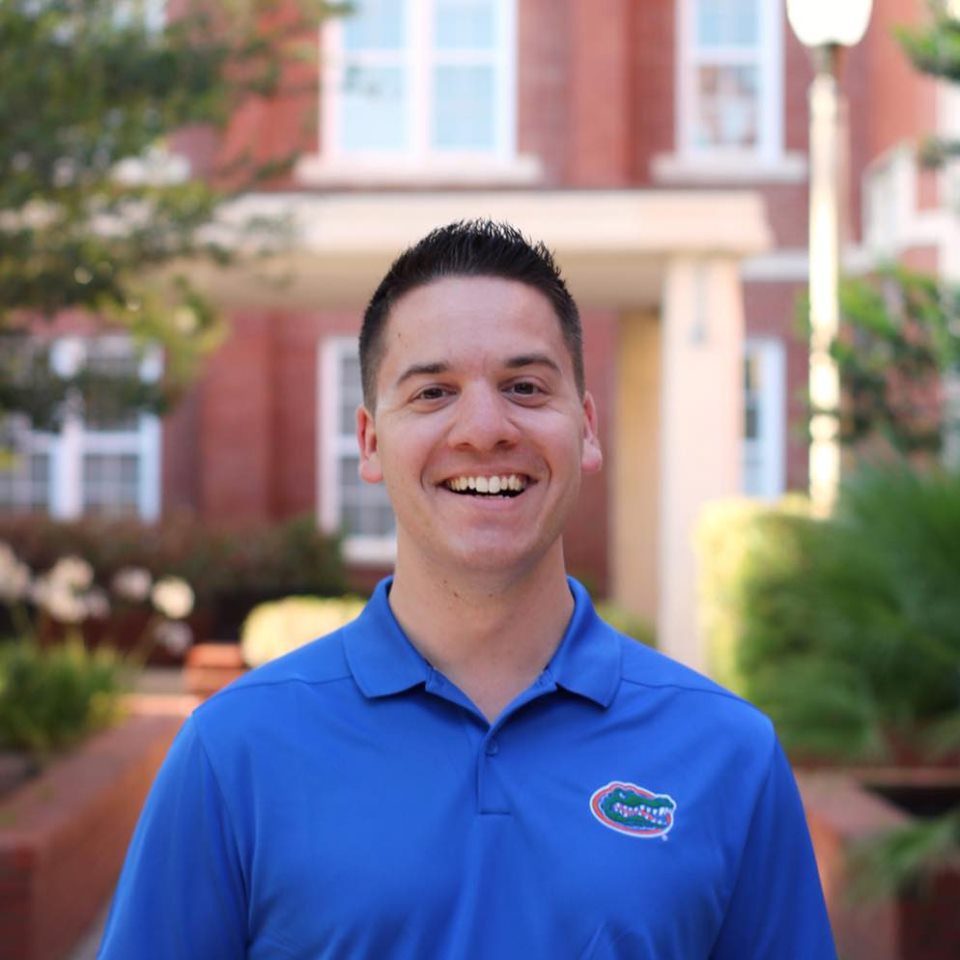 Carl Archut Jr. '16, former Student Senate president, became aware of food insecurity on campus from an acquaintance who would skip meals to help pay for college. The USDA defines food insecurity as a lack of consistent access to food for a healthy lifestyle.

After hearing stories from students, Archut took action. "It got me thinking. Are there more students out there who aren't sharing with us about this burden? There is not a lot of comfort in saying I need help, so we started a survey. It showed an evident need, and figures don't lie," he said.

The survey data got conversations started and with campus-wide support across divisions, a Food Assistance Program was started in 2015.

"Pride was the biggest barrier for people. It's okay to accept assistance. You are not any less," said Archut.

Help is just a click away. The Food Assistance Program website has a form that can be completed and submitted within minutes.

"I wanted [the program] to last well beyond my tenure as president. It makes me really happy to see the growth in the program and Alison's involvement. I get the chills talking about it," said Archut.

The Food Assistance program helped 186 students last fall.

"Students should never hunger for anything more than an education. When you take that concern away, students can get the nourishment to be able to think clearly, learn, absorb and make themselves the best version of themselves," he said.

Archut's inspiration to give back is his grandmother, "Mom-Mom," who raised Archut and his siblings with his father. "I learned through her and my dad, to help people when you can. I remember during the holidays and throughout the year, she always gave whatever she could. Every dollar counts," he said.

Archut is now associate director of Development for Parent & Family Giving at the University of Florida.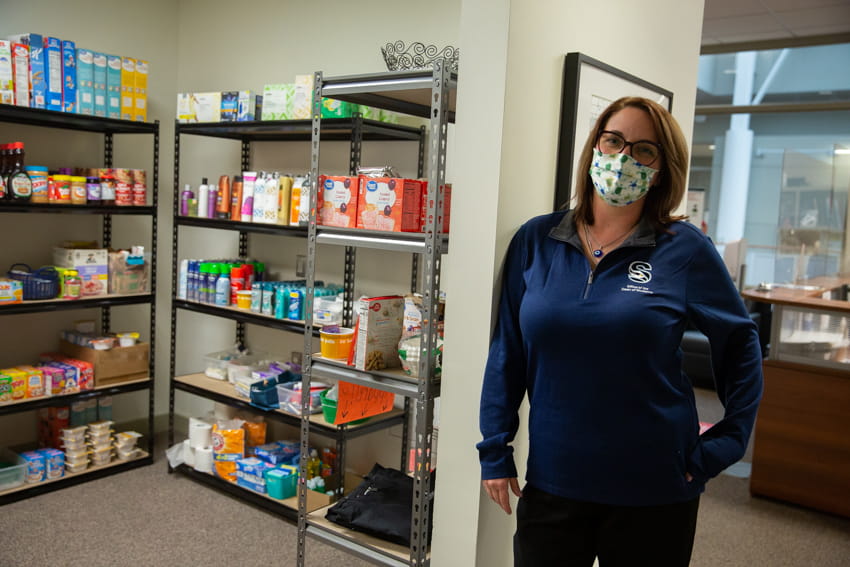 Galloway Food Pantry Set to Move
Stockton's two food pantries, located in the Dean of Students Office in Galloway and in the Residential Life Building (A-127) in Atlantic City, have remained open throughout the pandemic.
The Galloway pantry is moving to the Townsend Residential Life Center (TRLC) over the summer and will be setup for the fall 2021 semester.
"We are trying to expand our offerings. Professor Jack Lewis's twin daughters in high school had an ethnic hair care drive and brought three or four boxes of products to the pantry," said Monica Viani, an assistant supervisor in the Dean of Students Office.
The students who have been coming to the pantry during the pandemic have been "so appreciative," said Viani.
Anyone can donate to the food panties through the Amazon wish list that automatically populates the correct address to send products to Stockton.


The Stockton Farm Goes to Market
The community can support Stockton's campus farm at local farmer's markets, and students who are interested in internships at the farm over the summer can reach out to Ron Hutchison, associate professor of Sustainability, at Ron.Hutchison@Stockton.edu.
The Sustainability program is also enhancing and refocusing the campus community garden to model and promote community food and garden techniques for the campus community.
C.R.O.P.S. Market in Pleasantville

Wednesdays, 4-7 p.m.
May 5-June 23 and July 7-Aug. 25
Location: City Hall Parking Lot, 18 N. 1st St.
Galloway Green Market in Smithville

T
hursdays, 4-7 p.m.
June 24- Sept.

2
Location: Historic Smithville
Story and photos by Susan Allen