Faculty Work Featured in Art Gallery Show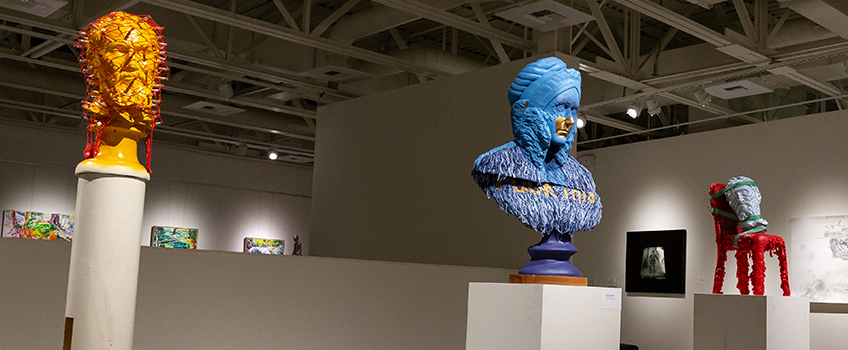 Galloway, N.J. – An exhibition of artwork from Stockton University's Visual Arts Faculty will be on display at the Stockton University Art Gallery from Jan. 25 - April 1.
Eighteen full and part-time art professors are displaying recent work: Chung-Fan Chang of Sewell, Jacob Feige of Collingswood, Michael McGarvey of Port Republic, Jedediah Morfit of Collingswood, Mariana Smith of Galloway, Hannah Ueno of Mays Landing, and Wendel A. White of Galloway are full-time. Part-time professors are Ryann Casey of Merchantville, Alice Cook of Tuckerton, Susan Crawford of Mt. Holly, James Dessicino of Absecon, Dan Gambert of Galloway, Bruce Garrity of Penns Grove, Frank Kallop of Somers Point, Joseph Podlesnik of Phoenix, AZ, Glynnis Reed of Egg Harbor Township., Christina Walley of Atlantic City, and Joe Winter of Philadelphia, Pa.
The 43 pieces on display in the upper gallery include photography, painting, web design, book arts, sculpture, printmaking, visual communications/graphic design, drawing and illustration.
Within the Visual Arts program undergraduates can pursue a B.A. degree in Interdisciplinary Visual Arts, Art Teacher Certification for K-12, Art History, or a B.F.A. (Bachelor of Fine Arts) degree in Studio Art. Students in the BFA select a concentration from photography, studio art (painting, printmaking, sculpture) or visual communications (graphic design or Illustration).
This curriculum provides the student with the foundation and advanced skills necessary for a career in the arts, graduate study, and preparation for a broad range of general career paths.
The art gallery in L-wing is open Monday through Friday 11 a.m. to 4 p.m. and Saturday 11 a.m. to 6 p.m. Face coverings are required. Weekday visitors should get a virtual parking permit at Visitor.Stockton.edu which is mobile friendly.
Stockton University Art Gallery events are sponsored by the Visual Arts Faculty, School of Arts & Humanities, Stockton University.
# # #
Contact:
Denise McGarvey
Exhibition Coordinator
denise.mcgarvey@stockton.edu
609-652-4566