School of Business Forms New Advisory Board
Galloway, N.J. – The Stockton University School of Business has formed a Dean's Executive Advisory Board to assist its efforts to provide students with advanced skills, internships and job placement opportunities.
The members of the board represent a cross-section of business and industry.
"The vast experience and diverse backgrounds of these professionals made them uniquely positioned to help the Stockton School of Business achieve its goals and expand its reach," said School of Business Dean Alphonso Ogbuehi. "We are thrilled and honored they have agreed to work with Stockton for the benefit of our students and the community."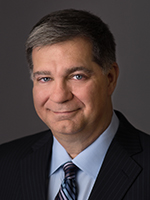 The group will meet quarterly to discuss academic priorities, corporate placement requirements for Stockton graduates and other avenues to drive positive change in Atlantic City and South Jersey. Henry Glickel `85 and Roxanne Passarella `00, will serve as board chair and vice chair, respectively. The inaugural meeting of the board took place on Thursday, April 8.
The members of the Advisory Board are:
Susan Adelizzi-Schmidt, President, Suasion Communications Group, Somers Point, N.J.
Carl H. Bagell, CPA & Partner, Friedman, LLP, Marlton, N.J.
Kofi Conduah, President & CEO, Regal Software, Alpharetta Ga.
Rob Curley, President, TD Bank, South Jersey/Coastal N.J. Market, Cherry Hill, N.J.
Vincent, D'Alessandro, Southern Region President, OceanFirst Bank, N.J.
Larry Dibor, President, Adcon Consultants, Philadelphia, Pa.
Henry Glickel, Executive Recruiter & President, Sales Recruiters, Inc., Salem, N.H.
William Hagaman, Managing Partner & CEO, Withum, Inc., East Brunswick, N.J.
Gerald Hannah, Founder & CEO, The Hannah Group, Rossville, Ga.
Pravin Khatiwala, CEO, PND Properties, Atlantic City, N.J.
Richard Lovering, SVP & Chief Human Resources Officer, AtlantiCare, Egg Harbor Township, N.J.
Joseph A. Maressa, Jr., President & CEO, Title America
Kyle Nolan, VP Innovation & Business Improvement, South Jersey Industries, Folsom, N.J.
Roxanne Passarella, President & CEO, FanstaSea Resorts, Waterford, N.J.
Robert E. Salad, President, Cooper Levenson, Atlantic City, N.J.
Steven Silverstein, CEO, Spencer Gifts, Egg Harbor Township, N.J.
Jason Wolf, Managing Principal, WCRE l CORFAC International, Marlton, N.J.
Other Stockton-affiliated members are: Faculty members Mina Jafarijoo, assistant professor, Computer Information Systems, and Naz Onel, assistant professor, Business Studies, Marketing; and student members Shane Cogossi and Rifat Mahmud. Dean Ogbuehi, Stockton President Harvey Kesselman and Chief Development Officer Dan Nugent will serve as ex officio members.
# # #
Contact:
Diane D'Amico
Director of News and Media Relations
Galloway, N.J. 08205
Diane.D'Amico@stockton.edu
609-652-4593
609-412-8069
stockton.edu/media
Stockton University