Atlantic White Cedar is Taking Root for a Comeback at Stockton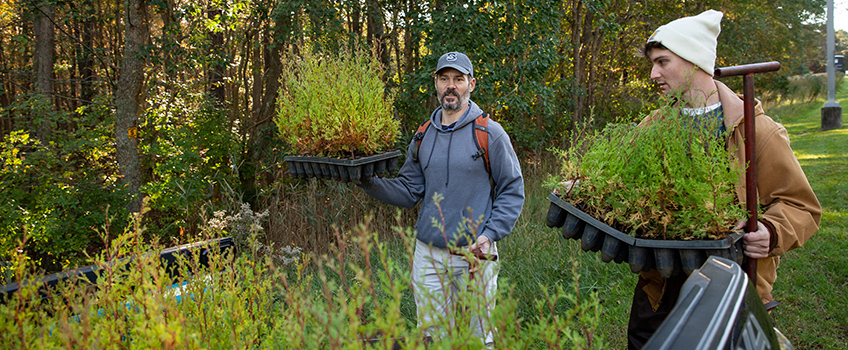 Galloway, N.J. - The Atlantic white cedar acts just like its name sounds—a seeder—but the historically dominant species dwindled as the aromatic and rot-resistant wood was harvested and hardwood species took its place.

On Stockton University's campus there is a clearing in a wetland forest that was once a cedar swamp. Matthew Olson, assistant professor of Environmental Science, and Kyle Caccamesi, a senior Environmental Science major, met Bob Williams, of Pine Creek Forestry, at the empty spot to give what Williams' calls a "prolific seeder" a second chance.

Trays of cedar seedlings grown by Pinelands Nursery and donated by New Jersey Audubon filled the bed of a pick-up truck parked along Vera King Farris Drive. Olson and Caccamesi helped to get the seedlings off the truck and into ground.

Over a couple days in October, about 2,500 cedar seedlings were planted along the perimeter of Stockton's thinned section of forest.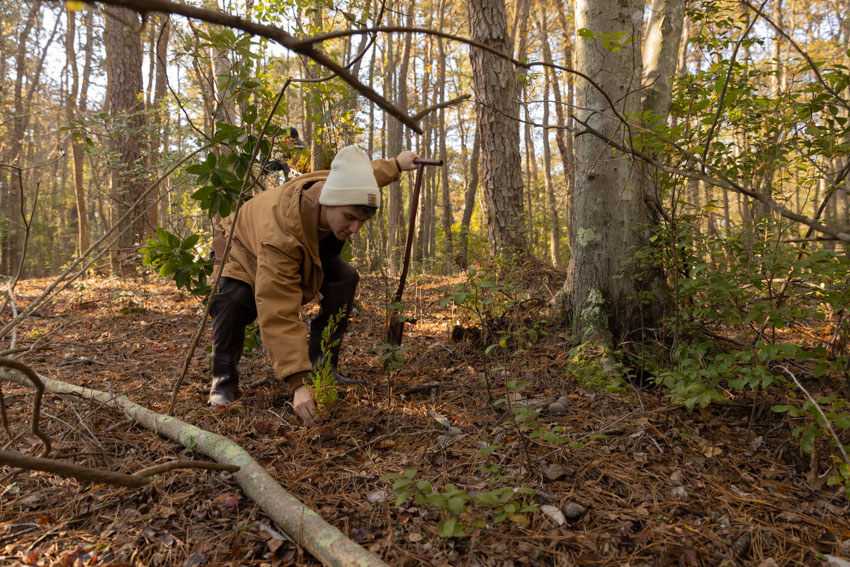 Kyle Caccamesi plants a cedar tree on campus after hearing about the hands-on opportunity to work in the forest during his Environmental Science Seminar class. Photo: Susan Allen/ Stockton University

The New Jersey Forest Service has allocated $20 million to put back 10,000 acres of cedar forest over the next decade. In a research article that Professor Emeritus George Zimmermann contributed to, the authors estimate that Atlantic white cedar covered 115,000 acres in New Jersey prior to European settlement and is now down to roughly 25,000 acres.
Last spring, the area of forested wetland was cleared for the purpose of regenerating cedar. The seedlings will help expedite that process.
"We know that a lot of cedar will come naturally, but we want to prevent any uncertainties. It's insurance against Mother Nature throwing us a curveball. There are a lot of deer that like to devour cedar," Olson said.

After the planting, an obstacle course was constructed from fallen trees to block deer from devouring the new seedlings. If needed, a fence can be added too.

Inside the thinned forest, tiny cedars growing naturally poked out of the brush. With the competition eliminated, the cedars have full access to the sunlight pouring into the open wetland.

Cedar logging in the past opened the forest and allowed other species to fill in.
"Cedar can't compete with the hardwood—gum, maple and pine—and those species that have taken over our cedar stands," explained Williams.

The spongy forest floor made squishing sounds as Caccamesi and Olson dodged branches to make their way through the woods with planting bars, leaving a ring of cedars enclosing the thinned section.

"We are basically putting cedar back where it was," said Williams, and "the brush plays an important role as protection to the seedlings."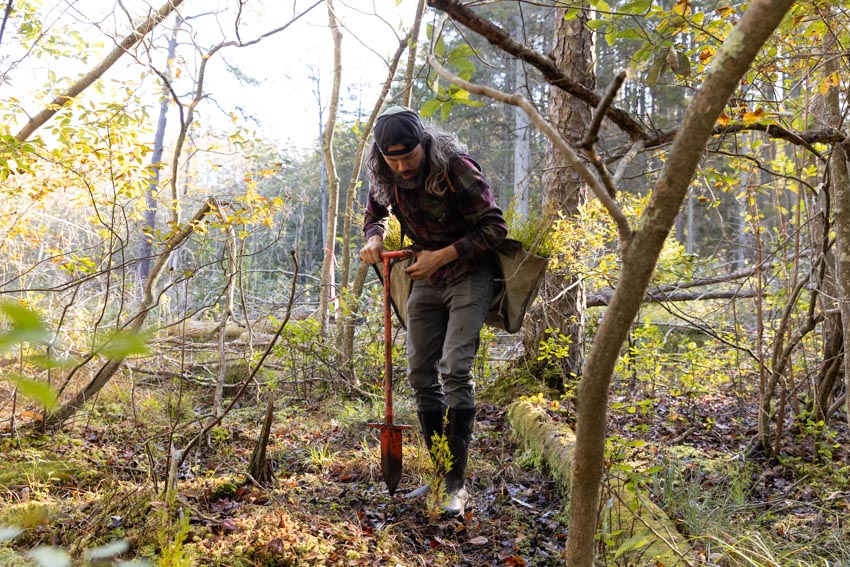 Vinh Lang '13, a consulting forester for Pine Creek Forestry, was excited to be restoring cedar on the campus where he studied Environmental Science. Photo: Susan Allen/ Stockton University

Olson described cedar as lightweight, durable, rot-resistant, easily workable and straight-grained.
"It has a lot of desirable features and is used in siding for homes, shingles for roofs, duck decoys and pilings for docks. It used to be a lot more dominant and more abundant than it is now. We lost a lot of ground largely through poor harvesting practices and not trying to regenerate the species, so now we are trying to correct that by restoring more acreage back to Atlantic white cedar," he said.

The opportunity to work outdoors with forest managers was something that Caccamesi couldn't turn down, especially following several virtual experiences.

The open canopy allowed enough warmth from the early morning sun to enter the forest. Caccamesi hung up his jacket on a branch and set down his water bottle covered in stickers from each of the forests he has explored since he began adventuring in the national parks and forests with a close group of friends at age 19.
The Environmental Science program is helping him secure the future of our forests.
Meet the Cedar Planting Team

Reported by Susan Allen