Trustees Approve Facilities Master Plan 2020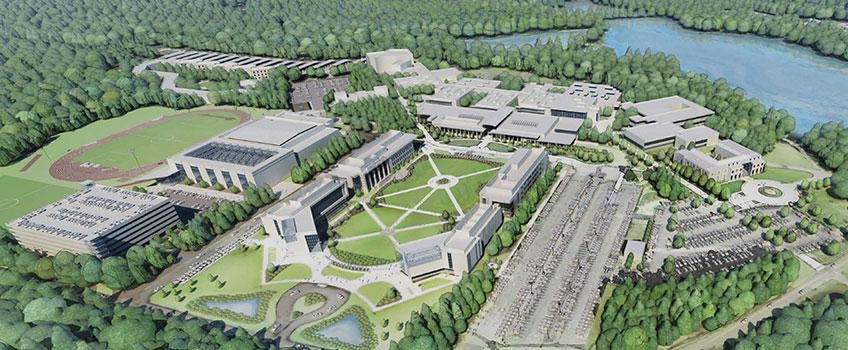 Galloway, N.J. - The Stockton University Board of Trustees on Sept. 23 approved a new Facilities Master Plan 2020 that provides a long-term vision for University expansion.
Vice President for Facilities and Operations Donald Hudson presented an overview of the 138-page plan, which projects development well into the next decade.
The original Facilities Master Plan was completed in 1990 and was updated in 2010. The 1990 plan called it a "living document" that is part of a continuous process.
Hudson said the 2020 update will keep Stockton's plans current should funding become available.
"This is more than just an idea," Hudson said. "This is a buildable concept and a kickstart to the future. When money becomes available, we will be ready."
The plan was a yearlong process that involved several campus committees and members of the board of trustees, faculty, staff and students.
The plan includes core new projects on the Galloway and Atlantic City campuses.
On the Galloway campus, the core projects include:
The fourth building to complete the Academic Quad;
A new Welcome Center, which would be added to the existing Campus Center and serve as a central welcoming point for Admissions and visitors;
Additions to the Sports Center including an Aquatic Center
Expansion at the North Athletic Campus including a Field House and Pavilion
A parking garage
Replacement of Housing 1
Additions and renovations to the existing academic buildings
Opportunities for private and public/private commercial and residential development
On the Atlantic City campus, core projects include:
A second residential building in partnership with AC Devco
An addition to the Academic Center
A Coastal Resiliency Center
A mixed-used residential/commercial complex
The Master Plan is also aligned with the preservation requirements of the New Jersey Pinelands Commission and identifies sensitive environmental areas and species.
Stockton president Harvey Kesselman said the Master Plan achieves a balance between campus growth and environmental protection.
"The Facilities Master Plan 2020 is our vision for the future of Stockton," Kesselman said.
Board chair Ray Ciccone said the campus has changed a lot since he was a student at Stockton in the late 1970s.
"I have watched with pride the growth of the campus, and I look forward to participating in its future expansion," Ciccone said.
# # #
Contact:
Diane D'Amico
Director of News and Media Relations
Galloway, N.J. 08205
Diane.D'Amico@stockton.edu
609-652-4593
609-412-8069
stockton.edu/media