T.A.L.O.N.S. Take New Students Under Their Wings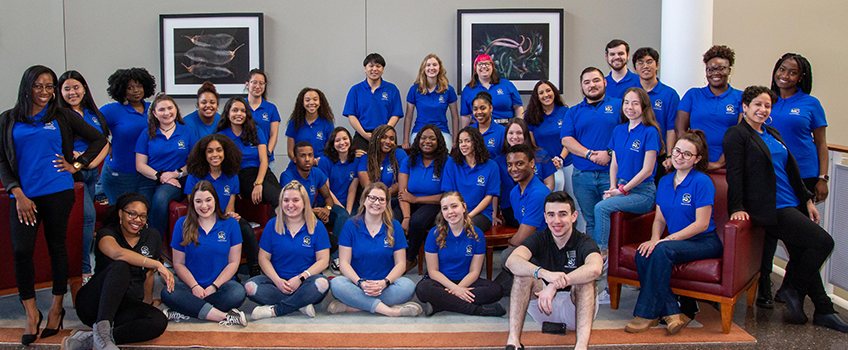 Galloway, N.J. –With online orientation and virtual registration, new freshmen and transfer students are not getting the traditional on-campus experience.
But they are still getting a warm Stockton University welcome from some 30-plus T.A.L.O.N.S.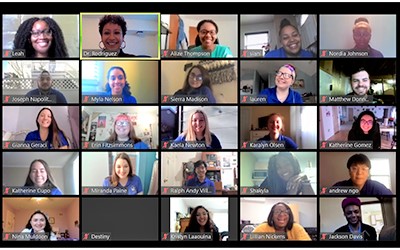 No, Stockton's famous Osprey mascot has not hatched some new nestlings, but these T.A.L.O.N.S will be taking new students under their wings.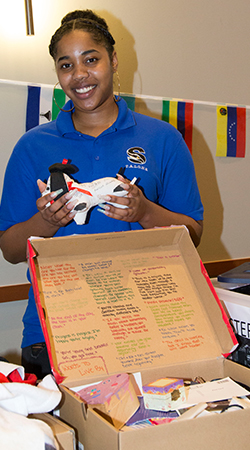 The T.A.L.O.N.S. are the Transition Activity Leaders of New Students. Their role is to welcome new students, help them get acclimated to Stockton, answer their questions, and be available in the fall semester to help them adjust to their new academic home.
"We are here for you," said one of the three head T.A.L.O.N.S., Alize Thompson, reminding new students that the goal of each T.A..LO.N. is to truly serve as a source of support for all new students.
The T.A.L.O.N.S. program is run by Dr. Ana Rodriguez, Director of Student Transitions Programs, and Dr. Nordia Johnson, Coordinator of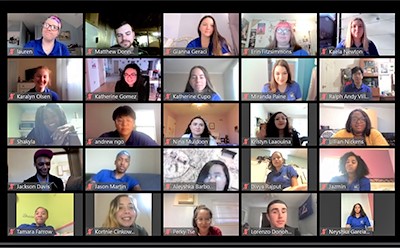 Student Transition Programs, who developed the curriculum for the Inclusive Student Transition course, which all T.A.L.O.N.S. take in the spring semester prior to beginning their job duties.
The course directly aligns with the department's learning outcomes on humanitarianism and civic engagement. Students engage with other students, staff, and faculty of culturally diverse backgrounds to identify the strengths and values of culturally diverse communities and identify their role in promoting social justice.
The course especially focuses on Diversity, Equity and Inclusion, which Rodriguez said is necessary for T.A.L.O.N.S, who play a role in increasing diverse students' sense of belonging, a crucial factor in student retention and success.
"The course provides opportunities to enhance sense of belonging for the T.A.L.O.N.S. in order to teach them how to foster sense of belonging among new students," Johnson said.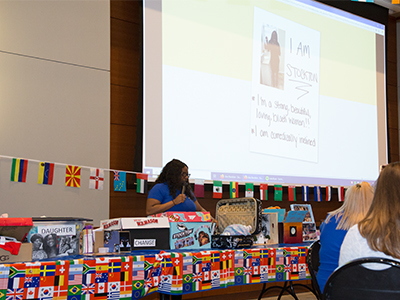 One example is the Cajita Project, where students created "cajitas" - small box dioramas of their lives - and shared them during a dinner with others in the course to generate personal discussion of cultural identity, backgrounds, insecurities and fears.
The Cajita Project was developed by Professor Laura Rendon of University of Texas-San Antonio as a way to help students examine and share their own personality, identity and culture as part of social justice learning.
Student Divya Rajput of Galloway talked about the large role casinos have played in her life. Both parents, natives of India, worked in casinos.
Lillian Nickens decorated her cajita to look like a suitcase, she said, because she is a person in transition. She included a journal that she reads to remind herself how far she has come. Her new journal, she said, is more positive.
Sculptor Jason Martin of Paterson created a sculpture bust of his head, which opened to reveal his career interests in creative fields like writing and acting. He plans to write a screenplay, but also talked about having been homeless for three months and living in his car, which taught him to be strong and a survivor.
Joe Napolitan from Brick Township talked about breaking down walls of fear. When he lifted the lid of his box, the walls fell open to reveal pictures that tell his story. His family lost their home in Hurricane Sandy, but his family remains the core of his life, his grandfather his role model, his mom who raised four kids on her own his superhero.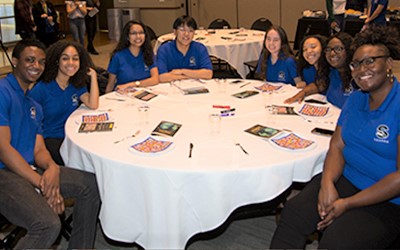 Having successfully completed this rigorous and transformative course, the T.A.L.O.N.S. are now supporting the live virtual registration sessions with Stockton's newest Ospreys, using their skills to help new students transition into college.
Each T.A.L.O.N.S. will also be assigned to two freshmen seminars in the fall semester, where they will serve as mentors to the students throughout their first semester. The mentor component began last year as a new initiative by Vice President for Student Affairs Dr. Christopher Catching who wanted to give new students, many of whom are the first in their family to attend college, a mentor and friend who could help them through the uncertainties of their first semester in a new school.
Rodriguez said everyone recognizes there will be additional challenges this fall with physical distancing and other COVID-19 related precautions. She said that makes the T.A.L.O.N.S even more important in making new students feel welcomed. The group had their own course move online in the spring when the campus closed, so they know the feeling of being separated from friends. The group missed the standard summer on-campus training and orientation/registration sessions but have remained dedicated in Zoom meetings.
"This group really feels connected this year," Rodriguez said. "They feel like a family and some said they might have left school if not for T.A.L.O.N.S. That is our goal, to give students a sense of belonging here that makes them want to stay. The T.A.L.O.N.S. can provide the student perspective on campus. They know who is in the clubs and where students go to study and hang out. They help provide a sense of belonging."
Johnson added that "this group of T.A.LO.N.S. has mentioned multiple times that the Inclusive Student Transition course really transformed the way they think about Diversity, Equity, and Inclusion. They often talk about how the engagement opportunities in the course helped them to truly understand the importance of fostering a sense of belonging among the students they will be assigned to mentor – because they themselves were able to experience the positive impact of feeling a sense of belonging within the T.A.L.O.N.S. program."
Thompson said she participated in a similar program for new students at her high school, Timber Creek Regional, and really enjoyed it, which inspired her to apply to T.A.L.O.N.S. at Stockton.
"I would take new students under my wing, and I really love doing that," Thompson said.
She said the online experience does get in the way of being able to form an early personal connection, but they are working with smaller groups of students online, which may help.
"We know it would be more reassuring to be there in person," Thompson said. "But what I just want to say to all of them is that starting a new school can be nerve-wracking and scary, but it doesn't have to be. Me and my fellow T.A.L.O.N.S. are here to make you comfortable."
The program will begin recruiting a new group of T.A.L.O.N.S. in the fall. More information on requirements and application are at stockton.edu/student-transition/talons
# # #
Contact:
Diane D'Amico
Director of News and Media Relations
Galloway, N.J. 08205
Diane.D'Amico@stockton.edu
609-652-4593
609-412-8069
stockton.edu/media