Interns Share Their 'Stockton Stories'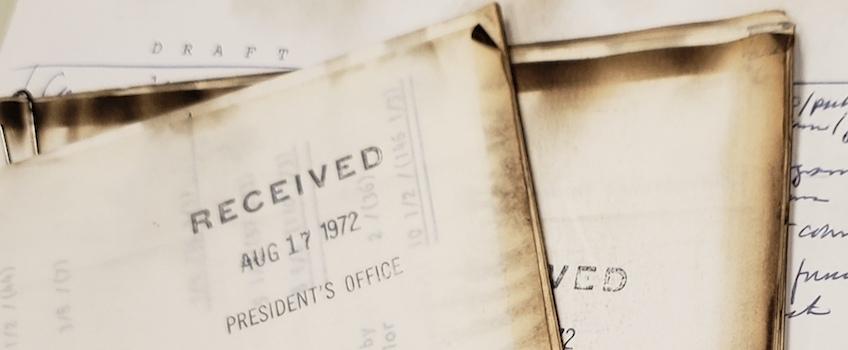 Galloway, N.J. - What was the vision for Stockton when it opened in 1971 and how has it evolved over the last 50 years?
Professor Emeritus Ken Tompkins, Professor of Literature Tom Kinsella and their 50th Anniversary Strike Team of six student interns presented their semester-long work on the Stockton Stories project at a Zoom presentation April 23 that attracted alumni viewers from around the country.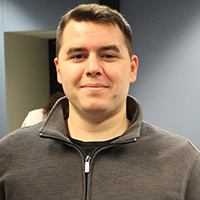 "One can't describe 50 years of a university," Tompkins said of the Stockton Stories website the team has developed to provide a multitude of voices and views about Stockton through the decades. "But we can give a sense of what we are, where we've been, and where we would like to go through stories."
Tompkins, who was Stockton's first dean of General Studies, wrote about Prospectus 71, which outlined the aims and goals of the new university that would encourage students to "develop their potential." A copy of the prospectus is included with the story.
Senior Brendan Honick served as a web designer, updating and adding to the stories on the site. He also wrote a story about the 1973 fire in a cabin that was serving as the president's office on the still largely undeveloped campus. Honick found some of the charred records from that time in the Stockton library archives managed by Archivist Heather Perez.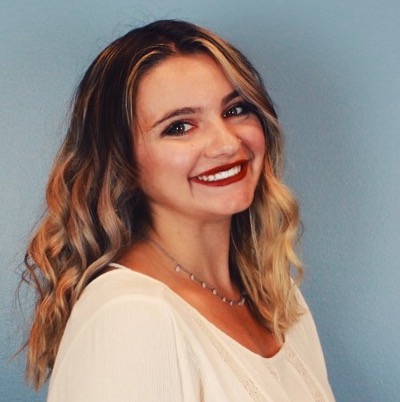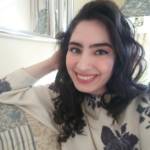 "There was some campus turmoil at the time," Honick said, referring to tension among students, faculty and the administration over governance and operations at the new college.
Jessica Chamberlain described Stockton in the present day, in the form of the Art Room in the Arts and Sciences building and its influence and impact on students. A video featuring art student Ashley Collins, a strike team intern last semester, and her artwork is included in this story.
"The Art Room really is a community," Chamberlain said.
Videographer CJ Coyle made the video featuring Ashley Collins, a piece on Stockton's community garden and a highlight video on radio station WLFR's 35th anniversary. He had planned a large feature on the radio station, but that was sidelined by the COVID-19 virus restrictions.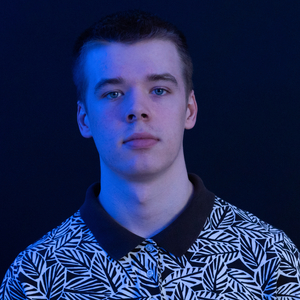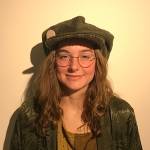 Laurie Melchionne, assistant editor of The Argo, Stockton's independent student newspaper, did a story highlighting the Argo's history. Issues are archived in the library.
"The Argo really represents Stockton's history," she said. "It started in October 1971, a month after Stockton opened. It reflects Stockton's history in student voices."
Gabriella Fiorica compiled "Love Letters and Hate Mail to Stockton" through letters written to The Argo. Topics range from national issues to campus parking.
Jessica Chamberlain, Laurie Melchionne and Gabriella Fiorica, each freelance writer interns, took a trip into the woods to find a variety of old lampposts and signs that have been discarded over the years.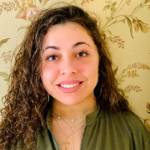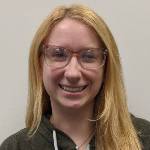 Sophia LoPresti, the team's archivist intern, digitized photos from Stockton's history to create a photo gallery for the website. Many of the photos focus on the physical campus and how it has changed.
"There was a huge change to the campus when the Campus Center was built," she said.
Kinsella said he has been thrilled with the ideas students have developed. The project is scheduled to continue for another year, at which time Stockton will celebrate 50 years of teaching and learning. Kinsella hopes that alumni, faculty and staff, and community members will consider donating Stockton related materials to the University Archives, preserving them for the University's 100th anniversary and beyond.
Meanwhile, the Strike Team continues to develop stories: "I want people to say of us that they had a nice start," Kinsella said. "There is still quite a bit in the pipeline and we can always use help from anyone who wants to research and write up stories."
Those and previous stories can be viewed on the Stockton Stories website. Alumni and former faculty and staff can also submit their own stories through the website. Story ideas can be shared with Kinsella at Thomas.Kinsella@stockton.edu. Queries about potential donations to the Archives should be directed to Heather Perez at Heather.Perez@stockton.edu.
# # #
Contact:
Diane D'Amico
Director of News and Media Relations
Galloway, N.J. 08205
Diane.D'Amico@stockton.edu
609-652-4593
609-412-8069
stockton.edu/media