Stockton Joins NJ Come Home Initiative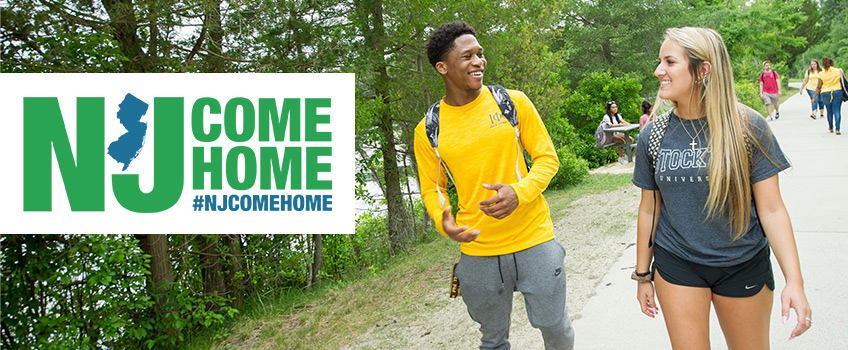 Galloway, N.J. - Stockton University president Harvey Kesselman joined the presidents of nine other New Jersey four-year public universities and colleges today in inviting state residents who attend college outside of New Jersey to come home, enroll in New Jersey institutions, and help rebuild the state as a part of a new New Jersey Scholar Corps.
The New Jersey Scholar Corps programs will offer students who transfer to Stockton from accredited out-of-state institutions:
Guaranteed acceptance of credits earned with a grade of C or better
A speedy review of applications.
Waiver of the Stockton application fee.
Deadline to apply for financial aid extended to June 1.
The opportunity to participate in college-sponsored community service activities and service-learning activities.
More than 30,000 New Jersey students leave the state each year to attend college in another state. The state's public college presidents are aware that finances and other considerations related to the coronavirus may make returning to New Jersey a better option at this time. They want students to know they will be welcomed.
"Stockton University is an essential partner in the South Jersey economy, which has been hit particularly hard by pandemic closures," Stockton president Harvey Kesselman said. "We invite students to come back to New Jersey and join us in taking on the challenge of rebuilding the Jersey shore and the state."
The other participating institutions are Montclair State University, the New Jersey Institute of Technology, Rowan University, Kean University, New Jersey City University, Ramapo College, The College of New Jersey, Thomas Edison State University, and William Paterson University.
For more information and to apply, visit Stockton's New Jersey Scholars Corps website at Stockton.edu/njcomehome.
# # #
Contact:
Diane D'Amico
Director of News and Media Relations
Galloway, N.J. 08205
Diane.D'Amico@stockton.edu
609-652-4593
609-412-8069
stockton.edu/media