Picture Stockton...Drawing Inspiration from Science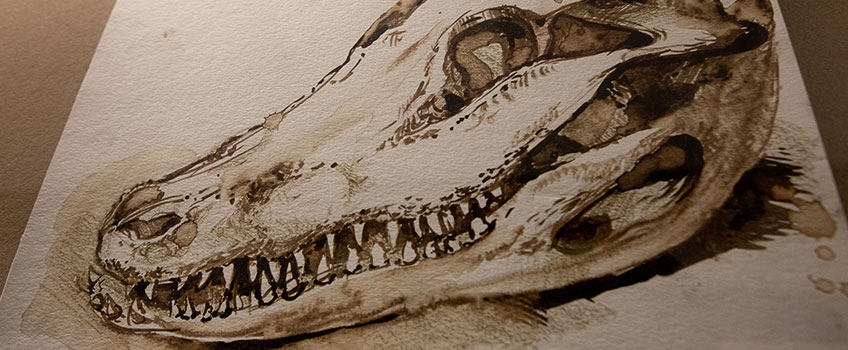 Galloway, N.J.- The overhanging teeth that protrude from an alligator's clenched jaw caught Mariana Smith's attention as she passed a menagerie of bones organized on a table in a science lab.
"My students would want to draw that," she thought.
Smith, an assistant professor of Art at Stockton University, began to venture outside the art studio when her students tired of traditional still life displays. She found more challenging subjects to intrigue her students in the Unified Science Center II greenhouse, on Nacote Creek and in the Stockton ornithology and skeletal collections.
The result is student artwork, inspired by science, now on display in the Unified Science Center I hallway on the second floor.
The art of science theme continues in the Stockton Art Gallery with the "Creative Collaborations in Arts & Sciences" exhibitions on display through April 5.
Through a Stockton 2020 grant, Smith worked to curate these exhibitions and create a platform to spark ideas for artistic science communication with exhibition coordinator Denise McGarvey, Visual Arts faculty, the School of Arts and Humanities and the School of Natural Sciences and Mathematics.
See how Stockton is blending art and science in the photo series below. These images were captured over the past year and follow Mariana Smith and her students' journey to visualize science.
Photo story by Susan Allen.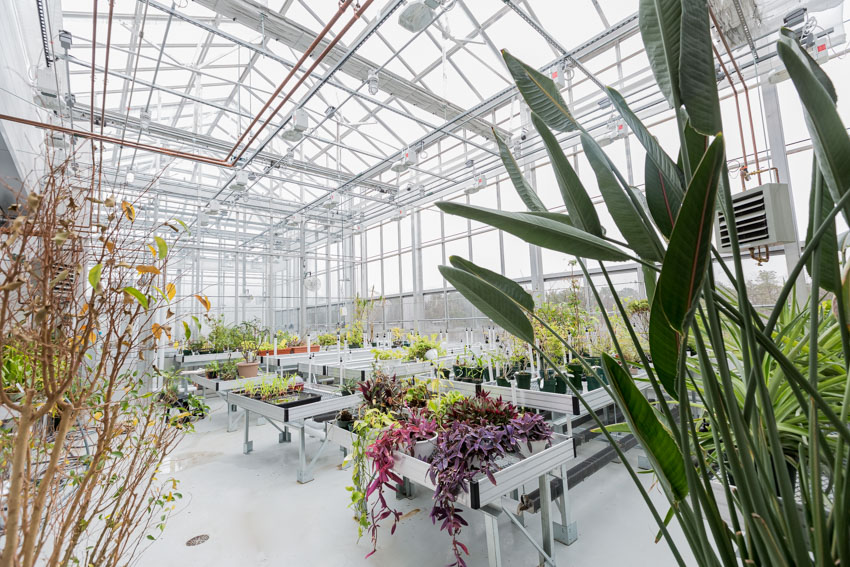 Flurries were falling on a February day last year, but the greenhouse offered a warm welcome to art students who arrived with their sketchbooks. Mariana Smith worked with Christine Schairer, of the School of Natural Sciences and Mathematics, to bring art students into science spaces.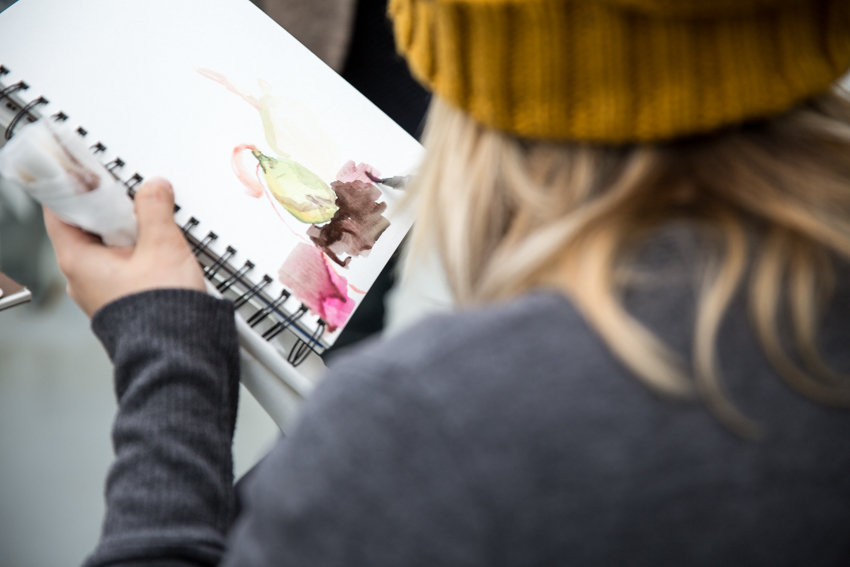 Students' paint pallets match the colors of the vibrant orchids and plant foliage growing in the sub-tropical section of the greenhouse.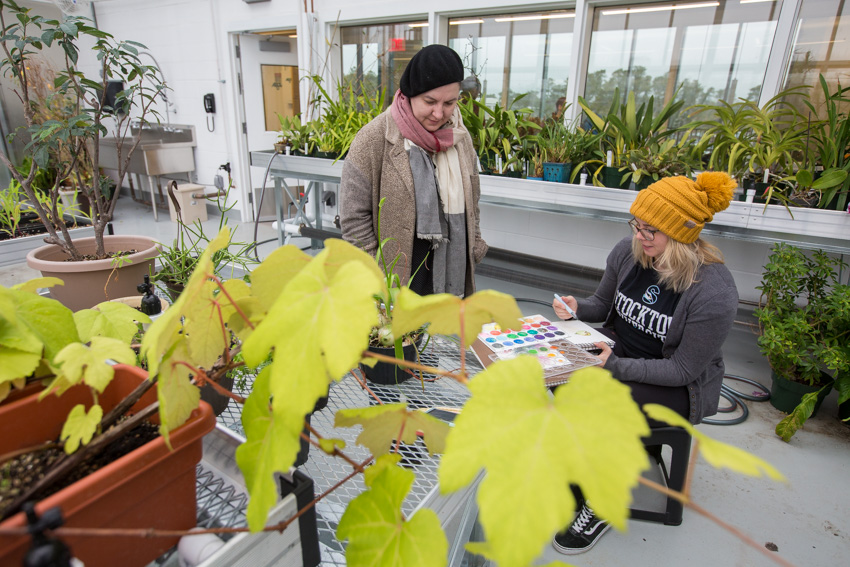 Mariana Smith provides guidance to Aiyana Yearicks who is working on a watercolor piece.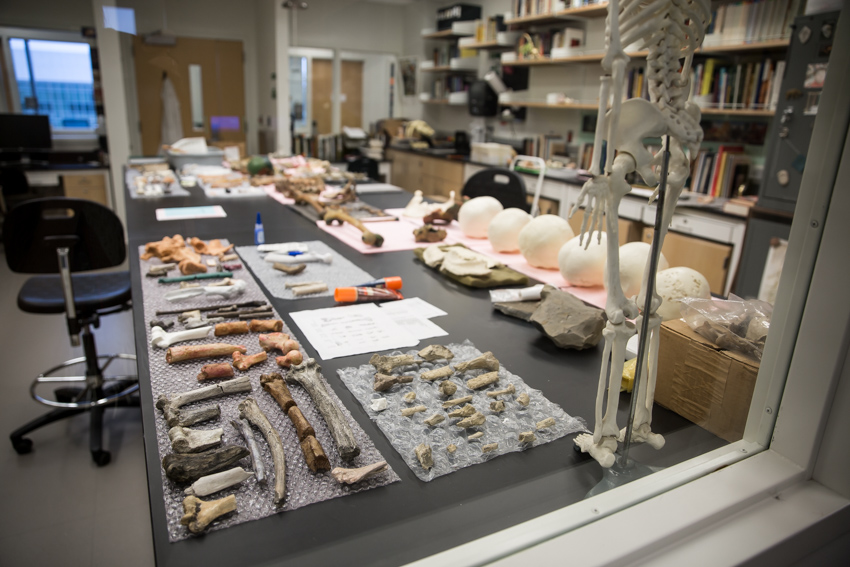 From the greenhouse, students move on to draw skeletal specimens from various animals.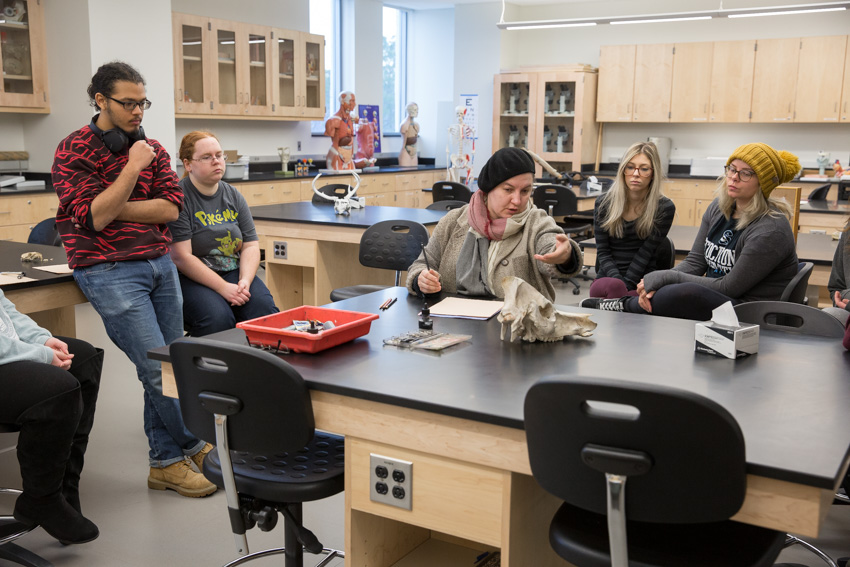 A fragile snake skeleton, antlers and a blue crab shed are among the specimens displayed on each table for students to draw.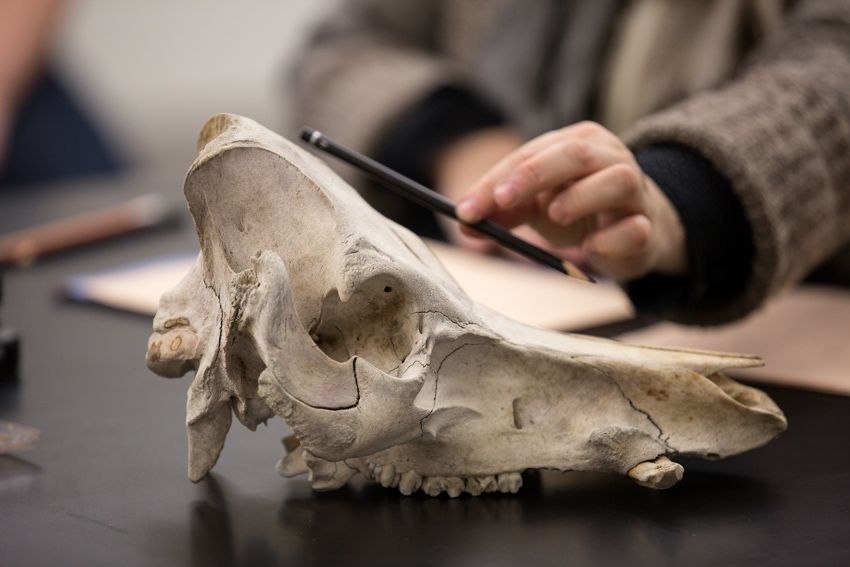 Before the students put their graphite drawing pencils to paper, Mariana Smith gives a demonstration.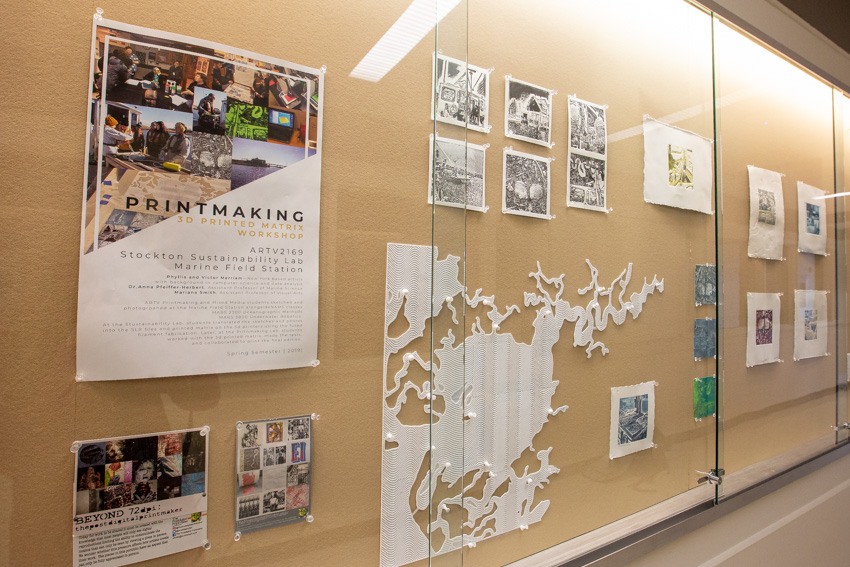 Last spring, Mariana Smith took her Printmaking and Mixed Media classes to Stockton's Marine Field Station on Nacote Creek to sketch scenes during Anna Pfeiffer-Herbert's Oceanographic Methods and Underwater Robotics classes. In the Sustainability Lab, the sketches were translated into special files for 3D printing. The results are on display in the hallway of the Unified Science Center I on the second floor.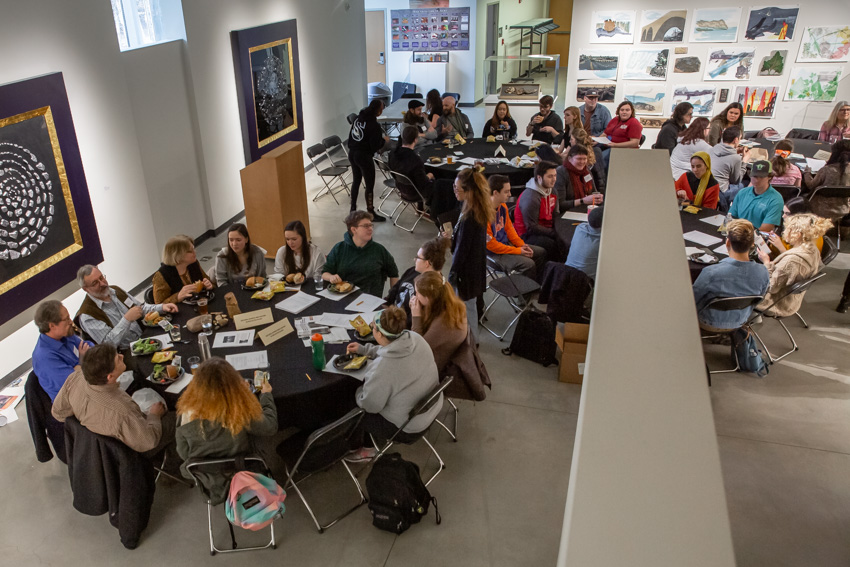 This February, Stockton art and science professors joined students and exhibiting artists in the Art Gallery for a roundtable discussion on how art and science can and do overlap. "Come up with an idea, ask questions and follow through," Mariana Smith said to the students. Sometimes, creative collaborations can result from serendipitous meetings, Smith explained.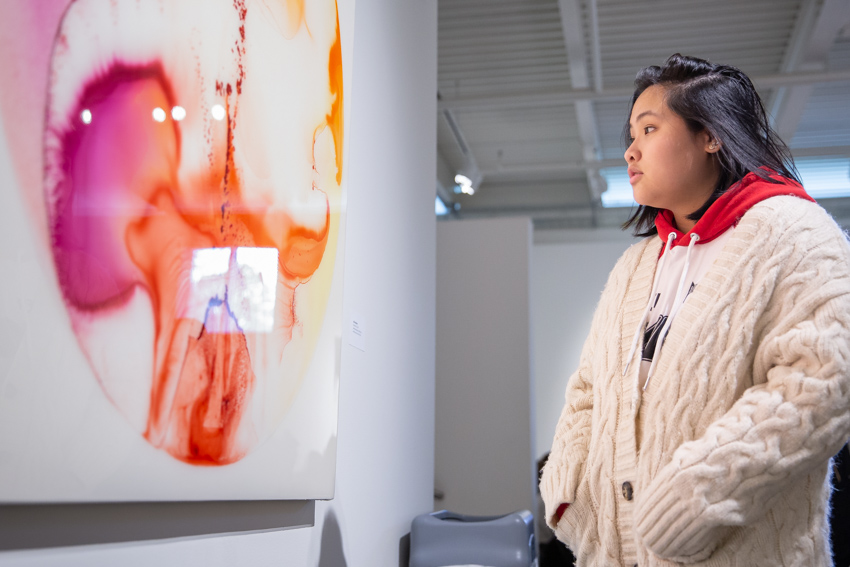 "Science and art look good together. They're like best friends," said Vi Mai, a sophomore Visual Arts major, as she looked closely at her favorite piece on display in the Art Gallery. John Sabraw's piece, "Chroma S6 1," turns pollution into a painting. Acidic, iron-rich runoff from coalmines turns streams orange. Sabraw collaborates with scientists to collect polluted stream water to extract the iron oxides and make paint pigments.
John Sabraw, professor and chair of the painting department at Ohio University, and Gaylord Schanilec, a writer, artist and letterpress printer, have works on display in the Lower Art Gallery, curated by Mariana Smith. Pictured is a selection of their works. In the Upper Gallery, Matthew T. McLaughlin, an instructor at the University of Maryland and director and printer at R&D Editions, curated works that were collaborations between artists and scientists.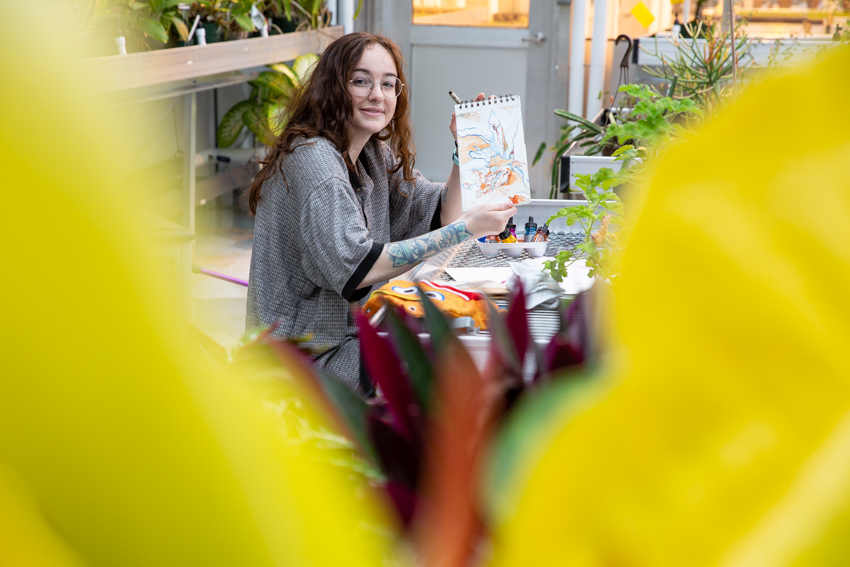 Ashley Collins, a 2019 Fine Art graduate, began drawing plants in the greenhouse during Intermediate Drawing, but ran out of class time to accomplish a deeper botanical study. To extend her exploration, she took an independent study in the greenhouse with Mariana Smith that continued into an art-focused study abroad trip to Taiwan. She started a series of pieces in the greenhouse and then flew them to Taiwan to complete them in botanical gardens and the National Palace Museum in Taipei during the trip led by Chung Fan Chang, assistant professor of Art, and Smith.
Working in the greenhouse was "an immersive experience that allowed me to be connected with my pieces," explained Ashley Collins, pictured next to her displayed work in USC I. She documented the "wilderness exploding alongside cool technology" and enjoyed the stress-free atmosphere. Arriving in Taiwan was an eye-opening experience that played out "like an adventure." Through these experiences, Mariana Smith helped her to develop an authentic expression of herself and pushed her to stay true to her artistic goals.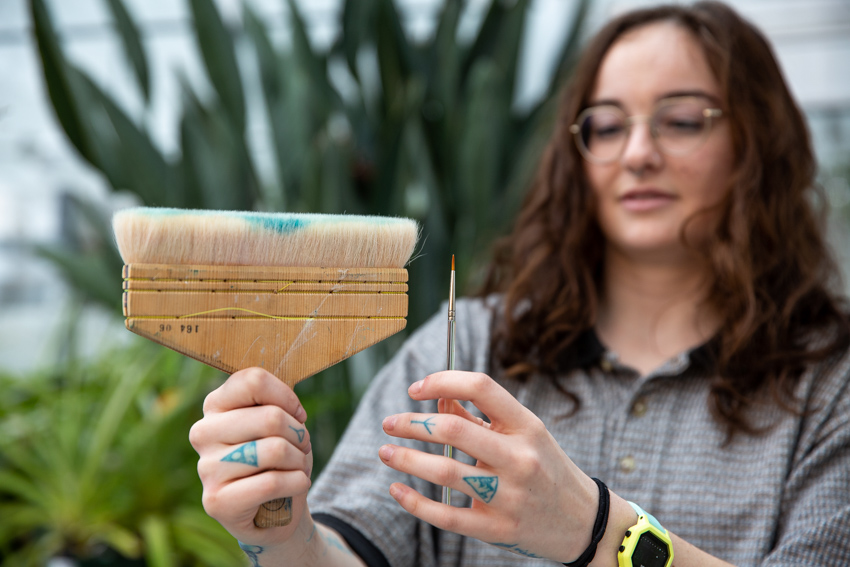 Ashley Collins holds two significant brushes, one that has helped her to find the courage to take the big strokes and a detail brush she bought in Taiwan during her study abroad.