Stockton Launches New Summer Business Academy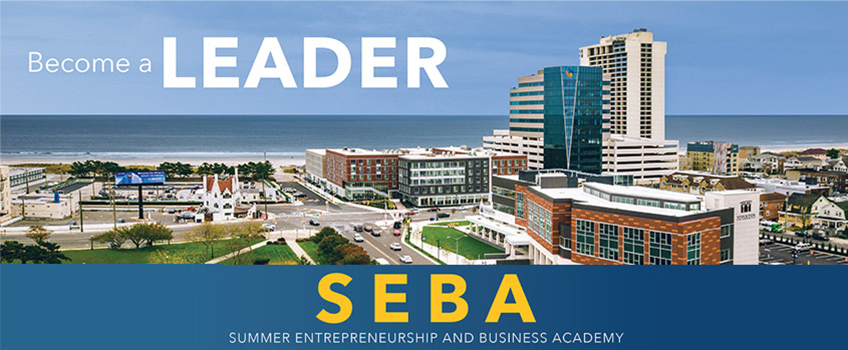 Galloway, N.J. - High School students interested in careers in business and entrepreneurship are invited to participate in a new one-week summer academy at Stockton University.
The Summer Entrepreneurship and Business Academy (SEBA) for rising high school juniors will run from July 19-25. Participants will live on the Stockton Atlantic City campus, work with Stockton professors and business leaders, and take field trips to businesses in the Atlantic City and Philadelphia areas including South Jersey Industries, Borgata, The Federal Reserve Bank and AtlantiCare.
The week will also include discussion of all aspects of business, from accounting, to business analytics, computer information systems, finance, management marketing and hospitality. The final project will be a business plan competition judged by faculty, advisory board members and community leaders.
"Our new academy will introduce young people to all aspects of business and the individuals who run them," said Alphonso Ogbuehi, Dean of the School of Business at Stockton. "It is a wonderful opportunity for them to get an inside look at how businesses operate and how they might build a career in the business world."
The cost is $1,300, including room and board. Scholarships are available. For more information go to stockton.edu/business/seba or contact Tara Marsh at 609 626-3646 or tara.marsh@stockton.edu.
SEBA joins a series of summer camps at Stockton designed to introduce and immerse students in a variety of careers. Other options include the Science Enrichment Academy at Stockton (SEAS), and Stockton's summer CSI camp for students interested in crime scene investigation. More information is at stockton.edu/event-services/summer-camps.
Contact:
Diane D'Amico
Director of News and Media Relations
Galloway, N.J. 08205
Diane.D'Amico@stockton.edu
609-652-4593
609-412-8069
stockton.edu/media