Spotlight On: Nate Morell
Named Advisor of the Year by Active Minds
Galloway, N.J. – In October 2012, shortly after Nate Morell began his position as assistant director of Counseling at Stockton University, he got on a plane with a group of students to chaperone their Active Minds conference trip to Orlando.
"Orlando in the fall sounds great," he laughed. Little did he know that this trip was the start of a special journey. He hasn't missed a conference since and is in his eighth year as the advisor of Stockton's Active Minds chapter.
"I just fell in love," he said, smiling.
In February, Morell was chosen as Advisor of Year by Active Minds and received the national award at a conference of 600 attendees. His acceptance speech was a love letter to the organization, thanking them for allowing him to be able to do this important work.
"I know in my heart that this work is valuable, and it saves lives, and I see people come and use it to heal. To get validation from the national people that really know this stuff well. It's just reassuring to me I am on the right path."
Morell said so many of the club's outreach and suicide prevention ideas have come from inspiration at past conferences and by what other people passionate about this cause are doing. Now, Stockton's group brings their own ideas to the conferences to share with peers. This year there will be about 50 events hosted by Active Minds at Stockton, from Suicide Prevention walks, to yoga and meditation, to eating disorder awareness discussions.
Bringing therapy dogs on campus has been especially impactful. Morell remembered a story of a student who hadn't wanted to get out of bed one day, and a friend sent them a photo on social media of Sebastian, the fluffy cloud-like Samoyed. It motivated them to come out, engage with friends, pet the dogs, and ultimately feel better.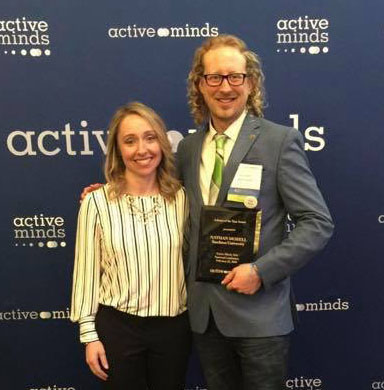 "Being part of Active Minds means a lot of things to me. At the deepest level, it's a chance for me to go back and help myself - to when I was a teenager and struggling. We didn't talk about mental health then. We didn't talk about many of these human struggles we all go through," Morell said. "It's also a way to give something to the next generation."
Morell says students involved in Active Minds have a chance to create purpose from pain through healing, and in turn then help others. He helps steward the club members, but a lot of the heavy lifting is done by the students, who bring their own ideas and make them happen.
It is no new revelation that mental health issues are surrounded by stigma. "It's just brain health. There's this whole layer of shame around there," Morell said, pointing to his head. "Let's just take that away. We'll talk about it. We'll take care of ourselves. We'll take care of each other. All this extra suffering is totally unnecessary."
Morell practices what he preaches, reflecting on how doing yoga or meditating has benefitted his own mental wellness greatly. This summer he was certified in Heartfulness Meditation and offers group sessions at 5:45 p.m. on Tuesdays in the N-Wing Meditation Hall.
"When you lift others up, you lift yourself up. That keeps me accountable."
Morell says at Stockton there is an expectation for kindness - which is a very special thing. "We support each other here. And having to sell that hasn't been hard which I'm grateful for." The many initiatives the club organizes have been well-received and championed by the c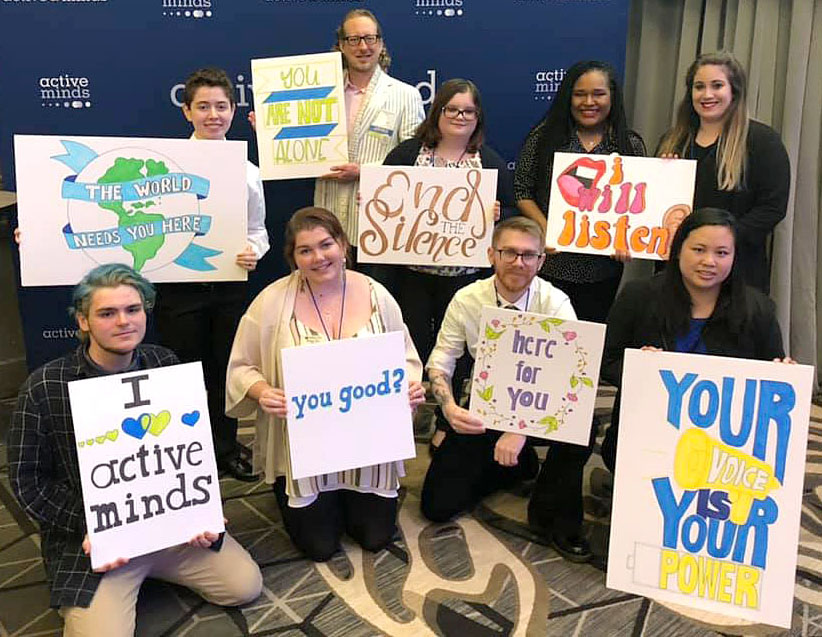 ampus community.
Morell went to school originally to be a photographer. He didn't know he wanted to be involved in social work, and yet life's bumpy road brought him to where he was supposed to be. After losing a job in photography, he started to get involved with volunteer opportunities. He completed a 40-hour active listening training for a suicide prevention hotline, and it was during this time he felt a true calling: listening and helping others. He returned to South Jersey and completed his degree in Social Work at Stockton, and the rest is history.
"When I was a little kid, I never thought I'd be a social worker involved in counseling and prevention, but I know that this is where I'm meant to be. And everything came together for me to be here," Morell reflected. "And I love it. And, yes, it came from failure and falling on my face, and stumbling. But yet here I am, and I'm really grateful to be here. I love this community and I love this work."
Reported by Mandee McCullough