Lake Fred Turtles Help NJDEP Research Mysterious Shell Lesions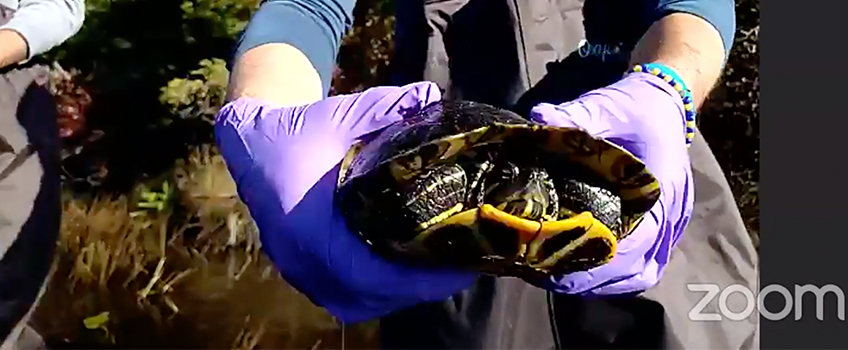 Galloway, N.J. - Some of Lake Fred's turtles that can be spotted lounging on logs are helping scientists with a research study.
Last year, the New Jersey Department of Environmental Protection (NJDEP) became aware of northern redbelly turtles with mysterious shell lesions in the Delaware watershed. This fall, Craig Lind, assistant professor of Biology, and students began looking for answers to the cause of the irregular splotches that form on the plastron (underside of the shell).
Lind's work is taking place on Lake Fred, which is serving as a control site for the study lead by NJDEP with Stockton and Montclair State University researchers conducting field work.
Northern redbelly turtles, the largest species of basking turtle in New Jersey, are regularly spotted balancing on logs in Lake Fred to soak up warmth from the sun in the spring and summer months.
The turtles on campus are healthy with no lesions reported, so Lind is working with Biology majors Greg Sousa and Matthew Mershon to gather baseline data that can be used to make comparisons between the turtles with and without shell lesions.
Brian Zarate, a senior zoologist for the Division of Fish and Wildlife's Endangered and Nongame Species program, first saw the lesions in photos submitted by a concerned volunteer, and described them as "really severe" in comparison with the turtle anomalies that are typically reported.
"The hard shell is being eaten away by lesions that open up the turtle to infections. They have a great protective shell, but the soft lesions are penetrating that barrier," he said.
Zarate sent photos of the lesions to researchers in and outside the state, including Stockton, to see if anyone had seen anything similar. Feedback was "yes, but typically not that severe," he said.
Existing publications and reporting revealed a redbelly turtle with lesions in Maryland 20 years ago and a handful of other species with lesions in the Southeast.
"The difference we noted is that in the past there would be lesions on a handful of turtles or several turtles with lesions confined to one water body. In Salem County, there are several turtles with lesions in multiple water bodies. That raised an alarm for us," Zarate explained.
There are a variety of possible causes for the lesions including fungal or bacterial infections, a rana virus and water quality, said Lind, who is narrowing down the possibilities. For example, water quality can be negatively affected in areas near agriculture operations, where fertilizer run off can create harmful algal blooms.
Blood work offers a picture of turtle health and can help identify the origin of the lesions. Lind, who previously studied fungal diseases in snakes, has designed assays (laboratory procedures) that analyze immune performance in reptiles.
Before blood samples can be drawn, Lind and his students needs to catch turtles, which they do with the help of hoop nets.
The nets are set throughout Lake Fred—some visible from the Light Path—during the early fall, prior to hibernation season when the turtles begin to burrow into the mud for the winter.
Every morning, the team checked the nets to weigh, measure and PIT tag the redbelly turtles before releasing them.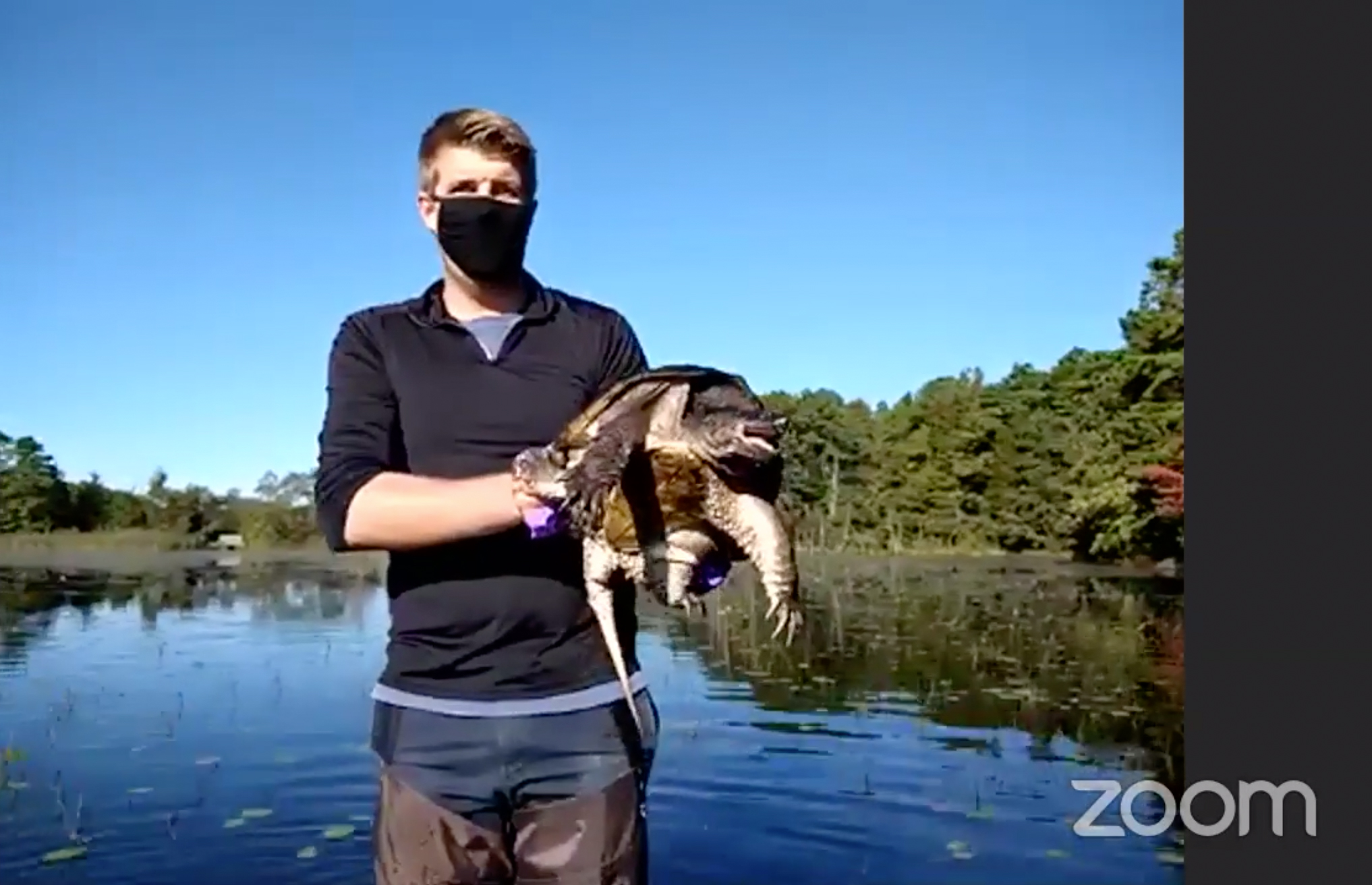 IMAGE: Craig Lind prepares to release a common snapping turtle that was caught in a hoop net. Never attemp to handle wildlife without the proper permits and training.
A PIT tag is a microchip that is inserted into the turtle's rear leg. When a tagged turtle is recaptured and scanned, researchers get a picture of the turtle's growth, movement and survival that can be recoded in a database and contribute to identifying trends.
The field work season has ended with the turtles now hibernating, so the Stockton team is working inside the lab to process the blood work that was sent to Dr. Nicole Lewis, a state wildlife veterinarian. Lind and his students will be looking at markers for immune function.
Montclair State researchers are focusing on water quality and abiotic measures to look at how habitat may be having an impact on the turtles.
NJDEP conducted field work to gather data from the turtles with lesions in three large water bodies. "There were some signs of the lesions healing where the shell reformed and hardened. It gives us some hope that some turtles have the capacity to recover in their natural environment," said Zarate.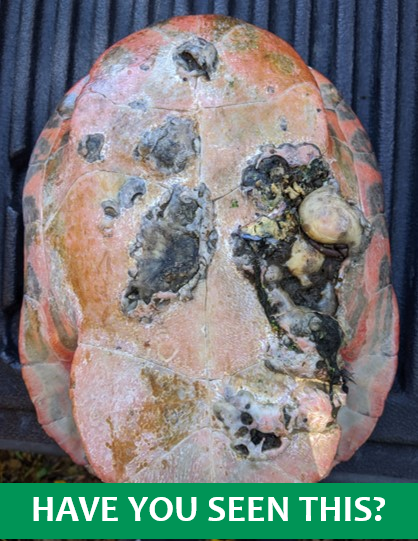 The list of unknowns is still long, and "it's likely a combination of factors are causing the issue," said Zarate. How fast do the lesions form and how long do they last? What age classes are affected by the lesions? Why do the lesions occur in some habitats and not others?
If wildlife and field work interest you, check out the variety of majors within the School of Natural Sciences and Mathematics to see how you can get involved in research projects with faculty at Stockton.
The community can also help with the research study by sending reports of any turtle species with lesions to Brian Zarate at Brian.Zarate@dep.nj.gov. Please include specific information on where the turtle was found, when, how many turtles you saw and any other observations that may be relevant (abnormal behavior, water conditions, dead fish/amphibians in the area).
Reported by Susan Allen