Grants Help International Students Continue Studies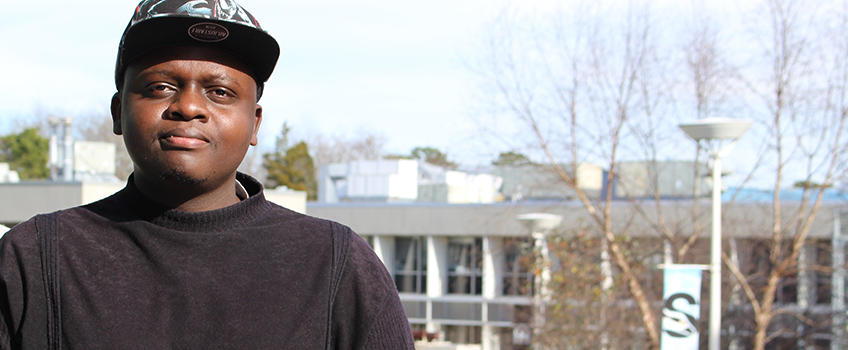 Galloway, N.J. – When Stockton closed in March to help stop the spread of the COVID-19 coronavirus, a few international students remained.
In addition to the difficulty of traveling, the students and their families also grappled with the impact of losing jobs and potentially interrupting their educations.
The Stockton Office of Global Engagement, under interim director JY Zhou, began searching for outside resources to help the students fund their educations and related expenses.
"Whenever we identified a funding opportunity, we notified our international students, encouraged them to apply, and worked with them on their applications," Zhou said.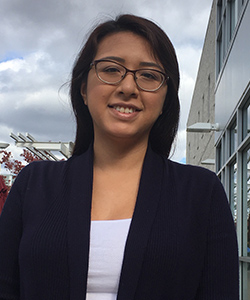 Her efforts paid off. Two of the students, Daniela Rodriguez Molina from Peru and Brian Otieno Odhiambo from Kenya, received grants that are making it possible for them to continue their studies.
Odhiambo is one of 25 students worldwide who received $10,000 from the Western Union Foundation. Rodriguez Molina received $2,900 from the Institute of International Education Emergency Student Grant for International Students.
Odhiambo said when he was first notified he had received the grant, he was concerned that it might be a scam.
"But when I confirmed it was true, I was super excited," Odhiambo said. "I really took my time writing the essay to get the money."
A transfer student who arrived in January 2020 as a junior majoring in computer science, Odhiambo said he has been fascinated by technology and super heroes since he was a child. He described making his own robots as a child out of pegs, rubber bands and wire.
At Stockton, he has maintained a 3.9 GPA, which he credits to the support he receives from professors.
"Professor (Judy) Vogel is like my second mom," he said. "That was why I chose Stockton, because I I wanted professors who would be approachable and help me."
Odhiambo started his college education at Moi University in Kenya, and designed an app that would use patient fingerprints to help prevent medical insurance fraud. He said having a degree from a college in America is valuable when applying for jobs in Kenya and neighboring countries, so he transferred to Stockton as a junior.
When the pandemic hit, he did not have the money to return home, travel was restricted, and his mother was also struggling because she was not working. Relatives helped out, and he worked at the Stockton Polling Center, but it was starting to look like he might not be able to complete his degree.
The $10,000 grant will allow him to continue with his classes this spring. He said after graduation he would like to return to Kenya or a neighboring country and work for a major firm like Facebook, Apple, Google.
Rodriguez Molina has family both in Peru and America, and was familiar with Stockton when she applied after earning an associate degree from Atlantic Cape Community College.
"I really like the campus and the people," she said. "Everyone is very warm. I felt at home."
When the university closed in March, Rodriguez Molina said Peru had also locked down. The airport was closed so she could not return home. She was also concerned that once she could travel home to Peru, she might not be able to return to complete her degree in Business Studies. She opted to stay in the area, but lost her on-campus job when the university closed.
"I had some savings, and don't need a lot, but I couldn't work all summer, and my parents couldn't work because of the lockdown in Peru," she said. "The grant was a huge help for me to get through the summer. My original budget for the summer also became my budget for my last semester."
Rodriguez Molina will graduate in December, and hopes to stay in the United States to work in a service-related or non-profit company. She is researching paid internships and other opportunities both in New Jersey and other states and is applying for Optional Practical Training, a 12-month work authorization for international students who plan to seek employment in the United States.
Zhou has also worked with the Stockton Foundation to set up an Emergency Fund for Pandemic Relief for international students. More information is available from the Office of Global Engagement.
A video of Daniela telling her Stockton story is on YouTube.
# # #
Contact:
Diane D'Amico
Director of News and Media Relations
Galloway, N.J. 08205
Diane.D'Amico@stockton.edu
609-652-4593
609-412-8069
stockton.edu/media