Scholarship Gala Still Supporting Students Online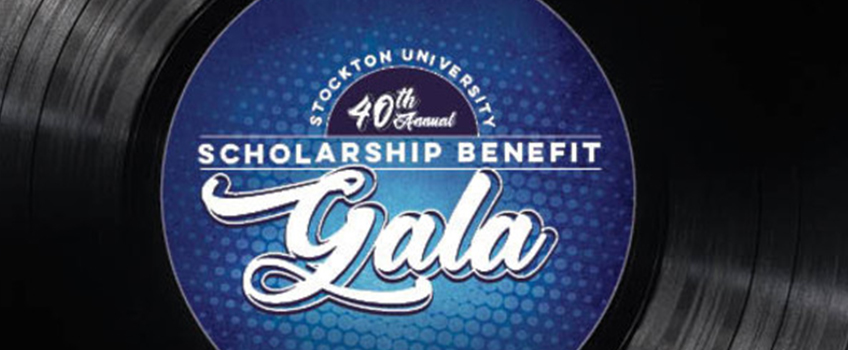 Galloway, N.J. – Stockton University's 40th Annual Scholarship Benefit Gala is "taking a new spin" on celebrating, with online activities scheduled for May 9, the same day as the gala was to be held at Hard Rock Hotel and Casino.
Thanks to the generosity of sponsors and donors, the "gala" will still raise funds for Stockton students. Nearly all sponsors have agreed to continue their support, and nearly $190,000 has been raised so far. The retro recording theme of the 40th anniversary gala has been repurposed to recognize the event "taking a new spin" on fundraising.
The Stockton Foundation, which sponsors the annual event, has set up stockton.edu/gala, an online opportunity for sponsors, friends, ticket holders and others to not only continue to offer support to the scholarship fund but also recreate elements of the gala from the comfort of their homes.
"When it became clear we might not be able to hold the event in person, our focus immediately turned to ways we could continue to support our students," said Daniel Nugent, chief development officer and executive director of the Stockton University Foundation. "Knowing that many of our students and their families would feel the impact of the COVID-19 pandemic, we started having conversations with our Foundation Board members and sponsors to discuss ways to make sure funds would still be available, despite not holding an in-person event."
From a recipe for a signature cocktail – the Ospreytini – to an hors d'oeuvre recipe and a playlist featuring hits from New Jersey's most notable artists, the stockton.edu/gala site encourages guests to celebrate on May 9 and share photos of their evening on social media – all of which will display on the site's social media feature.
"Despite facing tough times themselves, our sponsors are remaining dedicated," said Alicia McMackin, associate director of special events, who coordinates the gala each year. "Many of these businesses and individuals have supported the event for many years and have agreed to continue to do so, despite the challenges."
John Gray, business agent for International Brotherhood of Electrical Workers Local 351, the event's headline sponsor for the past 12 years, said they wanted to support the students.
"When we heard the gala wasn't going to be held in person, we worried about the repercussions that could have for students who benefit from this fund," said Gray. "We wholeheartedly support Stockton and our community."
Capaldi Reynolds & Pelosi CPA have been Gala supporters since 2006 and are also among those who continued their support this year.
"We know how college students are feeling right now," said Donna Buzby, co-managing partner of the firm and chair of the Stockton University Foundation Board. "And with so much disruption in their lives, we want to bring a sense of certainty and hope to them."
While most of the sponsorship support has gone to the Benefit Gala Endowed Scholarship Fund, some donors have chosen to redirect their gifts to support the Foundation's Student Relief Fund, which provides emergency grants for students who face severe financial challenges.
"The kind of support we've received during this trying time is indicative of the Osprey spirit of resilience and unity," said Stockton President Harvey Kesselman. "We're deeply moved by our incredible sponsors and the community who continue to come together, year after year, to support our students."
The Foundation is looking forward to next year's Gala at the Hard Rock Hotel & Casino.
"We're already planning for it," said McMackin. "We look forward to celebrating those who partnered with us during the pandemic, and the entire community, for our best event yet."

To learn more and view a full list of this year's supporters, visit stockton.edu/gala.
# # #
Contact:
Diane D'Amico
Director of News and Media Relations
Galloway, N.J. 08205
Diane.D'Amico@stockton.edu
609-652-4593
609-412-8069