Students Present Research and Network at Yale University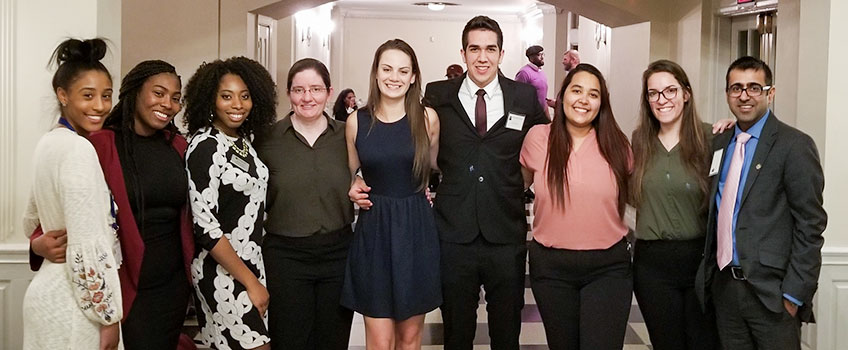 Galloway, N.J. – Seven Stockton University students – Nancy Ayala, Tyler Black, Warner Brown, Ashley Cody, Tania Gafanha, Amanda Schuler and Chioma Uka – attended the annual Yale Bouchet Conference on Diversity and Graduate Education from April 6-9 at Yale University in New Haven, Connecticut.
At this conference, educators, researchers, and other members of the higher education community gather to discuss diversity-related topics, present relevant research, and network with other professionals.
Three students shared poster presentations at the conference; Uka discussed her work regarding the effects of microgravity on the self-assembly of PEGMA and drug delivery systems. Black explored the social, cultural, and technological implications of the #MeToo movement, and Schuler proposed a neurobehavior model to accent perception reprogramming.
Valerie Hayes, chief officer for Institutional Diversity and Equity and co-founder of the Bouchet Graduate Honor Society, said attending the conference provides Stockton students with networking opportunities with accomplished doctoral candidates and Society institutional member representatives.
Participating students found the conference to be a highlight of their undergraduate career.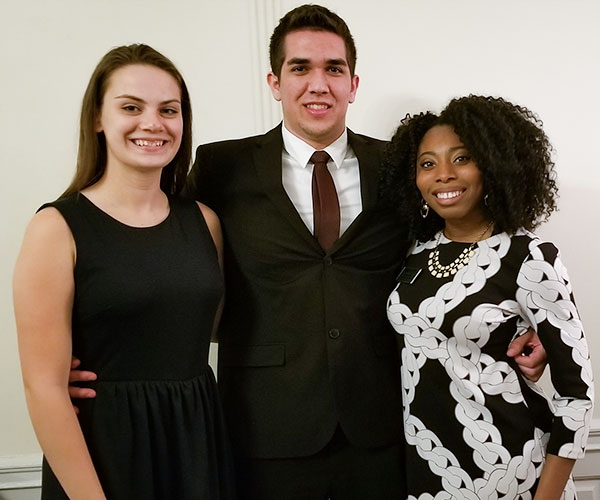 "As a first timer to the conference, I can confidently say that it exceeded my already high expectations," said Gafanha. "I knew that I was walking into an event that would fill me with so much knowledge, but I did not [anticipate meeting] many incredible people from all across the country. Everyone was so nice, and they all went out of their way to give me advice that they felt would enhance my undergraduate experience, which was not something I was expecting to get out of this conference. I hope that in the future I will be able to present my own research at the conference and be able to pass down the same advice and wisdom to others as I was given."
"I am extremely grateful for the opportunity," said Ayala. "Not only did I have the chance to network with people from around the country, but I also had the chance to witness some of my peers present research they had conducted with their professors. I have been inspired to try and conduct research alongside some of my professors and one other peer I attended the conference with. I want more people to know about this great opportunity so that they can experience what I experienced."
Associate Professor of Criminal Justice Manish Madan, who also attended, said he wants the trip to inspire participating students.
"One of the goals of exposing Stockton students to this enriching experience is to ignite their minds in such a way that they recognize the value of graduate education and research in an academically competitive environment," Madan said. "Such opportunities are critical in shaping Stockton's unique student demographic, and the more we do, the more positive outcomes we will continue to see in our students who are eager to put Stockton's teaching and research on the national map."
Reported by Kat H. Wentzell.
# # #
Contact:
Diane D'Amico
Director of News and Media Relations
Stockton University
Galloway, N.J. 08205
Diane.DAmico@stockton.edu
609-652-4593
609-412-8069
stockton.edu/media