Aide to Barack Obama to Speak in A.C.
Galloway, N.J. – Ferial Govashiri, former personal aide to President Barack Obama, will be the inaugural speaker for the Distinguished Women. Distinctive Voices series sponsored by the Stockton University Foundation's new Women's Leadership Council at 6 p.m., Thursday, April 4 in the Fannie Lou Hamer Room at Stockton University Atlantic City, 3711 Atlantic Ave.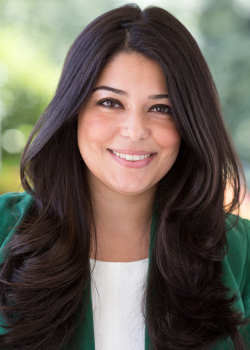 As President Barack Obama's personal aide and private secretary, Govashiri interfaced with national and global leaders, juggled crises, and observed the most powerful office on earth from its most intimate vantage point. She now works as chief of staff to the Chief Content Officer at Netflix.
Govashiri's talk, Tiny Cracks: Breaking the Glass Ceiling, offers her unique perspective on how women can be successful and achieve positions that have been traditionally dominated by men, while expanding on themes such as the power of confidence, determination and risk-taking in decision-making.
"We are thrilled to welcome Ferial Govashiri as our first featured guest for the SWLC's inaugural speaker series," said Cristina Stummer, partner at Saul Ewing Arnstein & Lehr and chair of the SWLC. "She will set the tone for an impactful series that will empower women from all walks of life to take their careers to the next level and build relationships with like-minded professionals."
A moderated Q&A session will follow Govashiri's talk.
The event is free and open to the public, but reservations are required and can be made online at stockton.edu/swlc. Click on "meetings and events."
The new Stockton Women's Leadership Council will provide mentoring opportunities for Stockton students and alumnae, create a culture of philanthropy, and provide personal and enrichment opportunities in the region.
"We know a group of empowered women empower others," said Johanna Johnson, a founding member of the SWLC and chair of the Stockton Foundation. "Together, we can make an impact on the next generation and in our community."
Other founding members of the council include: Donna Albano, Donna Buzby, Alexa D'Amato Barrera, Susan Davenport, Pamela Fields, Andrea Giannini, Gayle Gross, Lori Herndon, Lynne Kesselman, Jessica Kowal, Rita Mack, and Roxanne Passarella.
For information on the SWLC, and to learn about corporate sponsorship opportunities for this event, contact Alicia McMackin '03 at 609-652-4861 or visit stockton.edu/swlc.
About the Stockton Women's Leadership Council
The Stockton Women's Leadership Council (SWLC) – a Stockton University Foundation initiative – is dedicated to the empowerment of women and seeks to promote networking among women and the community. The SWLC offers a platform for professionals to build relationships, discuss issues related to women, engage in mentorship opportunities, and explore ways that relevant program events and leadership development opportunities can be supported by enhanced philanthropy. Through the Council's initiatives, faculty, staff, alumnae, friends and students will create a tradition of female leadership that will have a sustainable impact at Stockton University and across our region.
# # #
Contact:
Diane D'Amico
Director of News and Media Relations
Stockton University
Galloway, N.J. 08205
Diane.DAmico@stockton.edu
609-652-4593
609-412-8069
stockton.edu/media