Stockton Honors Those Who Served, Sacrificed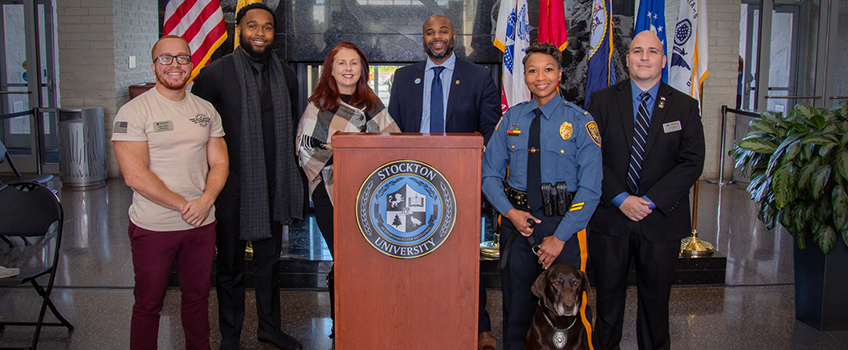 Galloway, N.J. _ The contributions of the United States military and its members have had an impact on American's lives in ways they may not even consider speakers said at the annual Veterans Day ceremony in the Campus Center Grand Hall on Nov. 8.
Keynote speaker Stockton Police Lt. Tracy Stuart brought her K-9 Hemi and guest K-9 Officers Cory Silvio and Argos from the Hamilton Township Police and Sgt. Michael Gilmore and Billie from the Atlantic County Sheriff's Department to highlight the role of K-9s in the military.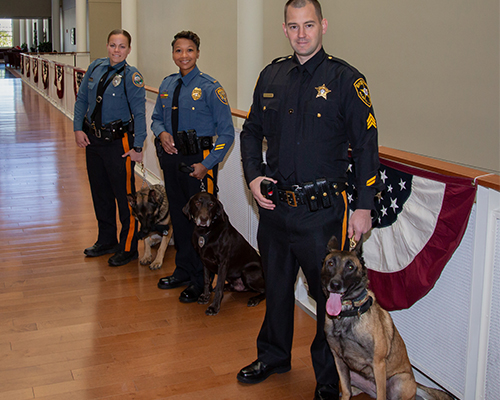 "Dogs have served in every major conflict," Stuart said, noting there are about 2,500 K9s in the services today, including some 700 serving overseas.
Stuart said dogs have a variety of roles, such as explosives detection and military operations, including a recent Isis mission in which the K-9 Conan played a central role and was wounded.
Stockton Assistant Director of Counseling Karen Matsinger spoke of roles military members play at home and outside of combat, from rescuing stranded boaters to providing assistance during Hurricanes Sandy and Katrina, and at wildfires in California. She said the military researches infectious diseases, and developed the technology that makes cellphones, Facebook and GPS possible.
Matsinger also recognized family members who have supported a sick or wounded military member.
Student veteran Josef Gibbs of Atlantic City, an Army veteran, said he always remembers the statement his commanders said that "freedom is never free."
"All those in uniform have sacrificed something to keep us free," he said.
Gibbs said Jason Babin, director of Stockton's Office of Military and Veteran Services, talked him into coming to Stockton, and he is grateful he did.
"I feel privileged to attend Stockton because Stockton values it veterans and service members," Gibbs said. He said as a father and a full-time student, Stockton and its veterans services were crucial in helping him succeed.
"Stockton is a bright spot in my life," he said, thanking those who have supported him. "You make me feel like a star student."
Gibbs said the Student Veteran Organization also supported him and his family when was unsure how he would transition from the Army to college life.
"They gave me a brotherhood and I am grateful to be part of the organization," he said.
Gibbs will graduate in May with a degree in communications and is considering a job as a media analyst.
Stockton this fall opened a new expanded Office of Military and Veteran Services, which includes a new larger student lounge with easy access to services.
SVO president Angel Cordero ended the program by reading a statement attributed to Shawnee chief Tecumseh that one should "live your life so that the fear of death wll never enter your heart."
Stockton Veterans Week activities also included a Veterans Resource Fair, a screening of the documentary "The Weight of Honor," veterans' stories, and a free performance by the Bay Atlantic Symphony Nov. 9, and a tribute by Stockton Athletics during halftime Nov. 12.
Frontline Paper also spent three days on campus demonstrating and working with veterans and students to convert old uniforms into paper. View a photo story of student veteran Justin Cruz making paper.
# # #
Contact:
Diane D'Amico
Director of News and Media Relations
Galloway, N.J. 08205
Diane.D'Amico@stockton.edu
609-652-4593
609-412-8069
stockton.edu/media