South Jersey Culture & History Center Publishes Winter 2018/19 'SoJourn'
Galloway, N.J. – The South Jersey Culture & History Center (SJCHC), an organization supported by Stockton University, has released its Winter 2018/19 edition of SoJourn. SoJourn is a publication dedicated to South Jersey history and folklore, released twice a year, consisting of numerous essays penned by local community members, avocational historians, and scholars.
Articles in this issue include:
"The Southern Pine Barrens: An Ethnic Archipelago" by Elizabeth Marsh, Mark Demitroff, and Paul Schopp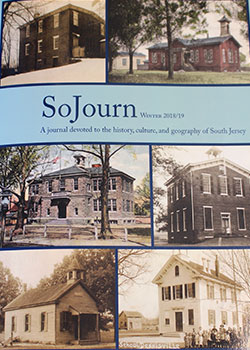 "Unexpected Wildlife Refuge: Haven for South Jersey Wildlife" by Nedim Buyukmihci
"The Sphinx Woman" by Patricia Martinelli
"Horseshoe Crabs: Ancient Migrators" by Kenneth Able, Thomas Grothues, and Paola Lopez-Duarte
"All Aboard for Amatol, New Jersey" by Daniel Dinnebeil
"Unlikely Farmers: Tokens of the Allivine Canning Company" by Todd Sciore
"The Newton Union Burial Ground: The Site of Camden County's Origin and The Resting Place of Its Early Pioneers" by Robert Shinn, Andrew Levecchia, and Sandra White Grear
"A Century Later: The Spanish Flu in New Jersey" by Brendan Honick
"The Youthful Emigrant: A True Story of the Early Settlement in New Jersey" by Lydia Child, with introductory remarks from Sarah Holt
"The Compendium of New Jersey's Crossroads in Folk Music: A Q&A with Michael Gabriele" by Jackson Glassey
"The Bayshore Center: A Unique Experience on the Delaware Bay" by Jessica English
This issue can be purchased on Amazon for $17.38, and will soon be available for purchase in Stockton bookstores.
The SJCHC is currently seeking contributors for the next issue of SoJourn. Send all inquiries and/or submissions to SJCHC Director Thomas Kinsella at Thomas.Kinsella@stockton.edu or SJCHC Assistant Director Paul Schopp at Paul.Schopp@stockton.edu.
This year, the SJCHC also released Migdal Zophim, a republication of an 1889 book of the same name that explores issues of local Jewish farming communities. Currently, it can only be purchased on Amazon, but will be soon available in Stockton bookstores. Read about it here.
Reported by Kat H. Wentzell.
# # #
Contact:
Diane D'Amico
Director of News and Media Relations
Stockton University
Galloway, N.J. 08205
Diane.DAmico@stockton.edu
609-652-4593
609-412-8069
stockton.edu/media