Psychology Students Wrap Up Diplomacy Lab, Offer Solutions to STEM Issues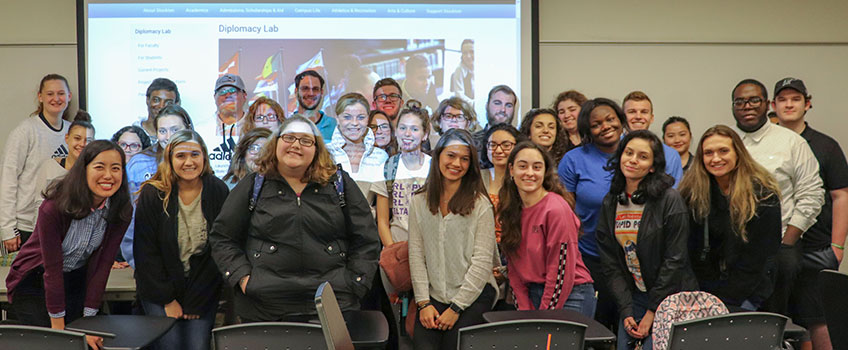 Galloway, N.J. – Students in Assistant Professor of Psychology Kaite Yang's "Adolescence" and "Research on STEM Education" classes collected and analyzed international research on the female presence in science, technology, engineering, and math (STEM) as part of the U.S. Department of State's Diplomacy Lab program. Their project was titled "Who Runs the World? Girls (& Women) in STEM."
A comprehensive paper and slideshow on their finds were sent to the U.S. Department of State for review and dispersion late May.
According to the students' Project Overview, women in STEM fields are underrepresented at all levels in all settings, from academic to professional. The students claimed that STEM is crucial to future women's economic empowerment, and they also mentioned that women add a unique and innovative flair to STEM that should be nurtured.
In their lab, Yang's students analyzed the psychological aspects of current societal issues regarding STEM and gender. They also analyzed and summarized outcomes research on STEM intervention programs for girls and women outside of the United States. In their paper, the students listed what worked, as well as what didn't work, in each intervention, and proposed other ways of boosting female STEM numbers, as well as better ways of testing these issues.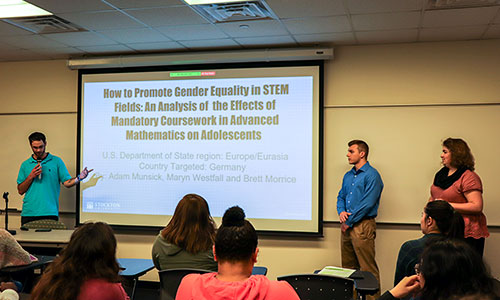 Some of the proposed solutions were to implement more hands-on group learning, particularly with female STEM professionals moderating, as well as to form more long-term mentorship relationships between female STEM professionals and young girls. Each solution proposed was backed up by statistics and graphics accumulated from the students' research on their case studies.
"There is an abundance of published research in psychology and education on STEM initiatives for girls and women," said Yang. "Knowing where to start and figuring out the signal from the noise can be daunting. Our project's aim was to find the 'signal,' to communicate practical knowledge from all around the world, and provide recommendations from a lifespan psychological perspective. I hope that the knowledge and context we provided in the report can contribute positively to science and technology partnerships that support increased gender equity in STEM fields."
Some of the students involved in this lab will continue to contribute to the project over the summer and into the next academic year. Yang said the goal is to revise the report into a manuscript they can submit to an academic journal.
Stockton is an official partner in the U.S. Department of State's Diplomacy Lab program, which gives students, faculty, and staff opportunities to solve real world problems and inform policymakers. For more information, visit stockton.edu/diplomacylab/.
Reported by Kat H. Wentzell.
# # #
Contact:
Diane D'Amico
Director of News and Media Relations
Stockton University
Galloway, N.J. 08205
Diane.DAmico@stockton.edu
609-652-4593
609-412-8069
stockton.edu/media