Picture Stockton...Curating History of Indigenous People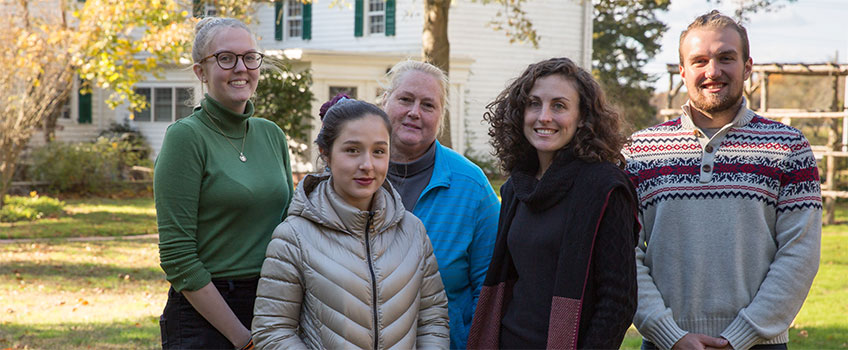 Cape May Court House, N.J. – Stockton Anthropology majors wore white gloves as they carefully weighed, measured and described ancient stone and bone artifacts that were chiseled into tools by indigenous peoples of Cape May County hundreds and even thousands of years ago.
The students are working with their instructor Bobbi Hornbeck to curate an exhibit at the Museum of Cape May County to tell stories that pre-date written records.
Unalachtigo, which means people by the ocean, is the name of the exhibit currently on display and updated regularly by the student volunteers. Descendants of the Lenni-Lenape tribe living in North Jersey reported to a 19th century researcher that the people who once lived along the southern coastal region of the state were called the Unalachtigo, while the northern group called themselves the Munsee.
"The exhibit represents a broad span of prehistoric human occupation in the county from about 12,000 years ago all the way up to and including European settlement in the county in the 1600s," Hornbeck explained.
The artifacts are donated to the museum by the community with a large collection coming from an Upper Township property.
Sometimes the artifacts come with family history that helps to identify their age and origin, but when that information isn't available, it's up to the students to do the detective work.
"I'm holding something that's thousands of years old, a tool, that someone used to survive. I can picture them running through the forest with it," said Ann LoDico, a student volunteer.
Anthropology is "very exciting, and it's given me a better understanding of the people before us," she explained.
As she picked up an arrowhead from a tray of dozens, she said, "it's like putting together a jigsaw puzzle piece by piece. We are telling their stories."
The oldest artifacts are projectile points that would have been used by the hunter-fisher-gatherers of the region. Slowly, the lifestyle shifted to seasonal occupations in villages, and by the time the Europeans arrived, Native Americans were whaling off the coast, explained Hornbeck.
"There is an old Burlington Court record which states that a Native American from Cape May sold a whale to early settlers in 1685," she said.
As the students prepare artifacts for public display, they are not only preserving local history, they are gaining the skills necessary to study and characterize culturally significant places across the globe.
Learn more about Stockton's Sociology and Anthropology major.
View the photos and story by Susan Allen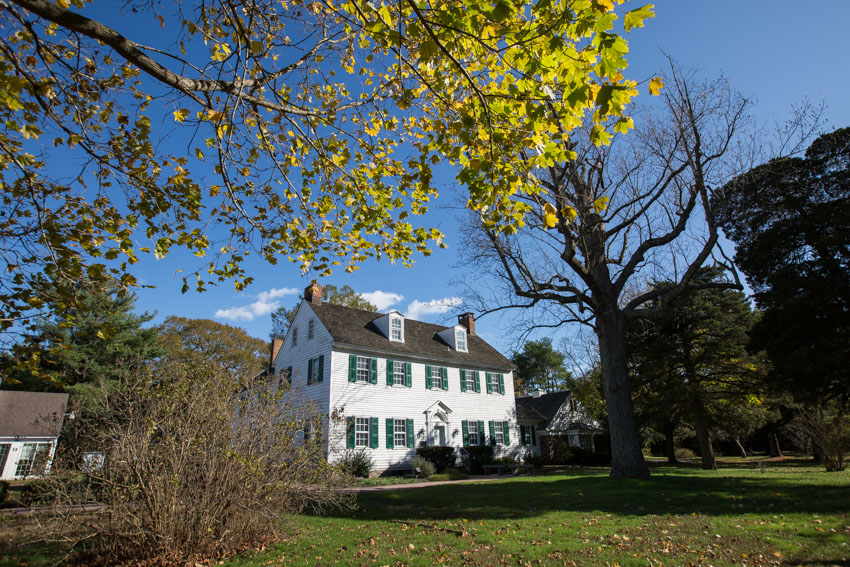 Just off the Garden State Parkway in Cape May Court House, there is a 1704 Colonial period home with a carriage shed, barn, and genealogical and research library. This is the Museum of Cape May County where Stockton students are volunteering to showcase county history.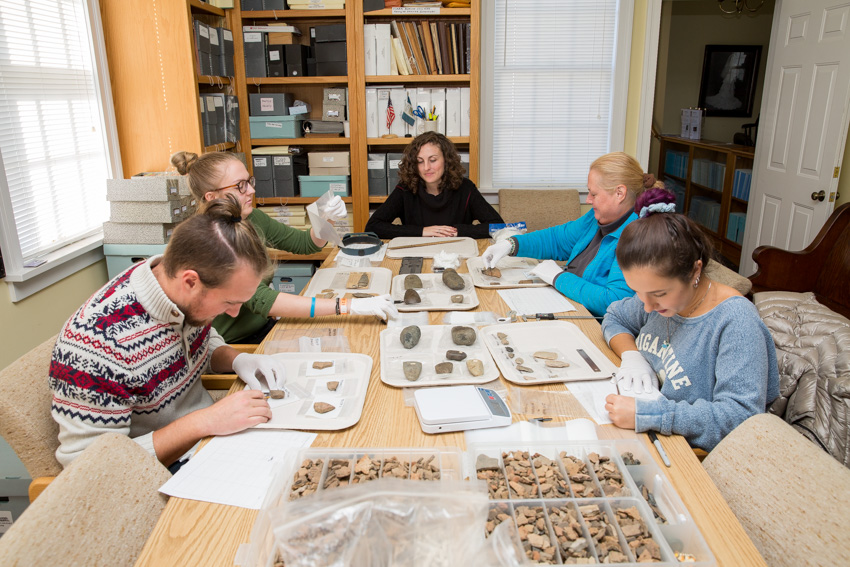 After graduating from Stockton in 2008, Bobbi Hornbeck, now an adjunct instructor of Sociology and Anthropology at Stockton and a Ph.D. candidate at the University of Buffalo, interned at the Museum of Cape May County. That summer, she cataloged the Native American collection, which at the time had just over 1,000 artifacts. Hornbeck is also a board trustee for the Cape May County Historical Society and the director of the Cape May County Native American Heritage Project, which is curating the Unalachtigo Exhibit.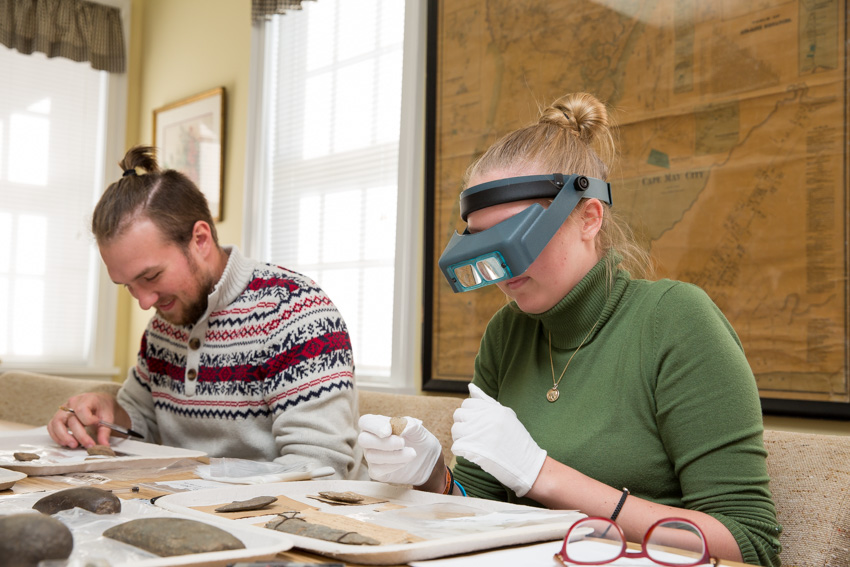 Carly Hammarstrom wears magnification glasses to get a closer look at an artifact. She was fascinated by forensic anthropology and archeology when she began watching the TV show "Bones." For Elijah Wipf, it was a Marine Science class that helped him discover his interest in Anthropology. During a field trip with Steve Nagiewicz, an adjunct instructor, sonar technology revealed a shipwreck resting on the sea floor. That's when science sparked his curiosity about the wreck's past, and he switched his major to Anthropology.
Pictured are a variety of artifacts including arrowheads, ceramic shards, European pipe stems and a bone harpoon with hand-cut serration on the edges. The holes in the artifacts, formally called lacing holes, were used to mend cracked pots. "Leathers or sinews would be laced through a hole on each side of the crack to reinforce it so it didn't get worse," Hornbeck explained.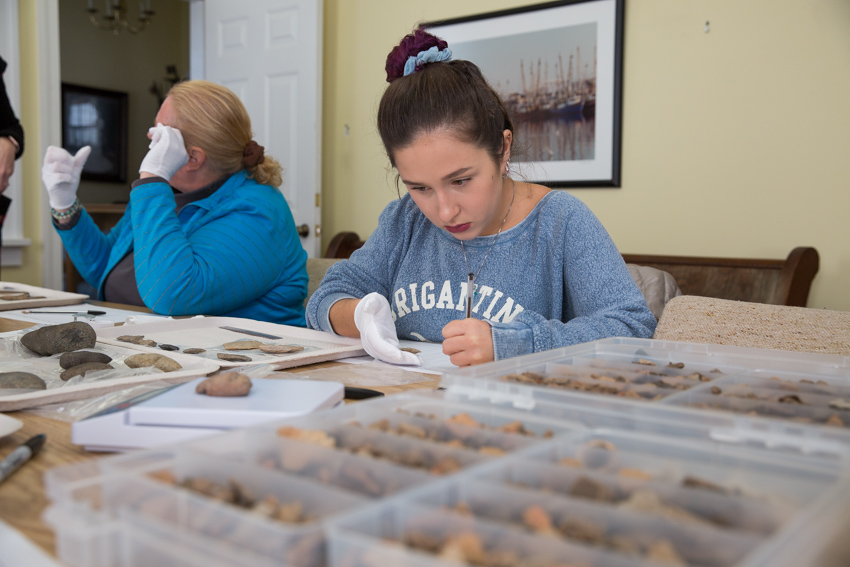 In high school, Kaitlyn O'Malley participated in an excavation at Red Bank Battlefield where Revolutionary War buttons and musket shots were uncovered. Finding artifacts was exciting, and the process of placing them into historical context, added another level of interest, which ultimately led her to choose Anthropology as a field of study.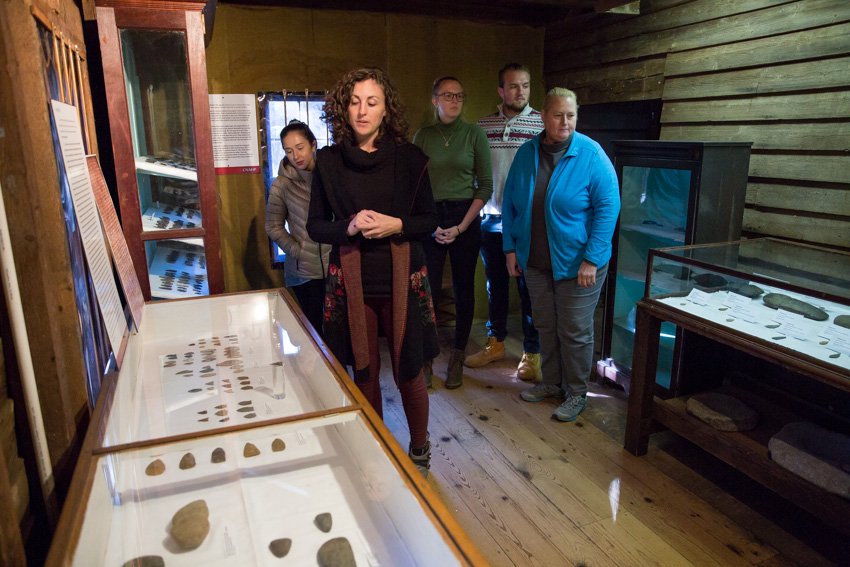 Bobbi Hornbeck and the students look at the room housing the Unalachtigo exhibit.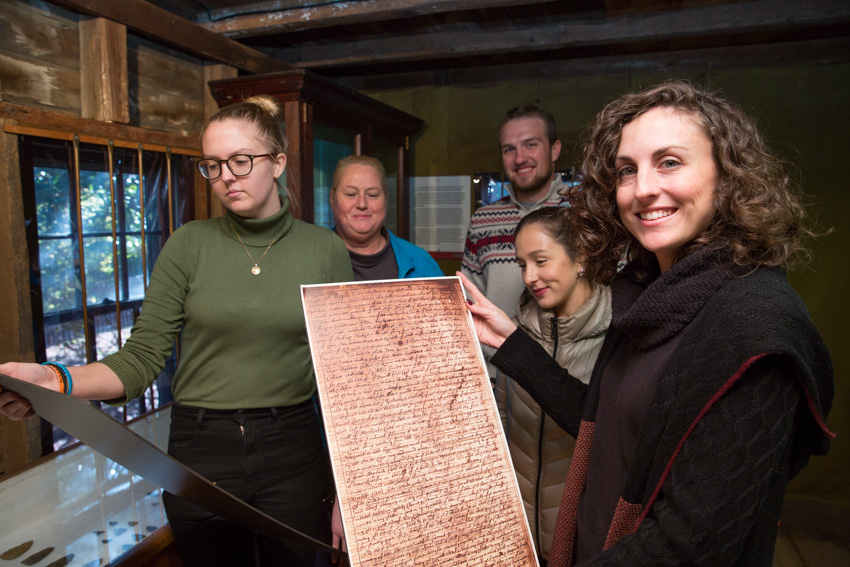 Bobbi Hornbeck holds a replica of the 1631 deed recording Samuel Godyn and Samuel Bloemmaert's purchase of 16 square miles from ten Native Americans. This was the very first land purchase in Cape May County and is part of the Unalachtigo exhibit.
View more photos on Flickr.