Nurses Pinning Ceremony Recognizes BSN Graduates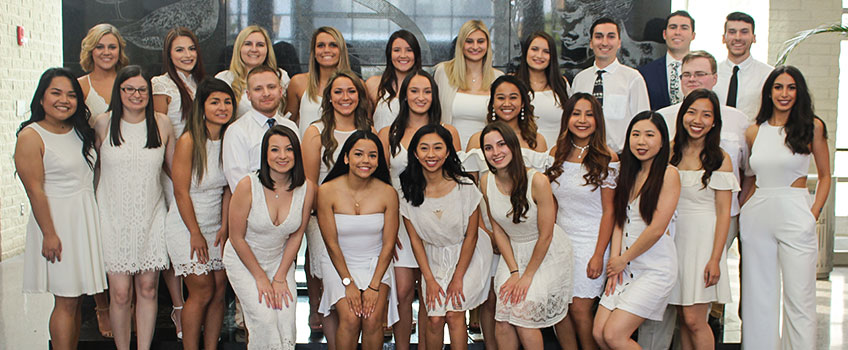 Galloway, N.J. – Twenty-seven Stockton University Nursing students were recognized at the Bachelor of Science in Nursing Pinning Ceremony on May 9 in the Campus Center Theatre.
The event's keynote speaker was Donna Bonacorso, chief nursing officer and vice president for Patient Care Services at Community Medical Center in Toms River, New Jersey. Bonacorso discussed her nursing background and extended good wishes to the new graduates.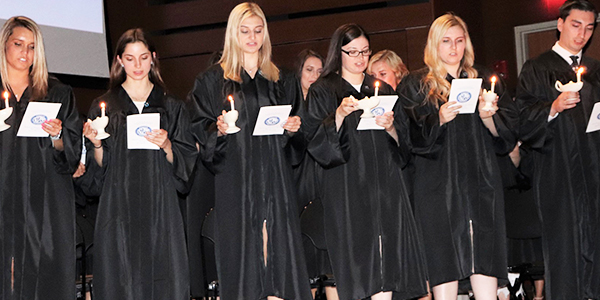 Alumni representative Shawn Denning also talked about life in nursing. Denning was in the first nursing class to graduate from Stockton in 2010. He also received his Master of Science in Nursing degree from Stockton and is enrolled in the Doctorate of Nursing Practice program Stockton along with his wife, Kelsey Denning MSN RN. He works at Performance Orthopedics in Toms River, where he tends to both adult and pediatric orthopedic issues. Denning also works in the company's operating room as a Registered Nurse First Assistant.
Anastasia Macias received the Academic Scholar Award for her high academic standing.
Brianna Ciampa received the Excellence in Student Leadership Award for her outstanding school and community involvement.
Stephanie Porlucas received the Dr. Mary Ellen Florence Nurse Practice Award for her consistent application of critical thinking and theoretical knowledge in the delivery of safe, compassionate patient care.
After the speeches, the students were pinned, candles were lit, and the new nurses took the Nightingale Pledge.
The 2019 graduates are: Meghan Adams, Nicholas Amos, Elizabeth Bond, Taylor Bregman, Amanda Brinn, Gabrielle Carroll, Kyle Castellini, Brianna Ciampa, Ross Clouser, Colleen Collins, Caryn Diller, Danielle Gilmour, Daniela Gonzalez, Emily Goodman, Kimberly Hellyer, Jasmine Lee, Anastasia Macias, Miriam Maldonado, Cody McHale, Ryan Moran, Tracy Phan, Stephanie Porlucas, Althea Rae Pulido, Perla Saliba, Larissa Scanlon, Craig Thomas, and Amanda Zhou.
More information on the Stockton Nursing program is on the School of Health Sciences webpage.
Reported by Kat H. Wentzell.
# # #
Contact:
Diane D'Amico
Director of News and Media Relations
Stockton University
Galloway, N.J. 08205
Diane.DAmico@stockton.edu
609-652-4593
609-412-8069
stockton.edu/media