Nuestro Pueblo Awards Raises Nearly $14,000 for Scholarships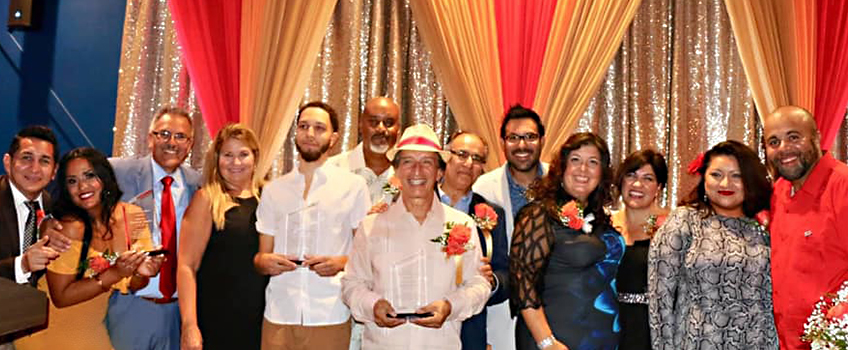 Atlantic City, N.J. –Two hundred people attended the first Nuestro Pueblo Awards on Sept. 27 at Stockton University Atlantic City, raising nearly $14,000 for Stockton UNIDOS and Hispanic Association of Atlantic County (HAAC) scholarship funds.
Christian Cabrera, a freshman biochemistry/molecular biology major; Stockton senior Edbelinda "Mimi" Nambo; and Arnaldo Cordero-Roman, associate professor of Spanish, were among the 11 people honored at the event.
Jessica Grullon, Nuestro Pueblo Awards planning committee chair, said the event was designed to "promote community involvement and advancement of our Hispanic cultural heritage by recognizing individuals and/or organizations that are making a difference in 'nuestro pueblo' – our community."
"I've dreamt of spearheading an event like this since I was 15 years old when I became active in the Hispanic Association of Atlantic County in high school. When I became the adviser for Los Latinos UNIDOS and founding member of UNIDOS, I realized that the time was now for me to begin fundraising for the Latinx youth," Grullon said. "Seeing the outpouring of support from our community through ticket purchases, donation of goods and services, and corporate sponsorships has truly been a dream come true."
Attendees at the event included faculty, staff, community members and local elected officials Moises Delgado, Atlantic City Councilman; John Risley, Atlantic County Freeholder; and Phil Guenther, former mayor of Brigantine.
"The evening was a night that attempted to create a mystical experience for all those that attended. The night and festivities exuded the vibrant culture, customs, colors, cuisine, and music of daily life in Havana, Cuba," said Pedro Santana, president of UNIDOS. "The decorations and music selections were tuned and carefully crafted to a frequency that amplified the feelings of warmth and familia for all that attended. We truly wanted to create a unique experience that tugged at your heart strings and pulled you into an appreciation of the richness of the Latino culture."
"If you thought this year's Nuestro Pueblo Awards Havana Nights was amazing, just wait until next year....You haven't seen anything yet," Grullon concluded.
View more photos on Flickr.
Reported by Mandee McCullough