Model United Nations Earns Accolades at New York Conference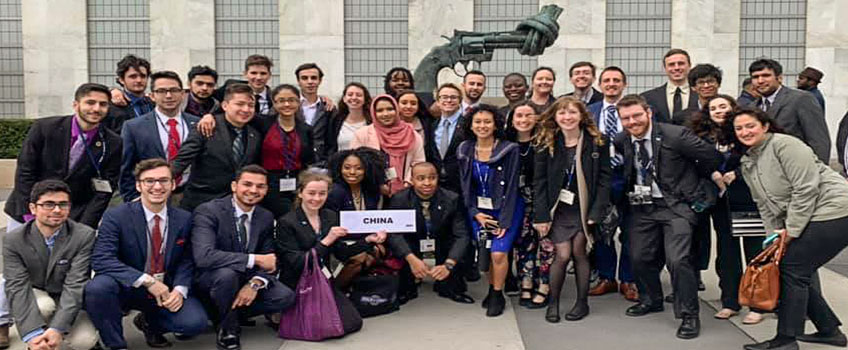 Galloway, N.J. – When Stockton junior James Culbertson of Absecon went to New York City as part of the Stockton Model UN team representing China, he drew on his experiences during another Model UN trip to China last year.
"By going there, I could really see how they are trying to present themselves to the West," Culbertson said. "I could better represent that country because I knew what to say and how to behave as a representative of China."
Thirty-four Stockton students represented China on 21 different UN committees at the National Model UN (NMUN) conference in New York City from April 14-18. The team included students majoring or minoring in many different disciplines, including political science, history, computer science, biology and criminal justice.
The Stockton delegation took home an award for "Best Delegation, Honorable Mention," reserved for the top 20 percent of participating schools. The criteria for this award includes remaining in character, actively participating in committees, and properly using the rules of procedure.
"Stockton students accurately represented the views of China as they addressed contentious global issues with students from over 125 countries," said Associate Professor of Political Science and Model UN Advisor Tina Zappile. "Stockton's team itself has students from more than five global regions who speak multiple languages, carry different political views, and major in different fields of study. They embraced their own diversity to tackle complex problems, while developing skills in negotiation, public speaking, intercultural competency, and crisis management. Their work in collaborating with others to develop and write global public policy was impressive."
Several students earned recognition in individual committees with "Best Position Paper" awards, which are typically given to the top one to five percent of students in each committee. The students below received them for their research and papers on China's position regarding predetermined topics. The honorees were: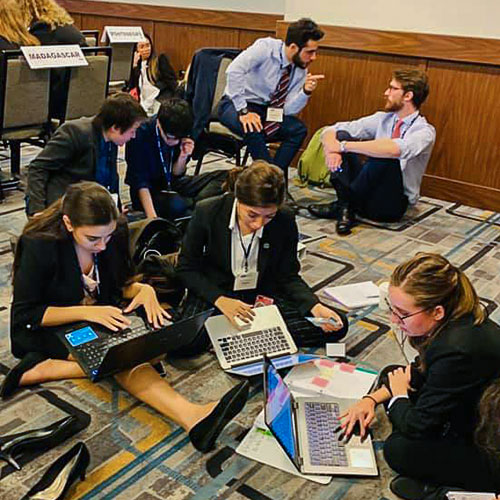 Mike Cusick and Celine Kamalieh: United Nations Development Programme (UNDP)

Adjoa Cofie, Syeda Sanjidha, and Bright Wiafe: World Food Programme (WFP)

Jibreel Tompkins, Olivia Norton, and Adjoa Cofie: United Nations Industrial Development Organization (UNIDO).
Allison Uhrick, a senior political science major from Sewell, and Dom Tierno, a senior political science major from Colingswood, both worked as volunteer staff at the conference and spent months preparing and helping to organize the conference.
"We started working in October and began training in January to learn how to run a committee," said Tierno. "This is the most well-rounded experience you can have."
Uhrick, who also went to China, said all of the skills she developed on Model UN helped prepared her to work as a volunteer.
She and other said the lessons they learn in how to negotiate, communicate and be a good diplomat will serve in in any career.
Culbertson is currently studying Mandarin Chinese and is applying for a Fulbright teaching assistantship in Taiwan.
"You learn to see so many different perspectives in Model UN," he said. "You really get a richness and also see the United States differently through how others see it."
Participating students on the team were: Adjoa Cofie, Jessica Peoples, Melody Weber, Ingrid Rivero, Kyle Poteete, Sam Al Hajjar, Wade Van Orden, Adem Ahsan, Angelisa Diveny, Syeda Sanjidha, Ivan Rosales, Ahmed Ibrahim, Axavier Dennis, Joseph Hawn III, Nikolay Pertesis, Celine Kamalieh, Jay Rehani, Alessandra Vetrano, Alan Klingenmaier, Jibreel Tompkins, Ifrah Qadi, Chioma Uka, Fernando Pelaez-Freire, Anthony Forte, Dillon Murray, and Shane Moore, Mariam Eskander, Adam Walawender, James Culbertson, Sean Metzler, Mike Cusick, Bryan Gonzalez-Mejia, Tori Robbins, and Miroslava Hall.
View photos from the event on the Stockton Model UN Facebook page.
More information is on the Stockton Model UN webpage.
Reported by Kat H. Wentzell and Diane D'Amico.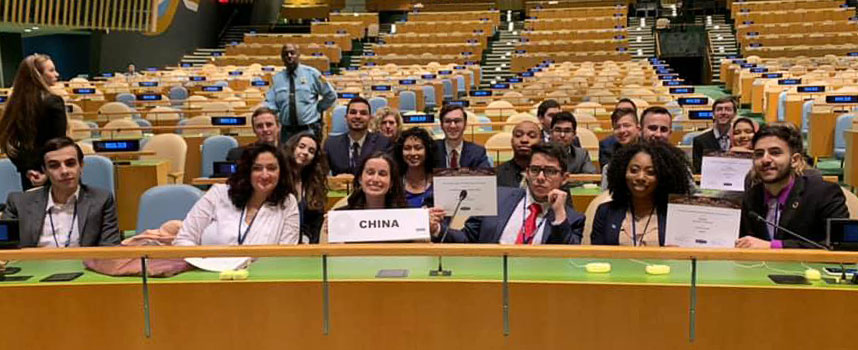 # # #
Contact:
Diane D'Amico
Director of News and Media Relations
Stockton University
Galloway, N.J. 08205
Diane.DAmico@stockton.edu
609-652-4593
609-412-8069
stockton.edu/media