Model UN Succeeds at International Conference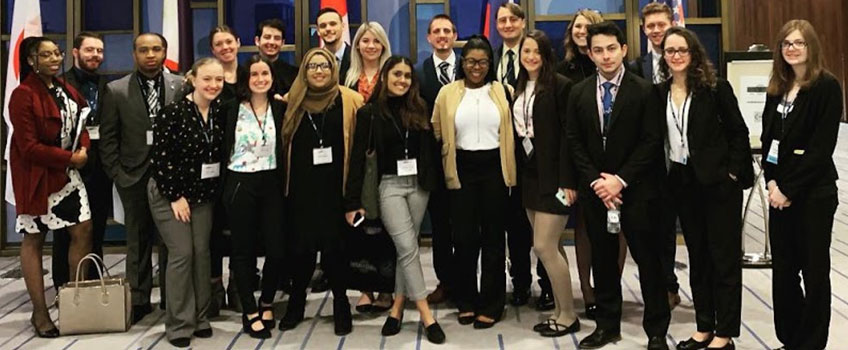 Galloway, N.J. – Twenty-one students participated in a life-changing experience when they were selected to join the Stockton Model United Nations (UN) Travel Team and participate in the National Model UN (NMUN) international conference in Xi'an, China from Nov.18 to Nov. 24, 2018.
The trip was organized by Ass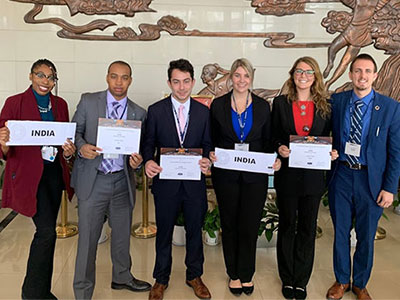 ociate Professor of Political Science Tina Zappile, founder of Stockton's Model UN. Jy Zhou, a native of China, also accompanied the group.
To prepare for the conference, the students enrolled in GSS 2635: UN Experience with Zappile, where they studied international affairs and the politics of the UN system. They also researched and collaborated on assigned topics, drafted and delivered speeches, and practiced UN simulations.
At the conference, the participants discussed and debated topics ranging from economic competitiveness to refugees from the perspectives of the countries to which they were assigned.
Zappile said it was an interesting and sometimes challenging trip for the students, who got to experience firsthand a very different culture and another type of government.
"Because of its location, this conference attracted teams from countries like Russia and Eastern Europe, who often had very different views" she said. "Our students had to work extra hard to negotiate and find solutions."
Several students received awards for their work.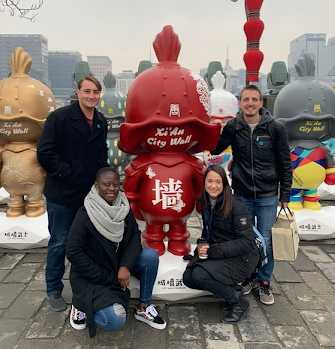 The team representing India earned a "Best Delegation" award. The members were: senior Biochemistry and Molecular Biology major Chioma Uka, sophomore Criminal Justice major Axavier Dennis, senior Political Science major Bryan Gonzalez-Mejia, senior Sociology and Anthropology major Erika Lanahan, senior Criminal Justice major Joseph Hawn, and recent Management graduate Emily Rutter.
Uka, Dennis, Gonzalez-Mejia, and Rutter also earned "Best Position Paper" awards based on their writing skills, their citation of relevant texts, and their consistency with the constraints of the United Nations.
When they were not partaking in MUN activities, the students immersed themselves in what Xi'an, the former capital and eastern end of the Silk Road, had to offer. They visited many history-rich attractions, such as the Terracotta Warrior Museum and the Big Wild Goose Museum. After the trip, some students remained in China to explore the Bund, the Oriental Pearl Tower, and the Jing'an Temple in Shanghai.
Students prepared an e-zine of their experience. Below are a few of their reflections:
Angelisa Diveny, senior Social Work major: "I am so grateful to have been able to participate in my first-ever Model UN conference. I was able to see all the multidisciplinary functions that come into policy drafting. Being a part of Model UN allowed me to reevaluate my future career goals and find my passion for international humanitarian work. Being surrounded by people of diverse backgrounds and cultures, as well as bei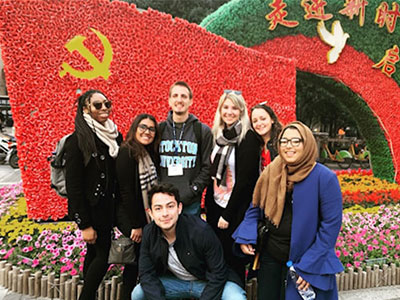 ng in the ancient Xi'an, broadened my perspectives on how I view the world. My professional endeavors will no doubt be linked to this life-changing experience, and I am so thankful I was able to have this opportunity through Stockton"
Nicholas Pastore, senior Criminal Justice major: "I am so grateful for this trip and this organization. I have made friends around the world, [which is] something I never would have been able to do [without it]. This conference and the one in New York have opened my eyes to so many different problems from around the world, and I could never thank Stockton or Dr. Z enough for the skills and the opportunities they have provided me with."
Syeda Sanjidha, junior Criminal Justice and Language and Culture Studies major: "Model UN has taught me that everyone can make an impact in the group. We all come from different backgrounds, values, and experiences, but that gives us unique perspectives and solutions. It's important to embrace our differences, and not shut people out because of them. Just like the United Nations, we can make positive changes in the world together. NMUN-China has definitely taught me this from the language barriers, the cultural differences, and the different ideas that my fellow delegates and I had in the General Assembly. From the bottom of my heart, I am grateful for the wonderful friends I have gotten to know and the impactful lessons that will be carried for the rest of my life."
Students from all majors are invited to annually apply to participate in Model UN. Future international trips include Japan in 2020 and the Czech Republic in 2021. The national team travels to New York for U.S. Conferences. For more information, visit https://stockton.edu/model-un/ or contact stocktonmun@gmail.com.
Reported by Kat H. Wentzell.
# # #
Contact:
Diane D'Amico
Director of News and Media Relations
Stockton University
Galloway, N.J. 08205
Diane.DAmico@stockton.edu
609-652-4593
609-412-8069
stockton.edu/media