Hospitality and Tourism Program Thanks Internship Partners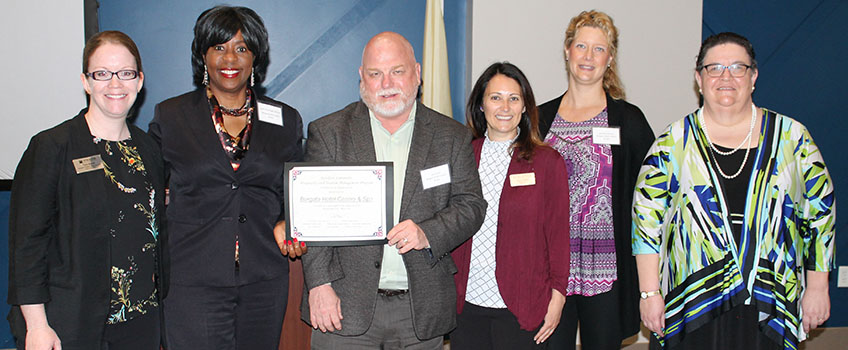 Atlantic City, N.J. _ Internships are a crucial part of Stockton University's Hospitality and Tourism Management Studies program, providing students with on-the-job training and an introduction to future careers.
The faculty and staff of the program acknowledged companies that have provided internships during a breakfast at the Stockton Atlantic City Academic Center at which they also introduced plans for the next academic year.
"The internship makes the connection from the academic to the real world," School of Business Dean Janet Wagner said. "It's the people in this room who make up one of the great features of the program. You are great partners."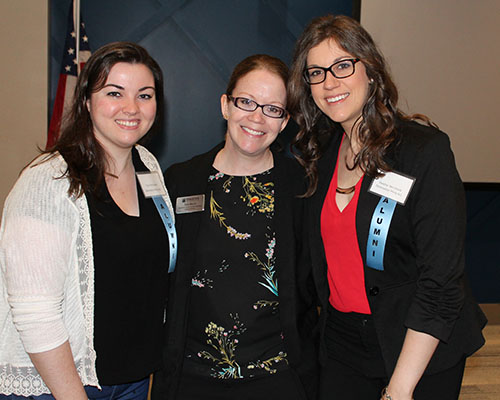 Stockton is increasing the number of hospitality courses taught at the Atlantic City campus so that students and faculty can take more advantage of the city's hospitality and tourism resources.
"We want students to be grounded in this environment, which is the core of their education," Wagner said.
Associate Professor of Hospitality and Tourism Management Studies Donna Albano outlined the redesigned Hospitality and Tourism curriculum, which has added a new area of interest in Event Planning in addition to Tourism, Restaurant and Beverage Management, and Resort Management.
"We made these changes based on looking at industry needs," Albano said. "This information comes from you and from what our students learned in their internships."
She outlined new partnerships that include an on-site Advanced Food and Beverage Management class in the teaching kitchens at the Atlantic Cape Community College Worthington Center in Atlantic City, and a new wine class that includes an internship opportunity at Borgata in wine and beverage management.
Stockton will also host a three-day Event Design Certificate course in June designed for professionals working in the industry. More informatoin is at stockton.edu/edc2019/.
Internship coordinator Tara Marsh thanked the business representatives for their support.
"I work with each of you to give you the talent you need," she said. "If not for employers like yourselves we could not give our students the experiences they need to succeed. You guide, teach and mentor them."
Borgata Hotel Casino & Spa Employment Center Manager Jim Drew said the internships are mutually beneficial to the company and the students.
"They've been great for us, and hopefully they also learn from us," he said.
Stockton alumni Tara McGowan '17 and Heather Berchtold '15, both now work fulltime for Destination Philly A.C. They said their student internships gave them hands-on experience in event planning that helped them get full-time jobs after graduating.
"We also learned how to interact with people in a professional setting," McGovern said.
Internship partners attending the breakfast were: Borgata Hotel Casino & Spa, Cape Resorts, Chick-fil-A, Destination Philly A.C., Hard Rock Hotel & Casino, Hotels Unlimited, Jefferson Health, Little Water Distillery, One Atlantic Events and Resorts Casino Hotel.
An Internship Stipend Fund was created to assist students doing unpaid internships with government or non-profit groups. To date more than a dozen students have received funds to help pay for gas, meals or other costs associated with their internship. Donations to the fund can be made on the Internship link at www.stockton.edu/business.
View a gallery of photos from the event.
# # #
Contact:
Diane D'Amico
Director of News and Media Relations
Stockton University
Galloway, N.J. 08205
Diane.DAmico@stockton.edu
609-652-4593
609-412-8069
stockton.edu/media